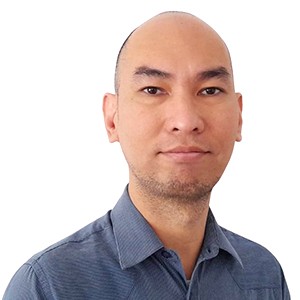 Ian Salvador
Senior Project Manager
---
Areas Of Expertise:
Program & Project Management
---
Education:
Bachelor of Science in Computer (BSCS)
Certified Data Center Professional (CDCP)
Microsoft Certified Systems Engineer (MCSE)
---
About Ian Salvador
Ian is a multi-skilled IT project manager with over 22 years of working experience. His technical background is with software development and project management handling large IT infrastructure projects for governmental agencies and multinational corporations.
---
What Ian brings
Strong experience with planned and scheduled project timelines, milestones, risks and risk mitigation plan.
Highly experienced in stakeholder management.
Demonstrated experience in MS Project, MS Visio, JIRA, Notes, Office365, and SharePoint.
Skills and experience in Cloud Migration/Data Center Migration, Servers, Storage, and Computer Networks.
---
Key Clients:
Volt Bank
Colonial First State (CFS)
Globe Telecom
AXA Group Operations
Bank of the Philippine Islands
Hewlett-Packard Philippines Corp.
IBM
---
Key Achievements:
As a Senior Project Manager at Volt Bank, Ian recently executed an PMO uplift engagement. His role was to develop a detailed plan to deliver the required uplift in program and project delivery capability. Establish metrics to track progress and provide hands-on assistance to Volt to ensure that new processes, tools and templates are applied consistently, add value and make things easier.
---
As a Senior Project Manager at CFS, Ian in conjunction with the Program Director at CFS, developed an optimized baseline schedule for the Bedrock II project. His efforts included workshops and planning sessions to coordinate and engage all stakeholders and delivery teams from CBA, CFS, Simcorp to extract key tasks and deliverables in under 2 weeks. He also addressed the implementation plan to include Risk and Contingency measures as part of an integrated project schedule.
---
As Program Manager at Globe Telecom, Ian executed the workload migration workstream as part of the major objectives of the company's digital transformation program. This included developing a cloud selection framework that was used in migrating workloads to cloud as well as ensuring the framework was effectively applied and migrating brownfield and greenfield platforms to Globe's new cloud infrastructure. Ian was responsible for the overall management of the project's key result areas (scope, time, cost, and quality) and led the end-to-end stakeholder engagements. Budget responsibility $7M USD.
---
As Regional Program Manager at AXA Shared Service Center, Ian led the end-to-end regional program management of AXA GO cloud migration projects using public and private cloud infrastructure. Ian managed and delivered components of client engagements that identified, designed, and implemented technology and business solutions for AXA entities in the Asia Pacific Region. Ian was responsible for managing teams in the identification of migration approaches, migration plans, tools, timeline and execution, developing and maintaining views into sprints/iterations and enabling proactive notification and action across the project portfolio. Also responsible for leading customer reviews with senior management and establishing trusted customer relationships with key technical decision makers and stakeholders. Budget $10M.
---
As Infrastructure Project Manager at Bank of the Philippine Islands (BPI), Ian was responsible for the Nationwide deployment of the entire rebrand of BPI, transition to new service provide. Budget $6M.
---
As Project Manager at Hewlett-Packard Philippines Corp. Ian provided project management services to customers as a resource for HPE's consulting services group with Del Monte Pacific Ltd., STMicroelectronics, PLDT/SMART Telecom, Globe Telecom, and various Philippine government agencies as clients. Ian owned and managed the project development from hand-over to pre-sales, planning, execution through to customer sign-off. This included full responsibility for the revenue and cost plan based on the project's financial guidelines, protocols, and tools, reporting to regional management on the overall status and health of the project, reporting to the regional PMO Head for portfolio and program management, managing stakeholders and effectively execute the project's communication plan and managing the project team composed of vendors, 3rd party service providers, and HPE internal resources to deliver the project. Ian engaged vendors and suppliers as part of the project's procurement plan, planned and scheduled project timelines and milestones and identified risks and created the appropriate risk mitigation plan.
---
As Project Manager at IBM Solutions Delivery, Ian managed delivery of a major integration project for a large governmental data center infrastructure venture. He handled data center assessment projects for the country's two major energy companies (Shell and Chevron), working with different groups of vendors, subject matter experts, engineers and resources to execute and close the project.
---
Other Team Members
Declan Boylan

General

2020-01-15T02:30:38+11:00

Gareth James

General

2021-01-19T11:29:58+11:00

Connie McKeage

Julius

2021-03-09T10:14:51+11:00

Michael Blomfield

Julius

2023-02-14T10:26:26+11:00

Temre Green

Julius

2022-11-23T10:52:41+11:00

Mike Stockley

Julius

2022-08-30T12:56:19+11:00

Julie Laoit

Julius

2022-07-19T09:10:59+11:00

Rob Thomsett

General

2023-01-31T17:26:36+11:00

Louise Ford

General

2020-01-15T03:08:18+11:00

Aaron Simonsen

Julius

2022-08-30T11:02:06+11:00

Alan Alehashemi

Julius

2022-07-19T09:07:40+11:00

Alex Jahan

Julius

2022-12-13T10:15:47+11:00

Alex Massie

General

2023-05-09T15:42:17+11:00

Alexander Rivkin

Julius

2023-03-28T15:40:59+11:00

Alexandra Marie Tan

Julius

2023-07-20T17:43:15+11:00

Ali Pahlavan

General

2023-08-03T11:39:33+11:00

Alisdair Brown

Julius

2022-08-30T09:51:38+11:00

Amanda Walker

Julius

2023-06-06T11:10:57+11:00

Anders Madsen

Julius

2022-08-02T17:55:11+11:00

Andrew Cheesman

Julius

2022-08-09T12:17:42+11:00

Andrew Coley

Julius

2021-12-21T12:36:47+11:00

Anish Joshi

Julius

2023-04-04T15:04:09+11:00

Ann Mica Mae Lim

Julius

2023-05-11T14:08:40+11:00

Anna Linfield-Kent

Julius

2023-03-14T16:25:51+11:00

Andrew Marshall

Julius

2023-08-29T14:02:36+11:00

Audrey Teh

Julius

2023-06-13T10:54:02+11:00

Barbara Read

General

2023-04-27T09:42:19+11:00

Bhavna Gupta

Julius

2023-08-25T16:07:45+11:00

Benn Salier

Julius

2021-07-06T13:45:00+11:00

Bita Bagheri

General

2023-08-02T22:15:49+11:00

Blake Dahlen

Julius

2023-07-20T13:58:11+11:00

Callum Dodd

Julius

2022-11-23T11:00:39+11:00

Caroline Lees

Julius

2023-01-17T10:29:22+11:00

Cathy Baldwin

General

2021-01-19T16:55:52+11:00

Chris Sykes

General

2022-05-26T12:50:02+11:00

Callum Barker

Julius

2023-09-15T10:54:00+11:00

Dave Rider

Julius

2022-02-04T01:57:49+11:00

David Johnson

General

2023-06-13T11:44:41+11:00

David Mansfield

Julius

2023-02-14T10:37:32+11:00

Deanna Edwards

Julius

2023-03-28T15:46:04+11:00

Derek Oldham

Julius

2023-05-09T15:38:58+11:00

Elise Kellond-Knight

Julius

2019-07-04T22:47:54+11:00

Eliza Johnson

Julius

2023-07-20T12:18:49+11:00

Ellen Misador

Julius

2023-07-20T15:42:42+11:00

Eugene O'Connell

Julius

2022-03-22T16:14:36+11:00

Fritzie Ligeralde

Julius

2021-08-17T15:41:14+11:00

Gilbert Wong

Julius

2023-09-28T10:05:22+11:00

Guru Swaminathan

General

2023-05-26T16:16:29+11:00

Hardik Lakhani

Julius

2022-03-08T16:33:18+11:00

Hayley Weir

Julius

2023-08-29T14:56:54+11:00

Helen Argitis

Julius

2022-05-26T12:13:35+11:00

Inggrid Yapari

Julius

2023-09-05T14:17:37+11:00

Ian Salvador

Julius

2022-06-14T17:51:51+11:00

Ian Thomson

Julius

2023-06-13T10:25:34+11:00

Jerry Cobb

General

2022-06-28T15:49:32+11:00

Joanna Carlos

Julius

2022-02-15T17:48:05+11:00

Jochebed Diaz

General

2023-07-27T15:46:01+11:00

Johaimah Garrido

Julius

2021-03-16T10:08:35+11:00

John Middlemist

Julius

2023-07-13T11:20:18+11:00

Jovilyn Magtoto

Julius

2022-08-02T13:27:08+11:00

Julia Nicole Justo

Julius

2023-02-23T08:34:34+11:00

Julius Labalan

Julius

2023-09-19T11:03:24+11:00

Katherine Whiteside

General

2022-11-30T17:42:36+11:00

Kunal Parikh

Julius

2022-01-25T11:49:10+11:00

Lauren Grouse

Julius

2023-06-15T15:40:06+11:00

Louigi Gardiola

Julius

2023-02-23T08:31:20+11:00

Louise White

General

2021-05-11T16:20:05+11:00

Maddison Schmid

Julius

2023-05-11T09:35:43+11:00

Mariam Kohani

Julius

2022-07-19T09:57:04+11:00

Marian Joyce Makalintal

Julius

2023-06-21T10:48:28+11:00

Marianne Dinsay

Julius

2023-02-23T08:32:42+11:00

Mark McAdam

General

2023-05-03T12:09:06+11:00

Mark Millen

Julius

2022-08-30T12:47:06+11:00

Matthew Knight

Julius

2023-02-23T08:32:48+11:00

Melanie Northrop

Julius

2023-01-31T17:06:41+11:00

Melody Framp

Julius

2023-06-13T11:17:39+11:00

Melody Tuazon

Julius

2023-05-09T15:59:40+11:00

Michael Bryant

General

2022-08-09T11:38:32+11:00

Mohammad Ramezani

General

2022-07-13T16:18:36+11:00

Nadja Schulze

Julius

2023-07-13T13:05:06+11:00

Nevil Cope

General

2022-08-30T14:24:26+11:00

Niall Burke

Julius

2022-10-11T13:16:07+11:00

Nick Rodwell

Julius

2023-06-13T10:21:33+11:00

Nicole Hatten

Julius

2023-07-04T16:34:47+11:00

Ninia Ortile

Julius

2022-10-11T14:26:40+11:00

Pablo Andres Cordova Baya

Julius

2023-06-21T10:48:54+11:00

Parastoo Mousavi

Julius

2022-12-13T10:24:00+11:00

Paul Kirschner

General

2022-02-04T02:26:06+11:00

Peter Boylan

General

2023-03-14T16:22:42+11:00

Peter Philpott

General

2022-11-08T10:05:47+11:00

Rachel Low

Julius

2023-09-18T12:34:26+11:00

Rahul Kaushal

Julius

2023-08-03T10:44:21+11:00

Rajiv Boddupalli

Julius

2022-12-13T09:44:21+11:00

Robert Caminiti

General

2020-10-07T04:02:43+11:00

Robert Crossman

General

2022-03-08T14:18:21+11:00

Rohini Verma

Julius

2021-04-13T12:23:02+11:00

Rohit Satija

Julius

2023-08-29T15:13:11+11:00

Roxane Montierro

Julius

2020-12-15T06:30:55+11:00

Sanjay Narayan

Julius

2023-02-14T11:09:04+11:00

Saurabh Kundi

Julius

2023-02-23T08:26:14+11:00

Shiraan Fernando

Julius

2023-03-14T15:07:49+11:00

Shruthi Srinivas

Julius

2023-08-25T12:02:31+11:00

Sreekanth Badam

Julius

2022-11-09T17:14:36+11:00

Stephen Curtis

Julius

2023-05-30T09:22:30+11:00

Simon Chrétien

Julius

2023-09-15T11:40:55+11:00

Tameka Yallop

General

2023-08-29T16:34:12+11:00

Tanvi Mahajan

Julius

2023-03-28T15:21:57+11:00

Thuc Linh Nguyen Phan

Julius

2023-05-30T09:39:47+11:00

Tony Calusic

Julius

2022-08-01T16:52:17+11:00

Vanessa Vella

General

2021-12-14T12:11:12+11:00

Vergil De Leon

Julius

2023-09-11T10:53:30+11:00

Winona Astian Thian

Julius

2023-02-23T08:34:19+11:00

Yanmin Chen

Julius

2023-09-28T10:13:11+11:00

Zach Barnetby

Julius

2023-06-16T17:32:20+11:00