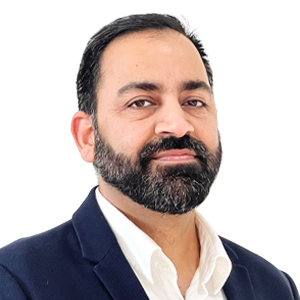 Rohit Satija
Program Director
---
Areas Of Expertise:
IT Strategy

Scaled Agile Frameworks

& Business

Agility

Digital & ERP Transformations
System Integration
Practice Leadership across Project/Program Management
Business Analysis
Testing & Release/Environment management practices
Data Migration
Product Lifecycle Management
DevOps
---
Education:
Bachelor of Business (IT Management), Auckland University of Technology
---
About Rohit Satija
Rohit is an experienced Program Director & Transformation Leader who joined Seven Consulting's Melbourne team in June 2022. He demonstrated history of Digital & Enterprise Transformations (ERP, CRM), Strategic Technology Leadership, Agile Op-Model enablement & Business Process automation in various industries & domains. He has had a strong focus on Delivery of large Programs, Portfolios of Projects, Business Transformation programs & Change Management undertakings.
---
What Rohit brings
Rigorous Analytical ability, process improvement skills.

 

Highly experienced in project governance, frameworks, principals,

tools,

and end to end financial reporting & analysis,

risk,

and issue management.

 

Demonstrated experience in Practice leadership across Project Management, Testing, ERP capability, Business Analysis & Release/Environment management.
---
Key Clients:
Iress

Healthscope
AGL Energy Ltd
Spark NZ
Trust Power
Two Degrees Mobile
Coca Cola Amatil

Frucor

Suntory

Ministry of Health
Yellow Pages
---
Key Achievements:
As Program Director at Iress, Rohit provided guidance around the separation planning, review business & technology architecture and validate the effort & investment requirement for the same. As part of their portfolio divestment process, Iress wanted to review the complexities inherent in separating a business unit, it's complex landscape of business processes, technology platforms & data migration in selling it to an incumbent buyer. The exercise helped Iress in the negotiation process in forming an appreciation of risks, resourcing, timeline & effort, and cost forecasts that could be involved in this segregation exercise.
---
As Program Director at Healthscope, Rohit was engaged as Program Director to help Healthscope Exec team determine a path forward for their ERP implementation including determination of their Implementation methodology, Partner ecosystem, Team Structure & Governance and proposing a reset report identifying ideal schedule & budget recommendations.  Healthscope had been facing challenges in their envisioned ERP implementation roadmap of Technology One's CiA platform focusing initially on Supply Chain, Procurement modules and Process automation. This included assessing the risks inherent in the Program, firming up Program scope, developing an integrated schedule with all workstreams and firming up the dependencies across all teams to be able to draw up the true timeline & costs for the program for the Exec Team's decision making on resetting the way forward. The outcome was a review of the business case vis a vis investment outlook & timelines required, which provided transparency around the next steps.
---
As Program Director for Retail Next program at AGL, Rohit was accountable for establishing the program structure, selecting partners for implementing Salesforce E&U Cloud and Appian BPM capabilities along with integration with several applications such as SAP CRM, ISU, Telco/Wookie, Avaya etc. He worked in establishing the delivery methodology, agile ways of working and governance across this significant undertaking with onshore & offshore teams. He setup supporting structures including TCS, Salesforce Professional Services and Appian partner interlocks and Executive Steering to ensure the engagements worked to provide AGL assurance for the success of the program. He worked very closely with the Technology team to ensure the environments, DevOps capabilities, Data Migration & Synchronization, Testing and Security aspects required for the implementation were successfully put in place and tested through a core release.
---
As Head of Delivery at Spark, Rohit Implemented Scaled Agile (SAFe) method across projects & programs and setting up regular release trains/rhythms for minor or major delivery streams. He brought in PI Planning, Estimation, Integration scrum, Scrum of Scrums & Resource planning across a team of 400-500 globally distributed engineers and established Release Train Engineer (RTE) role, cross-functional delivery squads & tech pods along with bringing in POs from business units to form delivery units. He collaborated with domain leads across key applications/platforms, architects & vendors to ensure solution outlined met requirements, resource profile & pipeline matched the work estimation and integration, dependencies & risks were well managed, delivering via a Delivery engine to various portfolios initiatives worth circa $120 million p.a. Rohit was the ongoing change management liaison via translation into business speak of all new features/changes being delivered across each release. This also included getting the channels ready via training & standard operating documentation.
---
As Program Director ERP at Spark NZ (Telecom NZ), Rohit managed the journey from legacy SAP implementation of 25 years to modern SaaS Microsoft Dynamics 365 ERP platform, re-engineering the way Spark do business in the future (circa $35-40 million).
---
He Led a large global team approx. 100+ across Auckland, Melbourne, Sydney, and India based locations in an agile, business-technology squads and multiple vendors to design a future fit business platform.
---
He was responsible for practice establishment & leadership from ERP business case, tool selection, vendor selection through to defining program methodology, team structures & resourcing, program management, executive steering & Business stakeholder management, overall risk & change control management.
---
He undertook a large business process re-engineering & functional consulting effort across Billing, Procurement, Supply Chain, Warehouse Management, HR & core Finance parts of the business to ensure a combination of technology & business process take the business to its desired digital future state Rohit setup & lead a large System Integration team that brought together D365 implementation along with integration with myriad of Spark's own systems e.g. CRM or 3rd party apps e.g. Banks & EDI vendors to ensure end to end business functionality is enabled. This included & setup delivery of a complex Data Migration undertaking ensuring cleansed data, transformed into D365 format & loaded via various iterations aligning to business rules.
---
Rohit was also responsible for Test Program Management, defining Test Strategy across functional, integration & data migration lenses and building a RSAT/Selenium integrated automation capability suite, release & Deployment planning, reporting solution enablement, data archival integration with Snowflake data warehousing solution.
---
As Project Director at Trust Power, Rohit successfully managed a multi-million digital strategy implementation program managing a large team across geographies, multiple vendors and multiple sub-projects, creating a technology framework that will enable the organization to enter the Web 2.0 world: This involved SOA architecture & web-services framework setup, Public site & Private portal ('My Account'), Back-end integration with various enterprise apps (Billing, CRM, Telco OSS/BSS, BI) , Interaction & Responsive design, Mobile web, Mobile apps, SEO, NET platform bespoke development & integration with Sitecore – Content Management, Digital Marketing & Campaign Management system. Rohit also introduced Agile methods in the organisation establishing Scrum delivery methodology & Atlassian toolkit (JIRA, Confluence etc.).
---
As Program Manager Lead at Spark NZ, Rohit delivered a multi-year, multi-phased, multi-million (circa $400 million) transformation program reengineering the whole IT stack, business processes and enabling the business to know it's customer better, reducing the cost of operations and laying the foundation of digital services. He led the system Integration capability in-house to bring together the desired end to end solution together comprised of various OSS/BSS systems and multiple internal teams & globally distributed vendor teams. Rohit was accountable for delivery of end to end requirements and ensuring there is traceability to design process and operate solutions, he managed a large matrix organization teams to deliver complex solutions and integration across CRM, Order Manager, Online, Billing systems etc. and ensuring Data Migration, Deployment & Testing work streams is undertaken to deliver a quality solution outcome, and the alignment of the outcome delivery with change management plan in association with business change managers to ensure business is transition to future mode of operations successfully. Through phased releases, Rohit delivered customer journeys across Mobile Pre-Paid/Post Paid, Fibre & Wireless Broadband & 360-degree Customer channels across Online, App & In-Store touch points.
---
As General Manager (Tribe Lead and Chapter Area Lead) at Spark, Rohit designed the Agile at Scale framework with McKinsey Consulting team, using a Spotify framework, especially taking a cross-functional IT/Business delivery lens. He led and managed an autonomous, cross-functional Tribe circa 180 people, leading charge of planning and delivery of complex digital products & releases. He had the responsibility of decentralizing software delivery capability from IT across to specific Product Tribes while establishing a centralized Scaled Agile Framework (SAFe) to provide code consolidation, System Integration and quality go to market pathway. Rohit defined & enabled a delivery & release framework that allowed regular cadence of releases, providing managed environments and test capability to assure protection of production systems & customer experience. Embedding enablers for Spark's transformation from a Project led organization to Product driven enterprise, customer centricity & product to market enablement focus. Rohit was also responsible for the annual budget planning, defining vision & OKRs for the squads through QBRs (Quarterly Business Reviews), Quarterly Big Room Planning (PI Planning) and managing P&L & Gross Labour costs for his Tribe & Chapter Area.
---
As Program Manager at Trust Power, Rohit delivered major transformation projects such as building a new Digital channel, building new Products capability: Gas, LPG into core enterprise apps such as Billing & CRM system Gentrack, Telco business & systems transformation, Generation Asset Management (Maximo). He provided Portfolio Management across more than 20 projects, circa $15 million capex outlay. He established an Enterprise PMO, setting up Program & Project Management capability framework and executive governance, reported on Portfolio performance, Standards compliance & Budget/Investment Mix, project health, Tracking delivery against key milestones & quality measures. He was responsible for key Risks/Issues, Decision requests, financial performance vs budget and forecast on completion, setting up Tools, Templates, Reporting capability and standards for measuring compliance, managing & tracking portfolio financials, risks, issues & resource utilization.
---
As Project Delivery Manager at Two Degrees Mobile, Rohit was responsible for establishing and managing Program & Project Management, Business Analysis and Testing practices. Reporting to Exec Team as PMO Lead including Portfolio performance, Delivery status & Budget/Investment Mix, through annual budget planning processes, liaising with all internal customers to understand their business roadmap & projects/initiatives required to be executed to reach their EBITDA targets. Then facilitating justification, approval, initiation, resourcing & delivery of those initiatives. He was also responsible for planning during budgeting process and ongoing reporting on IT/PMO's key metrics such as financial performance vs. capex targets, maximization of internal labour charge, apportioning costs against internal customer (business units), managing Testing team & capability: testing direction, toolkit selection, implementation. He acted as the interface between the Business and Technology teams providing overall Governance framework, Project/Product Selection & Business Case, Portfolio Management services and managed end to end Project delivery of approved Portfolio (circa 50 Projects, Programs, Change Requests at any time).
---
Rohit led the Digital Transformation program that rolled out a new Telco OSS/BSS stack along with Customer Self Service portal, Online Shop, Dealer Portal etc. that laid the foundation for Prepaid operations at 2Degrees Mobile. Over the next 3 years, Rohit worked on enabling Post Paid operations and further business enabling projects such as Commission Management, IBM Campaign Management & it's CRM integration to name a few.
---
As Chapter Area Lead for Project/Program Management at Spark, Rohit managed Testing and Non-Production Test Environments Infrastructure and Release Management CoEs. He delivered & managed a product to market framework that allows for various Tribes to deliver features, capabilities and complex initiatives to market via a central delivery & testing function that ensures high quality outcomes to our customers. He delivered weekly, monthly & on-demand releases of regular product improvements, system upgrades and operational/sustain improvements, enabled Dev/Ops & CI/CD practices to ensure Product to Market processes are nimble & predictable, defined a roadmap towards more entrenched DevOps practices across various applications, system testing, NFT, shifting testing left & greater automation. Rohit developed capability/craft frameworks for practice teams to have growth staircases & development plans, best practices, defined tools, processes He managed around 200 people including hiring, remuneration & work allocation & vendor engagement to ensure ongoing permanent & contractor resource pool availability in line with initiatives.
---
As Group Program Manager at Frucor Suntory, Rohit led delivery of key programs of work across the Group in Australia and NZ, Vendor partnerships & commercial management. He setup a PMO across Aus-NZ, Project Reporting, Portfolio Management process & systems including Resource Management model for future Project portfolio roadmap. Key projects that Rohit led included:
---
SAP Warehouse Management integration with Voice Picking software. Deployment of Voice Picking technology (Dematic PickDirector) into the Frucor Warehouse in Auckland, to automate picking and dispatch operations. Integration with SAP Warehouse Management system for complete picking process automation and logistics improvement including custom SAP development, data migration/transfer between Pick Director and SAP WM. He led all streams including Infrastructure acquisition, deployment, network solution design per vendor specifications & Frucor enterprise architecture including integration across Wireless networks, Domain & Workgroups. Business change management to ensure smooth transition of dispatch & logistics process requiring stakeholder management across logistics, sales & operations functions.
---
SaaS B2B e-commerce enablement via EDI (SAP integration & customization with EDI exchange and GS1 EANnet for Product standardization with multiple customers). Established a strategic business and enterprise technical direction for conducting end to end electronic business with a multitude of customers in a hosted SaaS model. Setup EDI with David Jones Australia, Foodstuffs NZ, BP Australia, The Warehouse (NZ): delivering end to end Order to Shipment and Invoicing capability.
---
As Group Program Manager at Coca Cola Amatil, Rohit led delivery of key programs including SaaS B2B eCommerce, EDI Implementation between Coke and Foodstuffs. He delivered a B2B solution with bespoke EDI development, ERP (SAP) integration, GS1 EANnet bar-coding solution and integration with Foodstuffs Exchange. He ensured the Business Process Mapping and Reengineering required to embed the proposed Supply Chain changes were in place through this Business analysis and Change Management streams.
---
Some other projects included Avaya Contact Centre Express implementation, Maximo Asset Management integration with SAP (Procure to Pay process improvement), Digital transformation across Coca Cola's website and Intranet and PayGlobal HRSS integration with Payroll.
Other Team Members
Declan Boylan

General

2020-01-15T02:30:38+11:00

Gareth James

General

2021-01-19T11:29:58+11:00

Connie McKeage

Julius

2021-03-09T10:14:51+11:00

Michael Blomfield

Julius

2023-02-14T10:26:26+11:00

Temre Green

Julius

2022-11-23T10:52:41+11:00

Mike Stockley

Julius

2022-08-30T12:56:19+11:00

Julie Laoit

Julius

2022-07-19T09:10:59+11:00

Rob Thomsett

General

2023-01-31T17:26:36+11:00

Louise Ford

General

2020-01-15T03:08:18+11:00

Aaron Simonsen

Julius

2023-11-13T23:52:10+11:00

Alan Alehashemi

Julius

2022-07-19T09:07:40+11:00

Alex Jahan

Julius

2023-11-14T12:14:04+11:00

Alex Massie

General

2023-11-14T12:25:43+11:00

Alexander Rivkin

Julius

2023-11-14T00:06:50+11:00

Alexandra Marie Tan

Julius

2023-07-20T17:43:15+11:00

Ali Pahlavan

General

2023-11-14T00:19:34+11:00

Alisdair Brown

Julius

2022-08-30T09:51:38+11:00

Amanda Walker

Julius

2023-11-14T12:09:46+11:00

Andrew Cheesman

Julius

2022-08-09T12:17:42+11:00

Anna Linfield-Kent

Julius

2023-11-14T11:45:20+11:00

Andrew Marshall

Julius

2023-08-29T14:02:36+11:00

Audrey Teh

Julius

2023-11-14T01:03:53+11:00

Barbara Read

General

2023-11-13T23:44:22+11:00

Bhavna Gupta

Julius

2023-11-30T01:43:24+11:00

Benn Salier

Julius

2023-10-17T17:16:47+11:00

Bita Bagheri

General

2023-08-02T22:15:49+11:00

Blake Dahlen

Julius

2023-07-20T13:58:11+11:00

Caroline Lees

Julius

2023-11-14T01:15:13+11:00

Cathy Baldwin

General

2021-01-19T16:55:52+11:00

Chris Sykes

General

2022-05-26T12:50:02+11:00

Callum Barker

Julius

2023-09-15T10:54:00+11:00

Dave Rider

Julius

2023-11-14T11:28:26+11:00

David Johnson

General

2023-06-13T11:44:41+11:00

Deanna Edwards

Julius

2023-03-28T15:46:04+11:00

Derek Oldham

Julius

2023-11-14T01:43:07+11:00

Elise Kellond-Knight

Julius

2019-07-04T22:47:54+11:00

Eliza Johnson

Julius

2023-11-14T01:52:47+11:00

Ellen Misador

Julius

2023-11-14T11:16:10+11:00

Eugene O'Connell

Julius

2023-11-14T11:03:19+11:00

Fritzie Ligeralde

Julius

2023-10-27T12:23:57+11:00

Gilbert Wong

Julius

2023-09-28T10:05:22+11:00

Guru Swaminathan

General

2023-05-26T16:16:29+11:00

Hardik Lakhani

Julius

2023-11-14T10:59:45+11:00

Hayley Weir

Julius

2023-08-29T14:56:54+11:00

Helen Argitis

Julius

2023-11-14T10:56:19+11:00

Inggrid Yapari

Julius

2023-09-05T14:17:37+11:00

Ian Salvador

Julius

2023-11-14T02:22:20+11:00

Jerry Cobb

General

2022-06-28T15:49:32+11:00

Joanna Carlos

Julius

2022-02-15T17:48:05+11:00

Jochebed Diaz

General

2023-07-27T15:46:01+11:00

Johaimah Garrido

Julius

2021-03-16T10:08:35+11:00

John Middlemist

Julius

2023-11-14T02:36:08+11:00

Jovilyn Magtoto

Julius

2022-08-02T13:27:08+11:00

Julia Nicole Justo

Julius

2023-11-14T10:49:49+11:00

Julius Labalan

Julius

2023-10-05T10:04:21+11:00

Katherine Whiteside

General

2023-11-14T10:44:56+11:00

Kunal Parikh

Julius

2022-01-25T11:49:10+11:00

Lauren Grouse

Julius

2023-11-14T10:37:06+11:00

Louigi Gardiola

Julius

2023-02-23T08:31:20+11:00

Maddison Schmid

Julius

2023-11-14T10:31:00+11:00

Mariam Kohani

Julius

2022-07-19T09:57:04+11:00

Marian Joyce Makalintal

Julius

2023-06-21T10:48:28+11:00

Marianne Dinsay

Julius

2023-11-14T10:27:12+11:00

Mark McAdam

General

2023-05-03T12:09:06+11:00

Mark Millen

Julius

2022-08-30T12:47:06+11:00

Matthew Knight

Julius

2023-11-14T10:24:09+11:00

Melody Framp

Julius

2023-11-14T10:20:38+11:00

Melody Tuazon

Julius

2023-05-09T15:59:40+11:00

Michael Bryant

General

2023-11-13T17:56:32+11:00

Mohammad Ramezani

General

2022-07-13T16:18:36+11:00

Nadja Schulze

Julius

2023-07-13T13:05:06+11:00

Nevil Cope

General

2022-08-30T14:24:26+11:00

Niall Burke

Julius

2023-11-13T17:36:58+11:00

Nick Rodwell

Julius

2023-11-13T17:46:28+11:00

Nicole Hatten

Julius

2023-11-13T17:33:35+11:00

Ninia Ortile

Julius

2022-10-11T14:26:40+11:00

Pablo Andres Cordova Baya

Julius

2023-06-21T10:48:54+11:00

Parastoo Mousavi

Julius

2023-11-13T17:25:28+11:00

Paul Kirschner

General

2022-02-04T02:26:06+11:00

Peter Boylan

General

2023-03-14T16:22:42+11:00

Peter Philpott

General

2022-11-08T10:05:47+11:00

Rachel Low

Julius

2023-09-18T12:34:26+11:00

Rajiv Boddupalli

Julius

2023-11-13T16:14:32+11:00

Robert Crossman

General

2022-03-08T14:18:21+11:00

Rohini Verma

Julius

2023-11-30T02:00:48+11:00

Rohit Satija

Julius

2023-11-13T15:37:09+11:00

Roxane Montierro

Julius

2020-12-15T06:30:55+11:00

Sanjay Narayan

Julius

2023-02-14T11:09:04+11:00

Saurabh Kundi

Julius

2023-11-13T15:08:30+11:00

Shiraan Fernando

Julius

2023-03-14T15:07:49+11:00

Shruthi Srinivas

Julius

2023-08-25T12:02:31+11:00

Sreekanth Badam

Julius

2023-11-30T03:24:02+11:00

Stephen Curtis

Julius

2023-11-13T13:01:36+11:00

Simon Chrétien

Julius

2023-09-15T11:40:55+11:00

Tameka Yallop

General

2023-08-29T16:34:12+11:00

Tanvi Mahajan

Julius

2023-11-13T12:45:18+11:00

Thuc Linh Nguyen Phan

Julius

2023-11-13T12:39:10+11:00

Tony Calusic

Julius

2023-11-13T12:21:56+11:00

Vanessa Vella

General

2023-11-30T02:22:53+11:00

Vergil De Leon

Julius

2023-09-11T10:53:30+11:00

Winona Astian Thian

Julius

2023-02-23T08:34:19+11:00

Yanmin Chen

Julius

2023-10-03T19:22:20+11:00

Zach Barnetby

Julius

2023-11-13T10:30:25+11:00