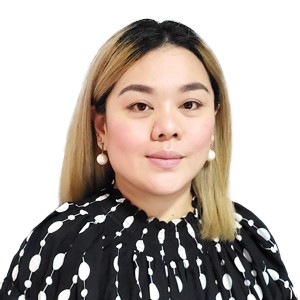 Jovilyn Magtoto
Senior PMO Consultant
---
Areas Of Expertise:
PMO Reporting
Financial Analysis
Change Specialist
---
Education:
Bachelor of Arts in Mass Communication (Broadcasting), Centro Escolar University
---
About Jovilyn
Jovilyn is a skilled PMO Consultant, she joined Seven Consulting's Manila Practice in August 2018.
Jovilyn has over 10 years' experience in the field of PMO Coordination and Finance Analysis within the banking and IT industries. She is a change specialist with project management office experience using both agile and waterfall methodologies to successfully support project delivery.
---
What Jovilyn brings
Excellent communication skills and an ability to interact with a variety of personality types, within different levels of the organization.
Exemplifying leadership abilities in training, mentoring and in maintaining a high-quality team.
Highly experienced in facilitating various project presentations, including documentation and preparation of training materials.
Skilled in Project and Governance reporting.
Solid Financial analysis skills.
Schedule Management & Variance Reporting
---
Delivery Expertise:
Woolworths Food Group
Deutsche Bank Group Manila (DBG Manila)
Globe Telecom
Accenture
Sitel Philippines
---
Key Achievements:
As PMO Consultant at Woolworths Food Group, Jovilyn supported the Facilities Management Team on Project Schedule, Financials and Status Reporting. She maintained and tracked the project schedule by providing extracts from MSP (due/upcoming tasks) to the stream leads and coordinated updates. She also maintained the Portfolio Financials, creating a time allocation platform to identify resources' working hours and tracking actuals each week then performing a monthly financial review with the Program Manager. Jovilyn helped establish a status report template and cadence for the portfolio which was used to present to stakeholders.
---
As Project Management specialist at Deutsche Bank Group, Jovilyn provided in depth support to Project Managers globally, ensuring streamlining company methodology and disciplines, using both Agile and Waterfall principals. Jovilyn was part of the successful project delivery, by ensuring project launch, stakeholder mapping, communications plan, set-up and facilitation of project forums. Her skills in consolidated reporting ensured consistent high accuracy. Jovilyn was part of many successfully executed projects. She managed created and designed a new SharePoint site for the Manila Project team – Dashboard reporting. Jovilyn' s work in the TPAT project was highly regarded, as she was able to successfully coordinate target users and application owners with her mapping and reporting skills. As PMO specialist for DBG, Jovilyn provided governance for change request process for GTO and finance. She monitored and approved change requests raised by Finance and Operations teams. Providing monthly reports to BMSC teams for auditing. She also created a monitoring, forecast and analysis system for resources for the HR department, ensuring compliance and liaised with hiring managers and vendors throughout the process. Jovilyn led the headcount and seat management analysis, coordinating and liaising with workstream heads and POCs for the headcount forecast, ensuring numbers are reconciled and accurate and consolidated headcount forecast for monthly and year-end report for Seat Demand Analysis.
---
As a Team Lead and supervisor at Accenture, Jovilyn led teams to learn and understand the navigational tools of all the applications needed in the process. She observed the SLA's and performance measurements assigned, participated in operational excellence initiatives and supported the functional lead in the management of functions groups. She ensured development of group members' skills by providing guidance and worked with management to create and maintain work plans. She also coached inexperienced team members and provided first level advice on procedures and methods.
---
As a Customer/technical service representative at Sitel, Jovilyn assisted customers with issues regarding their credit card account and card activation and provided accurate information concerning fees, statements, information and general credit card information. She also offered additional products to cardholders through cross sales of products when applicable. Jovilyn also handled customer calls, account inquires, payments and complaints from The Filipino Channel subscribers in North America, Australia and Europe. Jovilyn created reports on technical issues customers were facing.
---
As Customer Service representative at Globe Telecom, Jovilyn assisted customers with handy phone applications, inquiries, payments and complains and also produced reports for handy applications.
---
Other Team Members
Declan Boylan

General

2020-01-15T02:30:38+11:00

Gareth James

General

2021-01-19T11:29:58+11:00

Connie McKeage

Julius

2021-03-09T10:14:51+11:00

Michael Blomfield

Julius

2023-02-14T10:26:26+11:00

Temre Green

Julius

2022-11-23T10:52:41+11:00

Mike Stockley

Julius

2022-08-30T12:56:19+11:00

Julie Laoit

Julius

2022-07-19T09:10:59+11:00

Rob Thomsett

General

2023-01-31T17:26:36+11:00

Louise Ford

General

2020-01-15T03:08:18+11:00

Aaron Simonsen

Julius

2023-11-13T23:52:10+11:00

Alan Alehashemi

Julius

2022-07-19T09:07:40+11:00

Alex Jahan

Julius

2023-11-14T12:14:04+11:00

Alex Massie

General

2023-11-14T12:25:43+11:00

Alexander Rivkin

Julius

2023-11-14T00:06:50+11:00

Alexandra Marie Tan

Julius

2023-07-20T17:43:15+11:00

Ali Pahlavan

General

2023-11-14T00:19:34+11:00

Alisdair Brown

Julius

2022-08-30T09:51:38+11:00

Amanda Walker

Julius

2023-11-14T12:09:46+11:00

Andrew Cheesman

Julius

2022-08-09T12:17:42+11:00

Anna Linfield-Kent

Julius

2023-11-14T11:45:20+11:00

Andrew Marshall

Julius

2023-08-29T14:02:36+11:00

Audrey Teh

Julius

2023-11-14T01:03:53+11:00

Barbara Read

General

2023-11-13T23:44:22+11:00

Bhavna Gupta

Julius

2023-11-30T01:43:24+11:00

Benn Salier

Julius

2023-10-17T17:16:47+11:00

Bita Bagheri

General

2023-08-02T22:15:49+11:00

Blake Dahlen

Julius

2023-07-20T13:58:11+11:00

Caroline Lees

Julius

2023-11-14T01:15:13+11:00

Cathy Baldwin

General

2021-01-19T16:55:52+11:00

Chris Sykes

General

2022-05-26T12:50:02+11:00

Callum Barker

Julius

2023-09-15T10:54:00+11:00

Dave Rider

Julius

2023-11-14T11:28:26+11:00

David Johnson

General

2023-06-13T11:44:41+11:00

Deanna Edwards

Julius

2023-03-28T15:46:04+11:00

Derek Oldham

Julius

2023-11-14T01:43:07+11:00

Elise Kellond-Knight

Julius

2019-07-04T22:47:54+11:00

Eliza Johnson

Julius

2023-11-14T01:52:47+11:00

Ellen Misador

Julius

2023-11-14T11:16:10+11:00

Eugene O'Connell

Julius

2023-11-14T11:03:19+11:00

Fritzie Ligeralde

Julius

2023-10-27T12:23:57+11:00

Gilbert Wong

Julius

2023-09-28T10:05:22+11:00

Guru Swaminathan

General

2023-05-26T16:16:29+11:00

Hardik Lakhani

Julius

2023-11-14T10:59:45+11:00

Hayley Weir

Julius

2023-08-29T14:56:54+11:00

Helen Argitis

Julius

2023-11-14T10:56:19+11:00

Inggrid Yapari

Julius

2023-09-05T14:17:37+11:00

Ian Salvador

Julius

2023-11-14T02:22:20+11:00

Jerry Cobb

General

2022-06-28T15:49:32+11:00

Joanna Carlos

Julius

2022-02-15T17:48:05+11:00

Jochebed Diaz

General

2023-07-27T15:46:01+11:00

Johaimah Garrido

Julius

2021-03-16T10:08:35+11:00

John Middlemist

Julius

2023-11-14T02:36:08+11:00

Jovilyn Magtoto

Julius

2022-08-02T13:27:08+11:00

Julia Nicole Justo

Julius

2023-11-14T10:49:49+11:00

Julius Labalan

Julius

2023-10-05T10:04:21+11:00

Katherine Whiteside

General

2023-11-14T10:44:56+11:00

Kunal Parikh

Julius

2022-01-25T11:49:10+11:00

Lauren Grouse

Julius

2023-11-14T10:37:06+11:00

Louigi Gardiola

Julius

2023-02-23T08:31:20+11:00

Maddison Schmid

Julius

2023-11-14T10:31:00+11:00

Mariam Kohani

Julius

2022-07-19T09:57:04+11:00

Marian Joyce Makalintal

Julius

2023-06-21T10:48:28+11:00

Marianne Dinsay

Julius

2023-11-14T10:27:12+11:00

Mark McAdam

General

2023-05-03T12:09:06+11:00

Mark Millen

Julius

2022-08-30T12:47:06+11:00

Matthew Knight

Julius

2023-11-14T10:24:09+11:00

Melody Framp

Julius

2023-11-14T10:20:38+11:00

Melody Tuazon

Julius

2023-05-09T15:59:40+11:00

Michael Bryant

General

2023-11-13T17:56:32+11:00

Mohammad Ramezani

General

2022-07-13T16:18:36+11:00

Nadja Schulze

Julius

2023-07-13T13:05:06+11:00

Nevil Cope

General

2022-08-30T14:24:26+11:00

Niall Burke

Julius

2023-11-13T17:36:58+11:00

Nick Rodwell

Julius

2023-11-13T17:46:28+11:00

Nicole Hatten

Julius

2023-11-13T17:33:35+11:00

Ninia Ortile

Julius

2022-10-11T14:26:40+11:00

Pablo Andres Cordova Baya

Julius

2023-06-21T10:48:54+11:00

Parastoo Mousavi

Julius

2023-11-13T17:25:28+11:00

Paul Kirschner

General

2022-02-04T02:26:06+11:00

Peter Boylan

General

2023-03-14T16:22:42+11:00

Peter Philpott

General

2022-11-08T10:05:47+11:00

Rachel Low

Julius

2023-09-18T12:34:26+11:00

Rajiv Boddupalli

Julius

2023-11-13T16:14:32+11:00

Robert Crossman

General

2022-03-08T14:18:21+11:00

Rohini Verma

Julius

2023-11-30T02:00:48+11:00

Rohit Satija

Julius

2023-11-13T15:37:09+11:00

Roxane Montierro

Julius

2020-12-15T06:30:55+11:00

Sanjay Narayan

Julius

2023-02-14T11:09:04+11:00

Saurabh Kundi

Julius

2023-11-13T15:08:30+11:00

Shiraan Fernando

Julius

2023-03-14T15:07:49+11:00

Shruthi Srinivas

Julius

2023-08-25T12:02:31+11:00

Sreekanth Badam

Julius

2023-11-30T03:24:02+11:00

Stephen Curtis

Julius

2023-11-13T13:01:36+11:00

Simon Chrétien

Julius

2023-09-15T11:40:55+11:00

Tameka Yallop

General

2023-08-29T16:34:12+11:00

Tanvi Mahajan

Julius

2023-11-13T12:45:18+11:00

Thuc Linh Nguyen Phan

Julius

2023-11-13T12:39:10+11:00

Tony Calusic

Julius

2023-11-13T12:21:56+11:00

Vanessa Vella

General

2023-11-30T02:22:53+11:00

Vergil De Leon

Julius

2023-09-11T10:53:30+11:00

Winona Astian Thian

Julius

2023-02-23T08:34:19+11:00

Yanmin Chen

Julius

2023-10-03T19:22:20+11:00

Zach Barnetby

Julius

2023-11-13T10:30:25+11:00