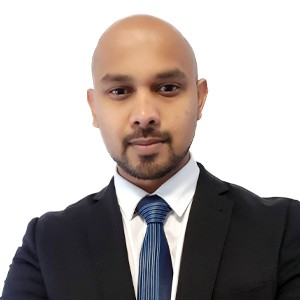 Shiraan Fernando
Program Director
---
Areas Of Expertise:
Project and Program Management
Agile Transformation
Digital Transformation
PMO
Team Capability Building
Digital Technologies
Business Case and Financial modelling
People Leadership
Innovation
start-up scaling and Culture coaching
---
Education:
Postgraduate Certificate in Management
Bachelor of Commerce (Finance)
Bachelor of Science (Computer Science)
---
About Shiraan Fernando
Shiraan is an experienced Program Leader with significant experiences in leading some of Australia's largest Digital initiatives along with supporting PMO implementations. He has worked extensively in delivering industry leading B2C digital programs and brings with him experiences in large scale agile transformation, strategic program delivery, PMO design/implementation, start-up incubation and multiple experiences managing in-house or vendor-built software development initiatives. He is a skilled and passionate people leader with experiences in building E2E delivery teams that are agile and successful in complex environments. Prior to joining Seven Consulting, Shiraan held a number of leadership positions including Project Manager, Iteration Manager, Program Manager and General Manager.
---
What Shiraan brings
Significant experience in delivering large-scale technology transformations supported by "right-fit" Agile methodologies in complex environments.
Extensive experience in building Agile capabilities and developing long-lasting high performing generative teams.
Experienced in delivery PMO implementations covering E2E project lifecycle management.
Strong influencing skills with the ability to quickly develop relationships and provide effective leadership to deliver value.
A can-do attitude and an eagerness to exceed program KPI's.
---
Key Clients:
ipSCAPE
HunterWater
Optus
Telstra
Sirca
Woolworths
Cisco
---
Key Achievements:
As Program Director at ipSCAPE, Shiraan implemented E2E Agile Software Delivery capability into an organisation looking to transition from start-up into a market leader. The scope of the program covered the full breadth of E2E Software Delivery from Prioritisation, Discovery, Governance through to Build, Test and Release. Shiraan was instrumental in revamping ipSCAPE software and product teams leading to significant improvements in culture, delivery, quality and customer satisfaction. Utilising his experiences in PMO, Scaled Agile and software; Shiraan set in place the foundations of E2E delivery which has been recognised by the board of directors for making a notable contribution to ipSCAPE's future.
---
As Program Director at HunterWater(HW), Shiraan led the delivery of three critical programs that supports HW's "Beyond 2024" vision. Programs were delivered in a 9-month period and included the integration of new Billing Systems, A high-profile regulatory change in banking partner and the implementation of HW's core customer self-serve system. Under his leadership, he created program structures that enable delivery to KPI's and delivered programs on-time, under-budget with a notably high customer satisfaction score. As part of the engagement, he also delivered HW's first Agile delivery framework, completed an audit and proposed uplift of delivery; leading to the delivery of HW Digital Portfolio Prioritisation Frameworks.
---
As Program Director at Optus, Shiraan led the implementation of Greenfields EPMO capability for Optus. Reporting into the C-Level, within this engagement he was in charge of Business Case formation and subsequent organisational build of a 100+ EPMO Org unit. In addition to this, Shiraan led the team of PMO Specialists in building ground-up capabilities for the E2E EPMO covering Project Management Frameworks, best-practice program governance, resource capability uplift strategies and curriculums, quarterly portfolio prioritisation with a focus on benefits thinking and executability, implementing BI reporting capabilities and rolling out EPMO support services such as Dependency Management, Quality Assurance, and Scheduling. The Optus EPMO was a 9 month program executed during challenging COVID environments. The program is now live and recognized as a core strategic pillar of Optus 200m+ program delivery capability.
---
As General Manager at Telstra, Shiraan executed organisational strategies resulting in an exponential growth of program backlog with over 6 Agile release trains producing monthly software releases across numerous asset portfolios. As part of these strategies the programs of work grew from delivering 300k of initiatives to over 45m and an average of 95 projects a year. With strong experiences in Agile and Offshore development, his strategies produced a reduction in costs by over 20% and aided in building an agile organisation with the ability to flex-up and down to meet demand. As a passionate supporter of continuous improvement, a core pillar of his teams was the ability to adapt to change and succeed in complex corporate, project and system environments. His teams continue to be acknowledged as high-performing, fun and innovative teams delivering some of Telstra's key strategic programs. As a passionate people leader, he actively mentored and promoted staff producing multiple staff Excellerate awards, long staff tenures and very low turnover.
---
As Program Manager at Telstra, Shiraan scaled the team from 13 resources to over 100+ resources across three countries and 6 sites. He transformed the team from traditional processes into high-performing agile teams delivering high-value software on a continuous basis. His team was recognised as one of Telstra's most matured IT agile divisions and encompasses mature agile culture, mindsets and methodologies. As program manager, Shiraan hired the key resources and built a strong "can-do" team culture resulting in highly passionate, customer focused, sales driven teams.
---
As Program Manager at Telstra, Shiraan led some of Australia's largest Digital Programs from concept through to post-production support. His programs include Australia's #2 SmartPhone utilities app, #1 Tablet utilities App and Global Top 20 digital assets. As a digital leader he provided leadership in driving foundational digital capabilities such as DevOps / E2E Automation and Cloud-based scalability. On the R&D side, Shiraan has been part of programs delivering pioneering technologies such as WIFI Mesh/ Bluetooth Beacon / IoT / ChatBots / Voice and AI. As a passionate technologist, he also drove the formation of Brainwave innovation incubators which linked his teams to well established university programs.
---
As General Manager at Telstra, Shiraan lead a team of program managers in delivering a core portfolio of Telstra highly publicised 2020 Digital Vision. These applications include amongst others, Telstra Air – a nationally rolled out hardware and software program delivering seamless mobile WIFI services, HomeDashboard – A customer-centric designed app creating seamless in-home experiences and Telstra Locator – Australia's largest IoT finding network. Under his management, these programs were able to quickly ramp-up and incrementally deliver value to market resulting in Go-Lives as early as 3 months from formation.
---
As Lead Project Manager at Telstra, Shiraan delivered a significant portfolio of projects with a proven ability to manage up-to 14 concurrent projects. Some of these projects include the Mobility Acceleration Programs (1.0, 1.1, 1.2) in which he drove the projects through the financial and benefit modelling as well as the delivery of project benefits to market. As Lead PM, Shiraan also delivered the first version of Telstra 24×7, TFM, Snapp. Shiraan also led the formation of Telstra's Cloud Platform and delivered the solution and costing phase for what would become one of Telstra core strategic pillars
---
As Senior Project Manager at Sirca, Shiraan enabled the legal and corporate separation of Sirca into two organisations. He was responsible for the Project Management of a C-Level project team including a high-profile board of directors. Within this role, he effectively drove his project team through the regulatory processes and achieved a zero-impact separation of Sirca.
---
As Business Analyst and Project Manager at Woolworths, Shiraan managed the delivery of the SalesLogix CRM system including process analysis, process implementation, training, product support and light touch in-house development. Other projects he ran include assisting with Woolworths Metro Transport Model implementations. He also led PM for the Pyramid Workforce Management system which included the management of an in-house development team as well the subsequent implementation across a highly complex and unionized Woolworths Logistics workforce.
---
As Finance Administrator at Cisco, Shiraan managed the divisional finances for Cisco's ANZ Facilities team. With responsibility for a USD 20M+ budget Shiraan was in charge of maintaining financial diligence and improving divisional budgets allocations. Within this role he applied technology to the tasks ultimately building an IT system with supporting processes that automated workload and reduced budget variances through improved metrics and effective workflow.
Other Team Members
Declan Boylan

General

2020-01-15T02:30:38+11:00

Gareth James

General

2021-01-19T11:29:58+11:00

Connie McKeage

Julius

2021-03-09T10:14:51+11:00

Michael Blomfield

Julius

2023-02-14T10:26:26+11:00

Temre Green

Julius

2022-11-23T10:52:41+11:00

Mike Stockley

Julius

2022-08-30T12:56:19+11:00

Julie Laoit

Julius

2022-07-19T09:10:59+11:00

Rob Thomsett

General

2023-01-31T17:26:36+11:00

Louise Ford

General

2020-01-15T03:08:18+11:00

Aaron Simonsen

Julius

2023-11-13T23:52:10+11:00

Alan Alehashemi

Julius

2022-07-19T09:07:40+11:00

Alex Jahan

Julius

2023-11-14T12:14:04+11:00

Alex Massie

General

2023-11-14T12:25:43+11:00

Alexander Rivkin

Julius

2023-11-14T00:06:50+11:00

Alexandra Marie Tan

Julius

2023-07-20T17:43:15+11:00

Ali Pahlavan

General

2023-11-14T00:19:34+11:00

Alisdair Brown

Julius

2022-08-30T09:51:38+11:00

Amanda Walker

Julius

2023-11-14T12:09:46+11:00

Andrew Cheesman

Julius

2022-08-09T12:17:42+11:00

Anna Linfield-Kent

Julius

2023-11-14T11:45:20+11:00

Andrew Marshall

Julius

2023-08-29T14:02:36+11:00

Audrey Teh

Julius

2023-11-14T01:03:53+11:00

Barbara Read

General

2023-11-13T23:44:22+11:00

Bhavna Gupta

Julius

2023-11-30T01:43:24+11:00

Benn Salier

Julius

2023-10-17T17:16:47+11:00

Bita Bagheri

General

2023-08-02T22:15:49+11:00

Blake Dahlen

Julius

2023-07-20T13:58:11+11:00

Caroline Lees

Julius

2023-11-14T01:15:13+11:00

Cathy Baldwin

General

2021-01-19T16:55:52+11:00

Chris Sykes

General

2022-05-26T12:50:02+11:00

Callum Barker

Julius

2023-09-15T10:54:00+11:00

Dave Rider

Julius

2023-11-14T11:28:26+11:00

David Johnson

General

2023-06-13T11:44:41+11:00

Deanna Edwards

Julius

2023-03-28T15:46:04+11:00

Derek Oldham

Julius

2023-11-14T01:43:07+11:00

Elise Kellond-Knight

Julius

2019-07-04T22:47:54+11:00

Eliza Johnson

Julius

2023-11-14T01:52:47+11:00

Ellen Misador

Julius

2023-11-14T11:16:10+11:00

Eugene O'Connell

Julius

2023-11-14T11:03:19+11:00

Fritzie Ligeralde

Julius

2023-10-27T12:23:57+11:00

Gilbert Wong

Julius

2023-09-28T10:05:22+11:00

Guru Swaminathan

General

2023-05-26T16:16:29+11:00

Hardik Lakhani

Julius

2023-11-14T10:59:45+11:00

Hayley Weir

Julius

2023-08-29T14:56:54+11:00

Helen Argitis

Julius

2023-11-14T10:56:19+11:00

Inggrid Yapari

Julius

2023-09-05T14:17:37+11:00

Ian Salvador

Julius

2023-11-14T02:22:20+11:00

Jerry Cobb

General

2022-06-28T15:49:32+11:00

Joanna Carlos

Julius

2022-02-15T17:48:05+11:00

Jochebed Diaz

General

2023-07-27T15:46:01+11:00

Johaimah Garrido

Julius

2021-03-16T10:08:35+11:00

John Middlemist

Julius

2023-11-14T02:36:08+11:00

Jovilyn Magtoto

Julius

2022-08-02T13:27:08+11:00

Julia Nicole Justo

Julius

2023-11-14T10:49:49+11:00

Julius Labalan

Julius

2023-10-05T10:04:21+11:00

Katherine Whiteside

General

2023-11-14T10:44:56+11:00

Kunal Parikh

Julius

2022-01-25T11:49:10+11:00

Lauren Grouse

Julius

2023-11-14T10:37:06+11:00

Louigi Gardiola

Julius

2023-02-23T08:31:20+11:00

Maddison Schmid

Julius

2023-11-14T10:31:00+11:00

Mariam Kohani

Julius

2022-07-19T09:57:04+11:00

Marian Joyce Makalintal

Julius

2023-06-21T10:48:28+11:00

Marianne Dinsay

Julius

2023-11-14T10:27:12+11:00

Mark McAdam

General

2023-05-03T12:09:06+11:00

Mark Millen

Julius

2022-08-30T12:47:06+11:00

Matthew Knight

Julius

2023-11-14T10:24:09+11:00

Melody Framp

Julius

2023-11-14T10:20:38+11:00

Melody Tuazon

Julius

2023-05-09T15:59:40+11:00

Michael Bryant

General

2023-11-13T17:56:32+11:00

Mohammad Ramezani

General

2022-07-13T16:18:36+11:00

Nadja Schulze

Julius

2023-07-13T13:05:06+11:00

Nevil Cope

General

2022-08-30T14:24:26+11:00

Niall Burke

Julius

2023-11-13T17:36:58+11:00

Nick Rodwell

Julius

2023-11-13T17:46:28+11:00

Nicole Hatten

Julius

2023-11-13T17:33:35+11:00

Ninia Ortile

Julius

2022-10-11T14:26:40+11:00

Pablo Andres Cordova Baya

Julius

2023-06-21T10:48:54+11:00

Parastoo Mousavi

Julius

2023-11-13T17:25:28+11:00

Paul Kirschner

General

2022-02-04T02:26:06+11:00

Peter Boylan

General

2023-03-14T16:22:42+11:00

Peter Philpott

General

2022-11-08T10:05:47+11:00

Rachel Low

Julius

2023-09-18T12:34:26+11:00

Rajiv Boddupalli

Julius

2023-11-13T16:14:32+11:00

Robert Crossman

General

2022-03-08T14:18:21+11:00

Rohini Verma

Julius

2023-11-30T02:00:48+11:00

Rohit Satija

Julius

2023-11-13T15:37:09+11:00

Roxane Montierro

Julius

2020-12-15T06:30:55+11:00

Sanjay Narayan

Julius

2023-02-14T11:09:04+11:00

Saurabh Kundi

Julius

2023-11-13T15:08:30+11:00

Shiraan Fernando

Julius

2023-03-14T15:07:49+11:00

Shruthi Srinivas

Julius

2023-08-25T12:02:31+11:00

Sreekanth Badam

Julius

2023-11-30T03:24:02+11:00

Stephen Curtis

Julius

2023-11-13T13:01:36+11:00

Simon Chrétien

Julius

2023-09-15T11:40:55+11:00

Tameka Yallop

General

2023-08-29T16:34:12+11:00

Tanvi Mahajan

Julius

2023-11-13T12:45:18+11:00

Thuc Linh Nguyen Phan

Julius

2023-11-13T12:39:10+11:00

Tony Calusic

Julius

2023-11-13T12:21:56+11:00

Vanessa Vella

General

2023-11-30T02:22:53+11:00

Vergil De Leon

Julius

2023-09-11T10:53:30+11:00

Winona Astian Thian

Julius

2023-02-23T08:34:19+11:00

Yanmin Chen

Julius

2023-10-03T19:22:20+11:00

Zach Barnetby

Julius

2023-11-13T10:30:25+11:00