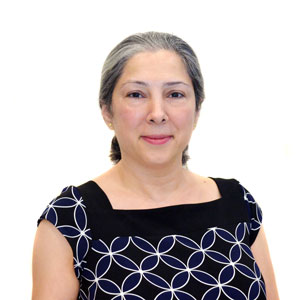 Bita Bagheri
PMO Lead
---
Areas of Expertise:
PMO/EPMO establishment and management
Project management
Vendor and implementation management
Project financials
Scheduling and Portfolio reporting
---
Education:
Masters of Science – Industrial Engineering
Bachelor of Science – Industrial Engineering (System Analysis)
Project Management Professional – PMP
PRINCE2 Practitioner
---
About Bita Bagheri
Bita is a project management specialist with expertise on large-scale portfolios, programs and projects. She is joined the Sydney practice in May 2018 as a PMO Lead. Bita brings an exceptional track record of results, with more than 20 years' experience mostly within IT. Along with initiating and managing projects, Bita has supported portfolios as well as projects through establishing and managing dedicated or enterprise PMOs and ensuring strategic alignment.
---
What Bita Brings
Seasoned PMO professional with a track record of delivery across multiple industries such as financial services and telecommunications.
Highly experienced in project governance, frameworks, principals, tools and end to end financial reporting & analysis, risk and issue management.
Excellent competency in identifying stakeholders' requirements and managing their expectations with PMO related functions.
An understanding of Traditional and Agile development methods.
---
Key Clients:
Optus
AMP Life
BNP Paribas
AMP
SAI Global
Nokia
Baharan Information Technologists
System Group
---
Key Achievements:
As PMO Lead at Optus, Bita developed the Project Management Framework including templates as part of Optus EPMO Establishment. The framework includes the minimum standards and guidelines for project management as well as Optus delivery streams (Development and Implementation, Testing, Change management and Business). Seventh Way Tool has been customised based on the approved Optus Project Management Framework and implemented. She customised the "Seven Portfolio Review Tool" to fit to Optus EPMO requirements and operated for FY22 Q1 Planning. PM Capability Framework and assessment was another initiative she implemented as part of PM capability uplift initiative.
---
As PMO Lead at AMP Life, Bita implemented and improved schedule management process for 16 projects including baselining, regular weekly schedule review meetings for 17 weeks and managing ~200 dependencies between the 15 active projects. She provided the overall program weekly schedule dashboard to the senior stakeholders. The average schedule quality score was improved from 60% when started in July 2020 to 74% in October.
---
As PMO lead at BNP Paribas, Bita had PMO responsibility for 3 projects. The most recent project was a multi- year separation and simplification program implemented in both Australia and New Zealand. Bita defined financial, schedule, change and HR management practices for the program and ensured correct and precise reports were provided for both external and internal senior stakeholders. The project is planned to go live in H1 2020. The second project was onboarding a new client. Bita implemented a framework for managing project inter-dependencies, managed risk through deliverables management and risk, issues and actions management process, designed and implemented the regular reporting and implemented the change management process for the whole program in Australia and New Zealand.
The first was a transition project where BNPP transitioned registry services of their biggest client to a third party. Bita was responsible for establishing a structure that could drive a tight deadline through schedule management, minimising risk by managing scope changes, organisational risk and issue impacts and ensuring integrity and transparency of information through regular reporting and coordination of a 4-week Hypercare stream. The project went live on time, with smooth warranty period. The governance structure and processes that were implemented were recognised as organisational best practice, which are being utilised by other projects in BNPP.
---
As Portfolio Analyst, at AMP Bita was responsible for preparing the portfolio status reporting packs for different stakeholders and forums, running health checks and providing ad hoc analysis and reports. Bita also tracked the budget, monthly actuals and forecasts, analysing the variance and advising corrective actions. She maintained the resource pool and allocations through the portfolio and developed the portfolio master schedule, major milestones and dependencies as well as maintaining it. Bita provided support to the Project Managers by managing the project change, risks and issues, financials, status and progress. She also provided internal progress reporting on risk and issues, management and change management processes. Bita reduced the cost centre closure duration from 6 months in 2017 to 1 month in 2018 and provided more visibility to the resource pool.
---
As the only EMPO Specialist, at SAI Global Bita was responsible for developing and implementing the project management framework for Waterfall, Agile and Hybrid project lifecycles. She was also responsible for training the Project Managers in the US, UK and APAC. Bita innovated metrics reporting, which provided transparency and flags for KPIs such as time and cost, this improved risk management reporting for senior stakeholders and improved the monthly cost estimation variance from the average of 50% to 20% through mentoring the Project Managers, which resulted in a more accurate capex monthly cash flow. Bita also provided a Project management framework, which improved organisational Project Management maturity and metrics of project success by 50%.
---
As a junior PM, at Nokia, Bita supported senior project managers in reporting, scheduling, resource management, change management, financial tracking, RAID management and vendor management. She also managed the Vendor Transition stream (transitioning all the equipment, access rights, commitments for all VHA-related sites (~10,000 sites) from the existing contractor to the new one), as part of Nokia Transition and Transformation program in 2013.
---
As PMO Analyst, Bita planned the programs; including preparing project management plans, forecasting resources and financials. Bita also monitored the projects, by updating the schedules, tracking resources, costs and changes in scope, reporting on the project status, performance and progress. Based on the defined KPIs, Bita executed weekly health checks and project reviews to identify risks and issues. She established an integrated shared resource pool view and provided better visibility of resource utilisation, improving the resource utilisation by 20%. She also implemented and managed a project acceptance workflow involving 7 different stakeholders, improving SLA compliance by 70%.
---
As PMO Consultant, At Baharan IT, Bita provided PMO and program/project management services to several clients in varied industries. She established the PMOs by developing the processes and procedures and business rules along with defining the roles and responsibilities and templates. Bita provided training to the stakeholders and PMO teams and Project Managers. She was also actively involved in hiring the PMO team and auditing the PMOs. Bita delivered 95% of the assigned projects on time, budget and within scope, resulting in 100% customer satisfaction. She implemented 10 PMOs for both enterprises and complex programs, leading to an increase of 50% in the projects' success rate and trained more than 200 project managers on Project Management frameworks PMBOK, PRINCE2 together with facilitating MSP workshops.
---
As PMO Manager, at System Group, Bita established the corporate PMO improving the release delays to 0 with less than 10% of scope change and deployed the measurement processes, improving the resource forecasting variance to less than 5%.
---
Other Team Members
Declan Boylan

General

2020-01-15T02:30:38+11:00

Gareth James

General

2021-01-19T11:29:58+11:00

Connie McKeage

Zeus Lara

2021-03-09T10:14:51+11:00

Hugh Harley

Zeus Lara

2020-04-01T04:18:49+11:00

Michael Blomfield

Zeus Lara

2023-02-14T10:26:26+11:00

Temre Green

Zeus Lara

2022-11-23T10:52:41+11:00

Mike Stockley

Zeus Lara

2022-08-30T12:56:19+11:00

Julie Laoit

Zeus Lara

2022-07-19T09:10:59+11:00

Rob Thomsett

General

2023-01-31T17:26:36+11:00

Louise Ford

General

2020-01-15T03:08:18+11:00

Aaron Simonsen

Zeus Lara

2022-08-30T11:02:06+11:00

Akhilesh Das

Zeus Lara

2022-11-08T10:09:51+11:00

Alan Alehashemi

Zeus Lara

2022-07-19T09:07:40+11:00

Alex Massie

General

2023-05-09T15:42:17+11:00

Alexander Rivkin

Zeus Lara

2023-03-28T15:40:59+11:00

Alexandra Marie Tan

Zeus Lara

2023-03-14T15:15:24+11:00

Ali Pahlavan

General

2023-05-17T01:57:15+11:00

Alisdair Brown

Zeus Lara

2022-08-30T09:51:38+11:00

Amanda Walker

Zeus Lara

2023-06-06T11:10:57+11:00

Anders Madsen

Zeus Lara

2022-08-02T17:55:11+11:00

Andrew Cheesman

Zeus Lara

2022-08-09T12:17:42+11:00

Andrew Coley

Zeus Lara

2021-12-21T12:36:47+11:00

Anish Joshi

Zeus Lara

2023-04-04T15:04:09+11:00

Ann Mica Mae Lim

Zeus Lara

2023-05-11T14:08:40+11:00

Anna Linfield-Kent

Zeus Lara

2023-03-14T16:25:51+11:00

Barbara Read

General

2023-04-27T09:42:19+11:00

Benn Salier

Zeus Lara

2021-07-06T13:45:00+11:00

Bita Bagheri

General

2021-03-02T14:12:11+11:00

Blake Dahlen

Zeus Lara

2023-02-23T09:47:16+11:00

Callum Dodd

Zeus Lara

2022-11-23T11:00:39+11:00

Caroline Lees

Zeus Lara

2023-01-17T10:29:22+11:00

Cathy Baldwin

General

2021-01-19T16:55:52+11:00

Chika Nnadiekwe

Zeus Lara

2023-03-28T15:27:26+11:00

Chris Sykes

General

2022-05-26T12:50:02+11:00

Cliff Blakley

Zeus Lara

2023-05-11T13:52:16+11:00

David Johnson

General

2022-06-01T10:43:16+11:00

David Mansfield

Zeus Lara

2023-02-14T10:37:32+11:00

Deanna Edwards

Zeus Lara

2023-03-28T15:46:04+11:00

Derek Oldham

Zeus Lara

2023-05-09T15:38:58+11:00

Elise Kellond-Knight

Zeus Lara

2019-07-04T22:47:54+11:00

Ellen Misador

Zeus Lara

2023-03-14T15:30:57+11:00

Eugene O'Connell

Zeus Lara

2022-03-22T16:14:36+11:00

Francis Aseron

Zeus Lara

2023-02-24T09:56:24+11:00

Fritzie Ligeralde

Zeus Lara

2021-08-17T15:41:14+11:00

Gilbert Wong

Zeus Lara

2022-05-25T12:27:00+11:00

Guru Swaminathan

General

2023-05-26T16:16:29+11:00

Hardik Lakhani

Zeus Lara

2022-03-08T16:33:18+11:00

Hayley Weir

Zeus Lara

2022-03-01T12:16:09+11:00

Helen Argitis

Zeus Lara

2022-05-26T12:13:35+11:00

Ian Salvador

Zeus Lara

2022-06-14T17:51:51+11:00

Ian Thomson

Zeus Lara

2023-04-27T09:46:51+11:00

Ibrahim Dani

Zeus Lara

2023-05-09T15:33:59+11:00

Igor Vieira

Zeus Lara

2022-06-28T16:45:19+11:00

Jerry Cobb

General

2022-06-28T15:49:32+11:00

Joanna Carlos

Zeus Lara

2022-02-15T17:48:05+11:00

Jochebed Diaz

General

2022-11-16T12:53:12+11:00

Johaimah Garrido

Zeus Lara

2021-03-16T10:08:35+11:00

John Middlemist

Zeus Lara

2021-07-21T12:11:54+11:00

Jovilyn Magtoto

Zeus Lara

2022-08-02T13:27:08+11:00

Julia Nicole Justo

Zeus Lara

2023-02-23T08:34:34+11:00

Katherine Whiteside

General

2022-11-30T17:42:36+11:00

Kunal Parikh

Zeus Lara

2022-01-25T11:49:10+11:00

Lauren Grouse

Zeus Lara

2023-06-06T11:56:05+11:00

Louigi Gardiola

Zeus Lara

2023-02-23T08:31:20+11:00

Louise White

General

2021-05-11T16:20:05+11:00

Lousiene Samonte

General

2022-08-30T14:27:05+11:00

Maddison Schmid

Zeus Lara

2023-05-11T09:35:43+11:00

Mariam Kohani

Zeus Lara

2022-07-19T09:57:04+11:00

Marian Joyce Makalintal

Zeus Lara

2023-03-14T15:51:17+11:00

Marianne Dinsay

Zeus Lara

2023-02-23T08:32:42+11:00

Mark McAdam

General

2023-05-03T12:09:06+11:00

Mark Millen

Zeus Lara

2022-08-30T12:47:06+11:00

Matthew Knight

Zeus Lara

2023-02-23T08:32:48+11:00

Melanie Northrop

Zeus Lara

2023-01-31T17:06:41+11:00

Melody Framp

Zeus Lara

2023-05-09T16:20:00+11:00

Melody Tuazon

Zeus Lara

2023-05-09T15:59:40+11:00

Michael Bryant

General

2022-08-09T11:38:32+11:00

Mohammad Ramezani

General

2022-07-13T16:18:36+11:00

Muhammad Sauood Ur Rauf

General

2022-08-30T14:20:48+11:00

Nevil Cope

General

2022-08-30T14:24:26+11:00

Niall Burke

Zeus Lara

2022-10-11T13:16:07+11:00

Nick Rodwell

Zeus Lara

2022-07-14T11:47:55+11:00

Nicole Hatten

Zeus Lara

2022-03-22T16:18:26+11:00

Ninia Ortile

Zeus Lara

2022-10-11T14:26:40+11:00

Pablo Andres Cordova Baya

Zeus Lara

2023-02-23T08:48:38+11:00

Parastoo Mousavi

Zeus Lara

2022-12-13T10:24:00+11:00

Paul Bernard

Zeus Lara

2022-02-04T02:19:40+11:00

Paul Kirschner

General

2022-02-04T02:26:06+11:00

Peter Boylan

General

2023-03-14T16:22:42+11:00

Peter Philpott

General

2022-11-08T10:05:47+11:00

Rahul Kaushal

Zeus Lara

2022-08-03T10:22:38+11:00

Rajiv Boddupalli

Zeus Lara

2022-12-13T09:44:21+11:00

Robert Caminiti

General

2020-10-07T04:02:43+11:00

Robert Crossman

General

2022-03-08T14:18:21+11:00

Rohini Verma

Zeus Lara

2021-04-13T12:23:02+11:00

Rohit Satija

Zeus Lara

2023-05-09T15:27:58+11:00

Roxane Montierro

Zeus Lara

2020-12-15T06:30:55+11:00

Sanjay Narayan

Zeus Lara

2023-02-14T11:09:04+11:00

Saurabh Kundi

Zeus Lara

2023-02-23T08:26:14+11:00

Shiraan Fernando

Zeus Lara

2023-03-14T15:07:49+11:00

Shruthi Srinivas

Zeus Lara

2023-02-07T09:53:04+11:00

Sreekanth Badam

Zeus Lara

2022-11-09T17:14:36+11:00

Stephen Curtis

Zeus Lara

2023-05-30T09:22:30+11:00

Tameka Yallop

General

2022-03-08T16:41:26+11:00

Tanvi Mahajan

Zeus Lara

2023-03-28T15:21:57+11:00

Through Zhu

Zeus Lara

2023-02-23T10:21:23+11:00

Thuc Linh Nguyen Phan

Zeus Lara

2023-05-30T09:39:47+11:00

Tony Calusic

Zeus Lara

2022-08-01T16:52:17+11:00

Vanessa Vella

General

2021-12-14T12:11:12+11:00

Winona Astian Thian

Zeus Lara

2023-02-23T08:34:19+11:00

Yanmin Chen

Zeus Lara

2022-03-08T16:40:11+11:00

Zach Barnetby

Zeus Lara

2022-06-24T11:08:22+11:00