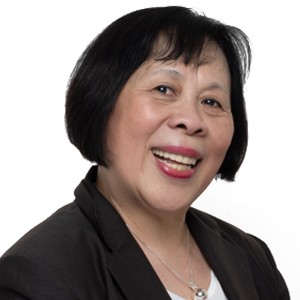 May Chew
Senior Change Manager
---
Areas Of Expertise:
Change Management
Stakeholder Management
Project Management
System, Process, Compliance and Culture Change Programs
---
Education:
Masters in Applied Linguistics
Certificate IV in Assessment and Workplace Training
Advanced Diploma in Financial Services (Financial Planning)
Prosci Change Management Certification Course
---
About
May is an experienced Change Management Practioner with 15 years experience working with ASX-listed and private businesses, as well as NSW government sectors. She is a Prosci-accredited Change Professional who is hands-on, pragmatic, and enthusiastic about achieving behavioural change.  She has successfully delivered change to systems, businesses, and legislative projects.
---
What brings
Proficiency in communication and interpersonal abilities that foster robust connections with a wide range of stakeholders at different organisational tiers.
Comprehensive expertise and practical know-how in Project and Change Management approaches.
Experience with people, process, and culture change in large, complex, multi-year programs.
Excellent facilitation and management skills.
---
Key Clients:
Intellego
Aware Auper
CBA
AMP / Resolution Life
Lafarge Holcim
Westpac Group
Department of Finance, Services and Innovation, NSW (SIRA)
NAB / MLC
ANZ Wealth Management
IRESS Ltd
Colonial First State
---
Key Achievements:
As a Consultant at Intellego, May engaged in strategic planning and development tasks to prepare for the launch of a new learning and performance platform.
---
As a Senior Change Manager at Aware Super, May was responsible for the design, development and implementation of a strategic change and communication plan at the portfolio level. This plan encompassed various artifacts, including tools to support the 3 Levels of Accountability (3LoA) uplift program, a comprehensive change plan for Regulatory Affairs initiatives, the creation of the Remediation Playbook, and assistance in developing an enhanced risk competency framework aligned with ASIC requirements.
---
As a Senior Change Manager at the CBA/ CFS Divestment Program, May was instrumental in designing and creating a comprehensive training and communication plan to facilitate the implementation of the CFS Change Delivery Framework. She also oversaw the introduction of leadership and resilience modules within CFS IT as part of the support activities for the separation from CBA. Additionally, she managed to change timeline activities to ensure the successful deployment of Oracle Release 2 within a tight schedule.
---
As a Senior Change Manager for the AMP/Resolution Life IP Remediation Program, May developed a Customer Communication methodology for endorsement by ASIC and executed a comprehensive internal and external (customer) communication plan. This plan covered the development, sign-off, and implementation of letters and artefacts. She also coordinated a comprehensive training initiative for internal teams and business partners, including enhancing the skills of both internal and external resources and establishing a support framework for the Customer Call Centre. May further conducted planning and gap analysis for the implementation timeline, including resource allocation.
---
As a Global Change Consultant at Lafarge Holcim, May led efforts to devise a knowledge transfer strategy for the transition of support services from Manila to Mumbai. She also designed and delivered cultural awareness modules for India, Australia/New Zealand, the USA, and Europe. Additionally, May was responsible for crafting and executing the engagement and communications plan for the portfolio and effectively engaged stakeholders at governance and global levels.
---
As a Change Manager at Westpac Group, May conducted a thorough Detailed Impact Assessment, formulated relevant mitigations, developed an Engagement and Communications approach for the AP221 Program, and actively engaged stakeholders across all organisational levels.
---
As a Change Manager at the Department of Finance, Services, and Innovation, NSW, May effectively implemented a program aimed at instilling skills and knowledge within the Dispute Resolution Services (DRS) Leadership team to foster a positive team culture. She also provided valuable support for the development and execution of the Change Approach for CTP Reforms, as well as the design and development of training materials for cultural change and the implementation of the Salesforce portal.
---
As a Senior Change Manager at CBA, May oversaw the development and handover of a comprehensive change framework and the foundational elements required for change activities across all streams within the program. She also established a robust operational resource planning process and managed change activities to support the implementation of a new Learning Management System aligned with the CBA group.
---
As a Change Manager at BT Group, May supported the development of a comprehensive Change Strategy for the business case, particularly for the Ongoing Advice Remediation Program. She conducted a high-level impact assessment for the same program, completed a detailed impact assessment for the Life Insurance Code of Practice, and devised and validated training requirements. Furthermore, she was responsible for the design and delivery of a training program for the Life Insurance Operations team.
---
As a Change Manager at CBA, May completed and signed off on a comprehensive detailed impact assessment of the Advice Transformation Program across all impacted CBA Wealth teams. She demonstrated effective engagement with key stakeholders, both internal and external, to secure their commitment. She also efficiently prepared the Count Licensee for a transition to a new portal, ensuring a positive experience for impacted business units and licensees. The solutions implemented were effectively supported and integrated into the business post-implementation.
---
As a Change Manager at MLC, May successfully developed and validated a Detailed Impact Assessment for all impacted businesses in the Superannuation business. She provided essential support to the Senior Change Lead in delivering the Stronger Super e Contributions project.
---
As a consultant for Professional Development and Change Management at ANZ Wealth Management, May successfully managed change initiatives, including training, to meet legislative requirements (FOFA) within strict time and budget constraints. She assembled and upskilled a dedicated team of trainers to deliver the new ANZ Planner induction program and efficiently oversaw the design, development, and implementation of customer-centric induction modules for ANZ Financial Planning.
---
As a Change Consultant at IRESS Ltd, May played a vital role in assisting key clients in successfully executing change initiatives within their businesses, thereby ensuring a successful transition to XPLAN. She also provided consultancy services for IRESS's overseas projects in South Africa, Canada, and the UK, contributing to the development of a change culture within IRESS mid-management. Prior to this, May was IRESS' National Training Manager.
---
As a Change Analyst (and PMO support) at Colonial First State, May was responsible for crafting and executing change initiatives within the Institute of Advice's Organisational Change Management (OCM) and Communications Plans. She achieved a track record of success by effectively delivering the BW Financial Advice Induction Program and overseeing the BW Financial Advice New Pricing Policy project. May also excelled in delivering a comprehensive training package tailored to the CFP Advice Strategy, including Objection Handling modules.
Other Team Members
Declan Boylan

General

2020-01-15T02:30:38+11:00

Gareth James

General

2021-01-19T11:29:58+11:00

Connie McKeage

Julius

2021-03-09T10:14:51+11:00

Michael Blomfield

Julius

2023-02-14T10:26:26+11:00

Temre Green

Julius

2022-11-23T10:52:41+11:00

Mike Stockley

Julius

2022-08-30T12:56:19+11:00

Julie Laoit

Julius

2022-07-19T09:10:59+11:00

Rob Thomsett

General

2023-01-31T17:26:36+11:00

Louise Ford

General

2020-01-15T03:08:18+11:00

Aaron Simonsen

Julius

2023-11-13T23:52:10+11:00

Alan Alehashemi

Julius

2022-07-19T09:07:40+11:00

Alex Jahan

Julius

2023-11-14T12:14:04+11:00

Alex Massie

General

2023-11-14T12:25:43+11:00

Alexander Rivkin

Julius

2023-11-14T00:06:50+11:00

Alexandra Marie Tan

Julius

2023-07-20T17:43:15+11:00

Ali Pahlavan

General

2023-11-14T00:19:34+11:00

Alisdair Brown

Julius

2022-08-30T09:51:38+11:00

Amanda Walker

Julius

2023-11-14T12:09:46+11:00

Andrew Cheesman

Julius

2022-08-09T12:17:42+11:00

Anna Linfield-Kent

Julius

2023-11-14T11:45:20+11:00

Andrew Marshall

Julius

2023-08-29T14:02:36+11:00

Audrey Teh

Julius

2023-11-14T01:03:53+11:00

Barbara Read

General

2023-11-13T23:44:22+11:00

Bhavna Gupta

Julius

2023-11-30T01:43:24+11:00

Benn Salier

Julius

2023-10-17T17:16:47+11:00

Bita Bagheri

General

2023-08-02T22:15:49+11:00

Blake Dahlen

Julius

2023-07-20T13:58:11+11:00

Caroline Lees

Julius

2023-11-14T01:15:13+11:00

Cathy Baldwin

General

2021-01-19T16:55:52+11:00

Chris Sykes

General

2022-05-26T12:50:02+11:00

Callum Barker

Julius

2023-09-15T10:54:00+11:00

Dave Rider

Julius

2023-11-14T11:28:26+11:00

David Johnson

General

2023-06-13T11:44:41+11:00

Deanna Edwards

Julius

2023-03-28T15:46:04+11:00

Derek Oldham

Julius

2023-11-14T01:43:07+11:00

Elise Kellond-Knight

Julius

2019-07-04T22:47:54+11:00

Eliza Johnson

Julius

2023-11-14T01:52:47+11:00

Ellen Misador

Julius

2023-11-14T11:16:10+11:00

Eugene O'Connell

Julius

2023-11-14T11:03:19+11:00

Fritzie Ligeralde

Julius

2023-10-27T12:23:57+11:00

Gilbert Wong

Julius

2023-09-28T10:05:22+11:00

Guru Swaminathan

General

2023-05-26T16:16:29+11:00

Hardik Lakhani

Julius

2023-11-14T10:59:45+11:00

Hayley Weir

Julius

2023-08-29T14:56:54+11:00

Helen Argitis

Julius

2023-11-14T10:56:19+11:00

Inggrid Yapari

Julius

2023-09-05T14:17:37+11:00

Ian Salvador

Julius

2023-11-14T02:22:20+11:00

Jerry Cobb

General

2022-06-28T15:49:32+11:00

Joanna Carlos

Julius

2022-02-15T17:48:05+11:00

Jochebed Diaz

General

2023-07-27T15:46:01+11:00

Johaimah Garrido

Julius

2021-03-16T10:08:35+11:00

John Middlemist

Julius

2023-11-14T02:36:08+11:00

Jovilyn Magtoto

Julius

2022-08-02T13:27:08+11:00

Julia Nicole Justo

Julius

2023-11-14T10:49:49+11:00

Julius Labalan

Julius

2023-10-05T10:04:21+11:00

Katherine Whiteside

General

2023-11-14T10:44:56+11:00

Kunal Parikh

Julius

2022-01-25T11:49:10+11:00

Lauren Grouse

Julius

2023-11-14T10:37:06+11:00

Louigi Gardiola

Julius

2023-02-23T08:31:20+11:00

Maddison Schmid

Julius

2023-11-14T10:31:00+11:00

Mariam Kohani

Julius

2022-07-19T09:57:04+11:00

Marian Joyce Makalintal

Julius

2023-06-21T10:48:28+11:00

Marianne Dinsay

Julius

2023-11-14T10:27:12+11:00

Mark McAdam

General

2023-05-03T12:09:06+11:00

Mark Millen

Julius

2022-08-30T12:47:06+11:00

Matthew Knight

Julius

2023-11-14T10:24:09+11:00

Melody Framp

Julius

2023-11-14T10:20:38+11:00

Melody Tuazon

Julius

2023-05-09T15:59:40+11:00

Michael Bryant

General

2023-11-13T17:56:32+11:00

Mohammad Ramezani

General

2022-07-13T16:18:36+11:00

Nadja Schulze

Julius

2023-07-13T13:05:06+11:00

Nevil Cope

General

2022-08-30T14:24:26+11:00

Niall Burke

Julius

2023-11-13T17:36:58+11:00

Nick Rodwell

Julius

2023-11-13T17:46:28+11:00

Nicole Hatten

Julius

2023-11-13T17:33:35+11:00

Ninia Ortile

Julius

2022-10-11T14:26:40+11:00

Pablo Andres Cordova Baya

Julius

2023-06-21T10:48:54+11:00

Parastoo Mousavi

Julius

2023-11-13T17:25:28+11:00

Paul Kirschner

General

2022-02-04T02:26:06+11:00

Peter Boylan

General

2023-03-14T16:22:42+11:00

Peter Philpott

General

2022-11-08T10:05:47+11:00

Rachel Low

Julius

2023-09-18T12:34:26+11:00

Rajiv Boddupalli

Julius

2023-11-13T16:14:32+11:00

Robert Crossman

General

2022-03-08T14:18:21+11:00

Rohini Verma

Julius

2023-11-30T02:00:48+11:00

Rohit Satija

Julius

2023-11-13T15:37:09+11:00

Roxane Montierro

Julius

2020-12-15T06:30:55+11:00

Sanjay Narayan

Julius

2023-02-14T11:09:04+11:00

Saurabh Kundi

Julius

2023-11-13T15:08:30+11:00

Shiraan Fernando

Julius

2023-03-14T15:07:49+11:00

Shruthi Srinivas

Julius

2023-08-25T12:02:31+11:00

Sreekanth Badam

Julius

2023-11-30T03:24:02+11:00

Stephen Curtis

Julius

2023-11-13T13:01:36+11:00

Simon Chrétien

Julius

2023-09-15T11:40:55+11:00

Tameka Yallop

General

2023-08-29T16:34:12+11:00

Tanvi Mahajan

Julius

2023-11-13T12:45:18+11:00

Thuc Linh Nguyen Phan

Julius

2023-11-13T12:39:10+11:00

Tony Calusic

Julius

2023-11-13T12:21:56+11:00

Vanessa Vella

General

2023-11-30T02:22:53+11:00

Vergil De Leon

Julius

2023-09-11T10:53:30+11:00

Winona Astian Thian

Julius

2023-02-23T08:34:19+11:00

Yanmin Chen

Julius

2023-10-03T19:22:20+11:00

Zach Barnetby

Julius

2023-11-13T10:30:25+11:00