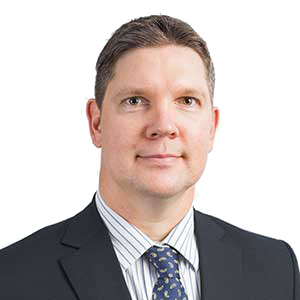 Chris Sykes
PMO Manager
---
Areas Of Expertise
Portfolio level
Strategic Alignment
Project Selection and Prioritisation
Risk Management
Resource Utilisation
Business Value
Benefits Management and Realisation
Pipeline Roadmap Management
Fixed Capacity Planning
Value Stream Budgeting
Cross-dependency Management \ Governance
Reporting and Communication on business change
---
Education
SAFe Agilist
PRINCE2 Certified Practitioner
Microsoft Certified IT Professional & Technical Specialist – Project Server/ SharePoint
IPMO-Expert (International Project Management Officer – Expert)
---
About Chris Sykes
Chris is a senior manager with 25 years of global experience, primarily working in Commercial and Investment Banking, including three years in the Energy sector and two years in Government organisations. He has successfully set up and led several traditional PMO and Agile Value Management Office (VMO) teams, to help organisations build support structures that enable the successful delivery of their portfolios of change programs. Chris ensures that executives and leaders are provided with key insights in time critical situations, allowing them to make calculated and informed decisions, based on strategic alignment and business value.
Chris is recognised as a trusted advisor, an excellent communicator, advocate of value, and highly respected by the business and technology. He applies his knowledge, skills, tools and techniques to continuously identify, map and generate value for the business, customers and other stakeholders, through portfolios, programs, projects and operations. Chris is value focused and outcome driven.
---
What Chris brings
Traditional and Agile PMO expertise in Portfolio Governance, Executive Reporting, Financial and Resource Management, Tools, Communications, Stakeholder Engagement, Transformation and Change Programs.
Ability to engage with executive stakeholders, face-to-face and globally. Specific experience engaging with key stakeholders in America, Asia-Pacific, Europe, the Middle East and Africa.
Essential skills to operate effectively in highly complex technology environments, spanning diverse cultures and nationalities, across multiple countries and continents.
Valuable knowledge and key insights into banks of varied international locations; Africa, Australia, China, England, Germany, Japan, and Scotland.
---
Key Clients
WorkSafe Victoria (WSV)
AGL Energy
National Australia Bank (NAB)
HSBC Holdings Bank
Barclays Investment Bank
Commerzbank AG
Royal Bank of Scotland
Bank of Tokyo-Mitsubishi UFJ
Century Holdings Bank
African Banking Corporation
---
Key Achievements
As Senior PMO Manager, Prevention Strategy at WorkSafe Victoria, Chris set up and managed the Prevention Strategy PMO, circa $100M / 200 FTE. As a Senior Manager he was responsible for all PMO processes and services and for the quality of all PMO deliverables across the Prevention Strategy Program. Chris provided planning, reporting and governance services through the delivery and support of PMO processes and templates, and performed regular health check reviews. He managed a team of PMO Consultants to deliver the PMO services. In addition, Chris performed PMO management services to support the delivery of the Strategy Program, in accordance with agreed parameters around Schedule, Quality and Scope, in alignment with client requirements, and in adherence to Enterprise policies and procedures.
---
As Value Management Office (VMO) Manager, Strategic Delivery, at WorkSafe Victoria, Chris authored a 60-page VMO presentation pack to share the 'VMO' concept with executives and senior leaders. He was subsequently engaged to establish and implement the VMO for Strategic Delivery on a $110M / 400 FTE portfolio of 12 programs, to support Claims and Recovery Strategy (Insurance) and Prevention Strategy (Health and Safety) business units. All VMO artefacts produced and successfully transitioned to EPMO.
---
As Senior PMO Manager, Strategy, at WorkSafe Victoria, Chris set up and managed the Strategy PMO at WorkSafe Victoria on a $140m/450 FTE program to support traditional and Agile teams. Managed a team of up to five people.
---
As PMO Manager in the Customer Markets Value Office at AGL Energy, Chris was a senior member of the Value Management leadership team. After spending two and a half years in Customer Markets, Chris was engaged to transition the Customer Markets Portfolio (CMP) into a new Value Office, to provide insight and oversight across the Customer Markets plan, to turn strategy into action and unlock opportunities for growth and transformation. Chris successfully embedded enterprise portfolio governance and executive level reporting, established shared best practices, and supported decentralised but efficient program execution. He enabled further uplift in portfolio capabilities through communities of practice, workshops and training, and thereby enhanced the growth and dissemination of institutional knowledge.
---
As PMO Manager in the Customer Markets Portfolio (CMP) at AGL Energy, Chris enabled continuous improvement to business processes and tools by helping to streamline and automate key functions, using SharePoint, Project Online, JIRA, Confluence, Tableau, and Power BI reporting dashboards, resulting in increased due diligence, enhanced data quality and accuracy. Furthermore, Chris leveraged property services to enable large workstreams to better collaborate, communicate and co-create, by providing them the necessary work environments in which to operate more efficiently and effectively, through collocation.
---
As PMO Lead at AGL Energy, Chris managed a team of eight people and successfully led the Agile PMO on a large Customer Experience Transformation (CXT) Program consisting of multiple workstreams and circa 600 people, within Customer Markets. The organisation invested $300 million over three years, in order to enhance digital capability and platforms, to deliver an industry-leading digital experience and drive value for customers. CXT aimed to uplift core systems and capabilities, drive customer adoption of digital interactions, and deliver unique customer experiences that build trust, advocacy and loyalty. CXT was about putting customers first, using sophisticated analytics to make sense of data in order to provide personalised services and new product offerings, helping customers optimise their energy plans and ensure a sustainable future.
---
As PMO Lead at AGL Energy on the CXT Program, Chris helped to set up the Tribe Services team in an Agile environment. This new Agile PMO provided a consistent context for delivering in a more Lean and Agile manner, driving the new way of working. Chris worked collaboratively with all relevant business units such as Finance, IT, Procurement, Group Risk & Audit, Procurement, and People & Culture, to ensure that the program adhered to organisational policies and processes, and upheld enterprise PMO standards and best practices. His primary focus was Portfolio Governance and Executive Reporting, whereby Chris successfully established the respective communities of practice, leadership forums, showcases, ceremonies and cadences, for effective portfolio execution.
---
As the Workstream Delivery Manager to the ASIC PDS Project, part of SFT Program at NAB Wealth, Chris managed a team of eleven Product SMEs. The goal was to obtain substantiated evidence required to support the issuance of 475 Product Disclosure Statements (PDS) for 1.1 million NAB Wealth members, who transferred to the MLC Super Fund. Chris successfully contributed to achieving the project's overall objective, to meet all ASIC PDS regulatory requirements. Chris had responsibility over provision of evidence to support development of scope, assessment of requirements, development of templates and matrices, production of disclosure documents, enablement of PDS reviews and approvals, and alignment of the project plan to stream milestones. Chris was instrumental in ensuring NAB Wealth met its compliance obligations within the stipulated timeframes.
---
As 2IC to the Program Director at NAB Wealth, Chris chaired team meetings and actively participated in project steering committees, providing progress updates and status reports. Chris offered detailed insights to project and program executives and Project Approval Board (PAB) members. He successfully engaged with the NAB Wealth Trustee approval delegate, the Disclosure Governance Committee (DGC), product managers, relationship managers, digital and procurement teams, resourcing, risk and management assurance, in relation to the review and approval of 475 PDS documents.
---
At NAB Wealth, Chris devised a method for tracking the daily progression of activities by circa 20 project resources, to provide an accurate view to the steering committee on where additional resources should be assigned. He owned the issue of ~6,500 PDSs to be mailed to product members (where sub 500 PDSs were expected to be delivered). Chris proactively managed the fulfillment of these 6,500 member requests with Fuji Xerox, in the form of emails or letters, for each benefit category and product type within the scope of the ASIC PDS project; to include insurance guides, investment menus, fee flyers, and plan schedules.
---
As Senior PMO Analyst at NAB, for the Bank's NextGen Program, Chris worked on the $1.5bn multi-year transformation program. He was tasked with upgrading and implementing changes to a wide range of core banking systems, finance and risk controls, data sources, processes and customer channels. Chris undertook the management of previous NextGen PMO deliverables, and he was the primary point of engagement for consultants from Accenture, CapGemini, Deloitte, Infosys, and Oracle on key PMO matters. He received recognition for outstanding performance from his EGM.
---
For NAB's NextGen Program, Chris successfully managed complex project financials on large initiatives. These included resource time costings, funding proposals, budgets and forecasts, and variance analysis. He reported to executive level on headcount, FTE, costs, forecasts vs actuals, and program status. Chris engaged with risk and management assurance teams to mitigate risks and resolve issues, and he maintained a critical dependency register to escalate internal and external dependencies.
---
For NAB's NextGen Program, Chris actively controlled, monitored and maintained procurement processes and resource requirements; purchase orders, cost uplifts, goods receipting, invoicing, statement of works. He managed resource profiles, accommodation, property, demand and system on-boarding and off-boarding. In concurrence, he successfully set up and maintained project and resource schedules, and prepared detailed resource plans. Chris reviewed staff utilisation, release priorities, capability projections, insights and trend analysis. Moreover, Chris initiated and managed the transition of all program financial tracking workbooks to a new cost management toolset. He analysed data and identified cost savings to minimise program over/underspend.
---
As PMO Lead at HSBC, Chris played a key role on the $100m transformation program within the Global Banking and Markets division in the UK. The program focused on optimising resource and technology costs across as business asset classes, and streamlining processes and policies, ultimately resulting in effective and sustainable savings in excess of $150m compounded year on year. Chris successfully set up and managed the global PMO remit, including governance, portfolio reporting, cost management, resource management, vendor management, and senior stakeholder engagement. Chris had responsibility over governance relating to contracts, recruiting, and invoicing. He was able to ensure 100% compliance to policies, enterprise methodologies, standards, principles and processes.
---
At HSBC, Chris effectively engaged with workstream leads on the management of resources and financials. In conjunction with relevant teams, he was able to accurately maintain <3% variance on FTE and costs, month on month (forecast vs actual). Chris successfully designed, developed and exclusively managed the global program SharePoint sites and workspaces.
---
As IT Manager-PMO within the Technology PPM team at Barclays Investment Bank, Chris was based in London. He specialised in project tools, status reporting, financial reporting, project governance, and portfolio management. His extended role encompassed process quality management and SharePoint development, with a focus on the tactical solution to enhance the MS Project Server environment.
---
As Workstream Manager for the implementation on Microsoft Project Server at Barclays, servicing 20,000+ users, Chris engaged with Microsoft and other key vendors to discuss new project tools and technologies. He was subsequently appointed as Release Manager for the review, prioritisation and approval of all major system releases, and established the Project Server working group to drive through challenges to the toolset. He produced user acceptance testing (UAT) documentation and facilitated testing sessions.
---
As Release Manager at Barclays, Chris accurately tracked and monitored project progress and status reports for the Top IT Projects at Barclays. He ensured adherence to project governance and reviewed reports for exceptions, produced detailed presentations for senior executives and Technology steering committees, and delivered communications to key interfaces; program managers, COOs, and CIO directs.
---
As PMO Coordinator at Commerzbank AG within the global IT Program Office based in London, Chris's key functions involved tracking and monitoring of pipeline projects from inception through to delivery and closure, while providing effective data analysis and portfolio reporting to senior stakeholders, ensuring quality control and adequate support to project and program managers.
---
Other Team Members
Declan Boylan

General

2020-01-15T02:30:38+11:00

Gareth James

General

2021-01-19T11:29:58+11:00

Connie McKeage

Julius

2021-03-09T10:14:51+11:00

Michael Blomfield

Julius

2023-02-14T10:26:26+11:00

Temre Green

Julius

2022-11-23T10:52:41+11:00

Mike Stockley

Julius

2022-08-30T12:56:19+11:00

Julie Laoit

Julius

2022-07-19T09:10:59+11:00

Rob Thomsett

General

2023-01-31T17:26:36+11:00

Louise Ford

General

2020-01-15T03:08:18+11:00

Aaron Simonsen

Julius

2023-11-13T23:52:10+11:00

Alan Alehashemi

Julius

2022-07-19T09:07:40+11:00

Alex Jahan

Julius

2023-11-14T12:14:04+11:00

Alex Massie

General

2023-11-14T12:25:43+11:00

Alexander Rivkin

Julius

2023-11-14T00:06:50+11:00

Alexandra Marie Tan

Julius

2023-07-20T17:43:15+11:00

Ali Pahlavan

General

2023-11-14T00:19:34+11:00

Alisdair Brown

Julius

2022-08-30T09:51:38+11:00

Amanda Walker

Julius

2023-11-14T12:09:46+11:00

Andrew Cheesman

Julius

2022-08-09T12:17:42+11:00

Anna Linfield-Kent

Julius

2023-11-14T11:45:20+11:00

Andrew Marshall

Julius

2023-08-29T14:02:36+11:00

Audrey Teh

Julius

2023-11-14T01:03:53+11:00

Barbara Read

General

2023-11-13T23:44:22+11:00

Bhavna Gupta

Julius

2023-11-30T01:43:24+11:00

Benn Salier

Julius

2023-10-17T17:16:47+11:00

Bita Bagheri

General

2023-08-02T22:15:49+11:00

Blake Dahlen

Julius

2023-07-20T13:58:11+11:00

Caroline Lees

Julius

2023-11-14T01:15:13+11:00

Cathy Baldwin

General

2021-01-19T16:55:52+11:00

Chris Sykes

General

2022-05-26T12:50:02+11:00

Callum Barker

Julius

2023-09-15T10:54:00+11:00

Dave Rider

Julius

2023-11-14T11:28:26+11:00

David Johnson

General

2023-06-13T11:44:41+11:00

Deanna Edwards

Julius

2023-03-28T15:46:04+11:00

Derek Oldham

Julius

2023-11-14T01:43:07+11:00

Elise Kellond-Knight

Julius

2019-07-04T22:47:54+11:00

Eliza Johnson

Julius

2023-11-14T01:52:47+11:00

Ellen Misador

Julius

2023-11-14T11:16:10+11:00

Eugene O'Connell

Julius

2023-11-14T11:03:19+11:00

Fritzie Ligeralde

Julius

2023-10-27T12:23:57+11:00

Gilbert Wong

Julius

2023-09-28T10:05:22+11:00

Guru Swaminathan

General

2023-05-26T16:16:29+11:00

Hardik Lakhani

Julius

2023-11-14T10:59:45+11:00

Hayley Weir

Julius

2023-08-29T14:56:54+11:00

Helen Argitis

Julius

2023-11-14T10:56:19+11:00

Inggrid Yapari

Julius

2023-09-05T14:17:37+11:00

Ian Salvador

Julius

2023-11-14T02:22:20+11:00

Jerry Cobb

General

2022-06-28T15:49:32+11:00

Joanna Carlos

Julius

2022-02-15T17:48:05+11:00

Jochebed Diaz

General

2023-07-27T15:46:01+11:00

Johaimah Garrido

Julius

2021-03-16T10:08:35+11:00

John Middlemist

Julius

2023-11-14T02:36:08+11:00

Jovilyn Magtoto

Julius

2022-08-02T13:27:08+11:00

Julia Nicole Justo

Julius

2023-11-14T10:49:49+11:00

Julius Labalan

Julius

2023-10-05T10:04:21+11:00

Katherine Whiteside

General

2023-11-14T10:44:56+11:00

Kunal Parikh

Julius

2022-01-25T11:49:10+11:00

Lauren Grouse

Julius

2023-11-14T10:37:06+11:00

Louigi Gardiola

Julius

2023-02-23T08:31:20+11:00

Maddison Schmid

Julius

2023-11-14T10:31:00+11:00

Mariam Kohani

Julius

2022-07-19T09:57:04+11:00

Marian Joyce Makalintal

Julius

2023-06-21T10:48:28+11:00

Marianne Dinsay

Julius

2023-11-14T10:27:12+11:00

Mark McAdam

General

2023-05-03T12:09:06+11:00

Mark Millen

Julius

2022-08-30T12:47:06+11:00

Matthew Knight

Julius

2023-11-14T10:24:09+11:00

Melody Framp

Julius

2023-11-14T10:20:38+11:00

Melody Tuazon

Julius

2023-05-09T15:59:40+11:00

Michael Bryant

General

2023-11-13T17:56:32+11:00

Mohammad Ramezani

General

2022-07-13T16:18:36+11:00

Nadja Schulze

Julius

2023-07-13T13:05:06+11:00

Nevil Cope

General

2022-08-30T14:24:26+11:00

Niall Burke

Julius

2023-11-13T17:36:58+11:00

Nick Rodwell

Julius

2023-11-13T17:46:28+11:00

Nicole Hatten

Julius

2023-11-13T17:33:35+11:00

Ninia Ortile

Julius

2022-10-11T14:26:40+11:00

Pablo Andres Cordova Baya

Julius

2023-06-21T10:48:54+11:00

Parastoo Mousavi

Julius

2023-11-13T17:25:28+11:00

Paul Kirschner

General

2022-02-04T02:26:06+11:00

Peter Boylan

General

2023-03-14T16:22:42+11:00

Peter Philpott

General

2022-11-08T10:05:47+11:00

Rachel Low

Julius

2023-09-18T12:34:26+11:00

Rajiv Boddupalli

Julius

2023-11-13T16:14:32+11:00

Robert Crossman

General

2022-03-08T14:18:21+11:00

Rohini Verma

Julius

2023-11-30T02:00:48+11:00

Rohit Satija

Julius

2023-11-13T15:37:09+11:00

Roxane Montierro

Julius

2020-12-15T06:30:55+11:00

Sanjay Narayan

Julius

2023-02-14T11:09:04+11:00

Saurabh Kundi

Julius

2023-11-13T15:08:30+11:00

Shiraan Fernando

Julius

2023-03-14T15:07:49+11:00

Shruthi Srinivas

Julius

2023-08-25T12:02:31+11:00

Sreekanth Badam

Julius

2023-11-30T03:24:02+11:00

Stephen Curtis

Julius

2023-11-13T13:01:36+11:00

Simon Chrétien

Julius

2023-09-15T11:40:55+11:00

Tameka Yallop

General

2023-08-29T16:34:12+11:00

Tanvi Mahajan

Julius

2023-11-13T12:45:18+11:00

Thuc Linh Nguyen Phan

Julius

2023-11-13T12:39:10+11:00

Tony Calusic

Julius

2023-11-13T12:21:56+11:00

Vanessa Vella

General

2023-11-30T02:22:53+11:00

Vergil De Leon

Julius

2023-09-11T10:53:30+11:00

Winona Astian Thian

Julius

2023-02-23T08:34:19+11:00

Yanmin Chen

Julius

2023-10-03T19:22:20+11:00

Zach Barnetby

Julius

2023-11-13T10:30:25+11:00