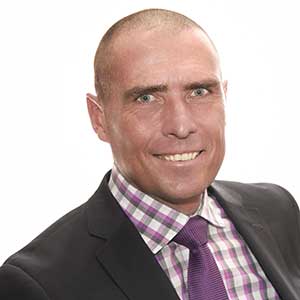 David Johnson
Program Director
---
Areas Of Expertise
Waterfall and Agile Program Management experience focusing on large scale System Establishment, Replacement and Integration
---
Education
Certified Project Management Professional (PMP) – since 2005
SAFe SPC 4.5 (2017) Certified
---
About David Johnson
David is an experienced Program Director, joining Seven Consulting's Sydney practice in 2009. He has a proven track record in managing large and complex Business and IT projects to schedule, quality and cost. David has successfully managed whole systems replacement and outsourcing projects.
He has over 30 years' experience in managing change in both Federal and State Government organisations together with some of Australia's largest finance institutions.
---
What David brings
Extensive experience in waterfall, agile and mixed Project delivery with the ability to handle either business or technical roles and functions.
The ability to put in place structures and governance to hold technical and business delivery teams to account.
Demonstrated ability establishing strong relationships between Clients and Suppliers.
Widespread problem solving and analytical skills.
Established experience in managing large numbers of staff in an operational production role.
Strong design and development background delivering enhanced value to clients.
---
Key Clients
NBN Co Limited
Macquarie Bank
Commonwealth Bank of Australia (CBA)
Hewlett Packard
Colonial Services
Colonial State Bank
State Bank
EDS Australia
---
Key Achievements
Working with the NBN Co Limited Finance General Manager and Product Owners, David put in place Governance controls and measures to manage monthly technical delivery code drops to handle payment obligations under new Supplier contracts. This function included staff mentoring and coaching in project delivery.
---
As Program Manager and Coach for NBN Co Limited, David ran an Agile Release Train (ART) tasked with delivering a key Finance Program with scope aimed at enabling data accuracy, controls, and assurance across payments at scale. As well as delivery responsibilities the role included lead accountability for synchronizing the ART outcomes into the Corporate PMO Function.
---
As Program Lead for NBN Co Limited, David ran an Initiative that was tasked with recovering a failing Project by creating a re-plan and approach together with securing funding to deliver the remainder of the program scope via an Agile Release Train (ART) based on the SAFe methodology of delivery.
---
As Capability Lead for Macquarie Bank, David led the Project that established and deployed an end to end Payments Solution focusing on integration and uplift of a SAP Product offering to provide Mortgage functionality.
---
As overall Release Lead for Macquarie Bank, David had responsibility for a Core Banking Transformation Program aimed at delivery of Retail Home Loan capability on SAP. Accountability was across 8 workstreams delivering both Business and Technically focused outcomes.
---
As Program Manager for the Commonwealth Bank, David had responsibility for the Technology approach, plan and estimate for the Project tasked with refactoring the Payments Landscape (both software and infrastructure).
---
As Program Manager for the Commonwealth Bank, David led the team in the creation of the Technology approach and estimate for the Banking Industry's Faster Payments.
---
As Program Manager for the Commonwealth Bank, David led the team in the creation of an end to end solution for staff assisted payments in a major Australian Bank. A 30 month Program focused on implementing a new technology stream across a development and testing team of more than 200 staff located in 2 countries.
---
As Program Manager for the Commonwealth Bank, David managed the team that had responsibility for the integration of a Business Channel portal thru a Payments Hub thru to SAP. An 18 month Project with responsibilities for over 70 development and testing staff across multiple suppliers. An ambitious project, on new technologies, that satisfied its performance and quality stretch targets.
---
As Deployment Lead for the Commonwealth Bank, David as part of the Core Banking Modernisation Project led the successful implementation of 8 releases covering 80 different systems over a 12 month period. The key focus was the implementation and integration of SAP Software and related Infrastructure that culminated in the migration of over 10 million accounts.
---
As IT Program Manager for Hewlett Packard, David led the team with responsibility for the creation of a Debit Card solution for a major Australian Bank. Responsible for 8 Project Managers and 85 development staff across three countries. Program was delivered successfully to a compressed ambitious schedule under budget and satisfying all quality objectives.
---
As System Lead for EDS, David successfully project managed quarterly releases to a large and complex Banking system that processed more than 10 million transactions daily for more than 5 million accounts. These projects were full development lifecycle and involved managing work across three time zones for this critical system.
---
As Program Manager for EDS, David over a period of 18 months managed the On Line Interface Work stream across three countries as part of the Cards Processing capability establishment in the Asia Pacific Region. The work stream achieved all budget, quality and time obligations.
---
As Program Manager for EDS, David project managed a System Development Project that was included in the successful Capability Maturity Model Integration (CMMI) Level 3 accreditation Audit and review.
---
As a member of the Senior Management Team for Colonial Services, David coordinated the integration of all Trust Bank of Tasmania Banking systems into the Colonial Group Systems.
---
As Program Manager for State Bank NSW, David project managed the creation of a centralised Loan Document Centre. At the completion of this successful project was then appointed Senior Manager of the centre with responsibilities for 300 staff working three shifts over seven days a week.
---
Other Team Members
Declan Boylan

General

2020-01-15T02:30:38+11:00

Gareth James

General

2021-01-19T11:29:58+11:00

Connie McKeage

Zeus Lara

2021-03-09T10:14:51+11:00

Hugh Harley

Zeus Lara

2020-04-01T04:18:49+11:00

Alisdair Brown

Zeus Lara

2021-03-23T14:24:31+11:00

Julie Laoit

Zeus Lara

2021-12-23T18:04:41+11:00

Rob Thomsett

General

2021-04-06T12:29:29+11:00

Louise Ford

General

2020-01-15T03:08:18+11:00

Aaron Simonsen

Zeus Lara

2021-10-19T10:15:23+11:00

Aileen Robes

Zeus Lara

2022-03-01T10:17:06+11:00

Alan Madani

General

2020-07-24T03:51:19+11:00

Alex Massie

General

2022-03-08T14:03:52+11:00

Alexander Rivkin

Zeus Lara

2022-02-22T15:04:22+11:00

Ali Pahlavan

General

2021-09-21T15:39:39+11:00

Amanda Walker

Zeus Lara

2021-09-21T15:43:38+11:00

Anders Madsen

Zeus Lara

2021-08-31T17:57:29+11:00

Andrew Cheesman

Zeus Lara

2021-03-23T12:46:37+11:00

Andrew Coley

Zeus Lara

2021-12-21T12:36:47+11:00

Anna Linfield-Kent

Zeus Lara

2022-03-22T16:18:24+11:00

Barbara Read

General

2021-10-12T09:11:19+11:00

Benn Salier

Zeus Lara

2021-07-06T13:45:00+11:00

Bita Bagheri

General

2021-03-02T14:12:11+11:00

Caroline Lees

Zeus Lara

2021-10-12T09:08:24+11:00

Cathy Baldwin

General

2021-01-19T16:55:52+11:00

Chelsy Kranzbuhler

Zeus Lara

2022-03-01T17:38:06+11:00

Chika Nnadiekwe

Zeus Lara

2022-01-28T08:56:40+11:00

Chris Sykes

General

2020-03-05T00:14:43+11:00

David Johnson

General

2021-12-21T16:51:17+11:00

David Mansfield

Zeus Lara

2021-08-12T17:45:38+11:00

Deanna Edwards

Zeus Lara

2021-04-07T16:38:54+11:00

Derek Oldham

Zeus Lara

2021-06-22T11:12:34+11:00

Edward Rudnicki

Zeus Lara

2021-09-28T10:10:11+11:00

Elise Kellond-Knight

Zeus Lara

2019-07-04T22:47:54+11:00

Ericson Bagunas

General

2020-10-01T05:06:36+11:00

Eugene O'Connell

Zeus Lara

2022-03-22T16:14:36+11:00

Fritzie Ligeralde

Zeus Lara

2021-08-17T15:41:14+11:00

Gennaro Abignano

Zeus Lara

2022-02-04T15:20:32+11:00

Gilbert Wong

Zeus Lara

2020-12-15T04:26:15+11:00

Guru Swaminathan

General

2020-10-13T05:04:12+11:00

Hardik Lakhani

Zeus Lara

2022-03-08T16:33:18+11:00

Hayley Weir

Zeus Lara

2022-03-01T12:16:09+11:00

Helen Argitis

Zeus Lara

2022-02-15T17:44:12+11:00

Ian Salvador

Zeus Lara

2021-06-01T12:54:33+11:00

Ian Thomson

Zeus Lara

2022-02-04T02:04:24+11:00

Igor Vieira

Zeus Lara

2022-05-11T10:15:56+11:00

Jason Kwong

Zeus Lara

2022-05-10T17:14:15+11:00

Jerry Cobb

General

2020-11-06T00:49:28+11:00

Joanna Carlos

Zeus Lara

2022-02-15T17:48:05+11:00

Jochebed Diaz

General

2020-12-15T05:31:11+11:00

Johaimah Garrido

Zeus Lara

2021-03-16T10:08:35+11:00

John Middlemist

Zeus Lara

2021-07-21T12:11:54+11:00

Jon Kralevski

Zeus Lara

2021-08-31T18:00:32+11:00

Joseph Stanley

Zeus Lara

2022-02-04T15:24:14+11:00

Josh Pricken

Zeus Lara

2022-01-25T15:52:50+11:00

Jovilyn Magtoto

Zeus Lara

2021-03-02T18:19:47+11:00

Joyce Ann Vecinal

Zeus Lara

2021-12-17T10:33:04+11:00

Julia Nicole Justo

Zeus Lara

2022-01-25T15:52:44+11:00

Katherine Whiteside

General

2022-03-01T16:01:33+11:00

Krishnaraj Arumugam

Zeus Lara

2020-06-30T04:59:15+11:00

Kunal Parikh

Zeus Lara

2022-01-25T11:49:10+11:00

Louigi Gardiola

Zeus Lara

2022-02-15T17:52:16+11:00

Louise White

General

2021-05-11T16:20:05+11:00

Lousiene Samonte

General

2020-04-01T03:22:19+11:00

Maddison Schmid

Zeus Lara

2022-05-17T17:07:32+11:00

Mark McAdam

General

2021-05-11T12:52:35+11:00

Mark Millen

Zeus Lara

2022-03-02T10:41:54+11:00

Mariam Kohani

Zeus Lara

2021-07-13T12:09:45+11:00

Marianne Dinsay

Zeus Lara

2022-02-04T15:34:24+11:00

Matthew Knight

Zeus Lara

2022-02-04T15:38:52+11:00

Michael Baylon

Zeus Lara

2021-08-25T16:48:12+11:00

Michael Bryant

General

2022-03-15T16:26:44+11:00

Michael Stark

Zeus Lara

2021-06-08T10:58:59+11:00

Mike Stockley

Zeus Lara

2020-01-22T04:45:51+11:00

Mohammad Ramezani

General

2022-05-02T14:41:28+11:00

Muhammad Sauood Ur Rauf

General

2022-05-05T09:16:00+11:00

Nevil Cope

General

2020-01-14T04:11:02+11:00

Nicole Hatten

Zeus Lara

2022-03-22T16:18:26+11:00

Niloofar Fardanesh

General

2022-05-05T11:05:15+11:00

Oliver Stevenson

Zeus Lara

2022-05-17T17:36:32+11:00

Parastoo Mousavi

Zeus Lara

2022-05-10T17:01:14+11:00

Paul Bernard

Zeus Lara

2022-02-04T02:19:40+11:00

Paul Kirschner

General

2022-02-04T02:26:06+11:00

Peter Boylan

General

2021-07-06T12:52:31+11:00

Peter Philpott

General

2020-10-30T03:09:29+11:00

Puneet Nagpal

Zeus Lara

2022-04-05T13:03:25+11:00

Rahul Kaushal

Zeus Lara

2022-04-05T13:17:26+11:00

Rick Myburgh

Zeus Lara

2022-04-19T12:23:07+11:00

Rinku Razdan

General

2021-06-15T09:38:48+11:00

Robert Caminiti

General

2020-10-07T04:02:43+11:00

Robert Crossman

General

2022-03-08T14:18:21+11:00

Rohini Verma

Zeus Lara

2021-04-13T12:23:02+11:00

Roxane Montierro

Zeus Lara

2020-12-15T06:30:55+11:00

Sanjay Narayan

Zeus Lara

2022-02-04T02:35:09+11:00

Saurabh Kundi

Zeus Lara

2021-05-11T11:54:30+11:00

Sharon Tannenbaum

Zeus Lara

2021-06-01T12:48:32+11:00

Sheryll Nones

Zeus Lara

2021-12-23T18:09:26+11:00

Shiraan Fernando

Zeus Lara

2022-05-10T16:56:16+11:00

Sosha Jabbary

General

2022-02-22T14:47:15+11:00

Sreekanth Badam

Zeus Lara

2021-04-27T17:36:06+11:00

Stephen Curtis

Zeus Lara

2021-05-11T12:16:32+11:00

Syed Hussain

Zeus Lara

2022-02-04T16:04:13+11:00

Tameka Yallop

General

2022-03-08T16:41:26+11:00

Thuc Linh Nguyen Phan

Zeus Lara

2022-02-04T15:44:13+11:00

Vanessa Vella

General

2021-12-14T12:11:12+11:00

Winona Astian Thian

Zeus Lara

2021-05-11T10:29:59+11:00

Yanmin Chen

Zeus Lara

2022-03-08T16:40:11+11:00

Zach Barnetby

Zeus Lara

2022-05-11T10:58:34+11:00