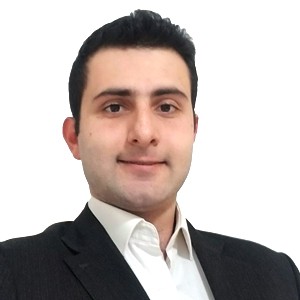 Alan Alehashemi
PMO Specialist (Scheduler/Planner)
---
Areas Of Expertise:
Project Planning
Monitoring and Control
Developing and managing project/program schedules
---
Education:
Master of Science (Project Management), University of Tehran
Bachelor of Science (Industrial Engineering), Amirkabir University of Technology
Diploma of Leadership & Management, Bankstown Community College
PMI Scheduling Professional (PMI-SP®) Certified
Prince 2 Foundation Certified
---
About Alan Alehashemi
Alan is an experienced Scheduler/Planner with extensive knowledge in project planning, scheduling, monitoring and control. He is a high performing team player who delivers quality outcomes and has constructive and creative problem-solving skills.
---
What Alan brings
Strong communication, project reporting and documentation skills.
Highly experienced in project governance, frameworks, principals, tools and end to end financial reporting & analysis, risk and issue management.
Sound knowledge of risk and issues management.
Ability to engage and build effective stakeholder relationships.
---
Key Clients:
BAI Communications
Aryasasol Polymer Company
Avec Project Management
Pars Avec Kish
---
Key Achievements:
As Master Scheduler at BAI Communications, Alan was responsible for developing and maintaining achievable for programs and projects running through the PMO and ensure deliverables will meet the predefined deadlines. He ensured consistency across interdependent project schedules within programs; resource loading, levelling and liaising availabilities with constraints and advising program/ project managers on how to resolve resource availability issues. Alan also developed and updated trackers for key program milestones with multiple deliverables to bring clarity to the complex program environment. Assisting project managers with their tasks including holding daily stand-up meetings with project team members, updating schedule progresses and chasing progress where follow-ups required and developed report templates to correctly reflect weekly, bi-weekly progress reports, status reports and other ad-hoc presentations including Steering Committee reports and maintaining schedule hygiene to meet our clients' standard (Using DCMA framework). Public Safety Network transition program is the highlight of his achievements at BAI, ensuring soft landing of a $15 mm AUD program with an internal team size of 30+ people and multiple contractors involved.
---
As Enterprise Project Management (EPM) Consultant at Aryasasol, Alan was responsible for planning, master scheduling, monitoring and control of IT projects (ERP and BPM Automation projects) for the company as well as consulting engineering projects PMO office on proper utilization of the EPM platform for large construction projects. This includes breaking down project scopes using agile/ waterfall, leveling resource requirements, preparing project budgets, trading-off overall project completion schedules with project budget curves, holding and conducting daily/ weekly meetings with project team members to review assignments and achieved progresses, preparing cyclical reports including weekly, bi-weekly and monthly as well as other ad-hoc reports for project managers and other stakeholders as advised by the PMO manager. Average projects involved teams of 10 people with multiple external contractors involved with budgets varying from $10k to $100k USD.
---
As Project Planner/Scheduler at Avec Project Management, Alan was responsible for preparing the baseline plan for the ALSTOM wagon manufacturing plant refurbishment project. He also integrated multi-contractor schedules, reviewed engineering and construction contractors' weekly progress reports vs. the baseline (Cost and Schedule performance), highlighted important issues to their onsite expeditor, prepared weekly overall EPC progress reports for the principal (ALSTOM) and biweekly reports for ALSTOM with regards to the pending procurement items affecting one-month ahead construction schedule. Alignment of internal procurement with construction phase and advising procurement team on maximum available window for long-lead procurement items. With multiple engineering and construction contractors involved, this project had budget of $65 million USD.
---
As Enterprise Project Management Consultant at Pars Avec Kish, Alan worked on the implementation of an Enterprise Project Management (EPM), his responsibilities include assuring seamless integration of functional departments (Accounting, Procurement, Warehouse management and Technical Maintenance teams) with the enterprise project management platform, automating procurement progress reporting on certain project activities according to real-time procurement progress data on the ERP platform, design and implementation of scheduled project logging (weekly basis) and superimposition of Earned value/ Actual Value/ Planned values on a single S-CURVE in Crystal Reports + Many other progress reports directly out of the Oracle DB, and coaching PMO analysts and project engineers on how to extract relevant reports and also report their achieved progresses into the system.
---
Other Team Members
Declan Boylan

General

2020-01-15T02:30:38+11:00

Gareth James

General

2021-01-19T11:29:58+11:00

Connie McKeage

Julius

2021-03-09T10:14:51+11:00

Michael Blomfield

Julius

2023-02-14T10:26:26+11:00

Temre Green

Julius

2022-11-23T10:52:41+11:00

Mike Stockley

Julius

2022-08-30T12:56:19+11:00

Julie Laoit

Julius

2022-07-19T09:10:59+11:00

Rob Thomsett

General

2023-01-31T17:26:36+11:00

Louise Ford

General

2020-01-15T03:08:18+11:00

Aaron Simonsen

Julius

2023-11-13T23:52:10+11:00

Alan Alehashemi

Julius

2022-07-19T09:07:40+11:00

Alex Jahan

Julius

2023-11-14T12:14:04+11:00

Alex Massie

General

2023-11-14T12:25:43+11:00

Alexander Rivkin

Julius

2023-11-14T00:06:50+11:00

Alexandra Marie Tan

Julius

2023-07-20T17:43:15+11:00

Ali Pahlavan

General

2023-11-14T00:19:34+11:00

Alisdair Brown

Julius

2022-08-30T09:51:38+11:00

Amanda Walker

Julius

2023-11-14T12:09:46+11:00

Andrew Cheesman

Julius

2022-08-09T12:17:42+11:00

Anna Linfield-Kent

Julius

2023-11-14T11:45:20+11:00

Andrew Marshall

Julius

2023-08-29T14:02:36+11:00

Audrey Teh

Julius

2023-11-14T01:03:53+11:00

Barbara Read

General

2023-11-13T23:44:22+11:00

Bhavna Gupta

Julius

2023-11-30T01:43:24+11:00

Benn Salier

Julius

2023-10-17T17:16:47+11:00

Bita Bagheri

General

2023-08-02T22:15:49+11:00

Blake Dahlen

Julius

2023-07-20T13:58:11+11:00

Caroline Lees

Julius

2023-11-14T01:15:13+11:00

Cathy Baldwin

General

2021-01-19T16:55:52+11:00

Chris Sykes

General

2022-05-26T12:50:02+11:00

Callum Barker

Julius

2023-09-15T10:54:00+11:00

Dave Rider

Julius

2023-11-14T11:28:26+11:00

David Johnson

General

2023-06-13T11:44:41+11:00

Deanna Edwards

Julius

2023-03-28T15:46:04+11:00

Derek Oldham

Julius

2023-11-14T01:43:07+11:00

Elise Kellond-Knight

Julius

2019-07-04T22:47:54+11:00

Eliza Johnson

Julius

2023-11-14T01:52:47+11:00

Ellen Misador

Julius

2023-11-14T11:16:10+11:00

Eugene O'Connell

Julius

2023-11-14T11:03:19+11:00

Fritzie Ligeralde

Julius

2023-10-27T12:23:57+11:00

Gilbert Wong

Julius

2023-09-28T10:05:22+11:00

Guru Swaminathan

General

2023-05-26T16:16:29+11:00

Hardik Lakhani

Julius

2023-11-14T10:59:45+11:00

Hayley Weir

Julius

2023-08-29T14:56:54+11:00

Helen Argitis

Julius

2023-11-14T10:56:19+11:00

Inggrid Yapari

Julius

2023-09-05T14:17:37+11:00

Ian Salvador

Julius

2023-11-14T02:22:20+11:00

Jerry Cobb

General

2022-06-28T15:49:32+11:00

Joanna Carlos

Julius

2022-02-15T17:48:05+11:00

Jochebed Diaz

General

2023-07-27T15:46:01+11:00

Johaimah Garrido

Julius

2021-03-16T10:08:35+11:00

John Middlemist

Julius

2023-11-14T02:36:08+11:00

Jovilyn Magtoto

Julius

2022-08-02T13:27:08+11:00

Julia Nicole Justo

Julius

2023-11-14T10:49:49+11:00

Julius Labalan

Julius

2023-10-05T10:04:21+11:00

Katherine Whiteside

General

2023-11-14T10:44:56+11:00

Kunal Parikh

Julius

2022-01-25T11:49:10+11:00

Lauren Grouse

Julius

2023-11-14T10:37:06+11:00

Louigi Gardiola

Julius

2023-02-23T08:31:20+11:00

Maddison Schmid

Julius

2023-11-14T10:31:00+11:00

Mariam Kohani

Julius

2022-07-19T09:57:04+11:00

Marian Joyce Makalintal

Julius

2023-06-21T10:48:28+11:00

Marianne Dinsay

Julius

2023-11-14T10:27:12+11:00

Mark McAdam

General

2023-05-03T12:09:06+11:00

Mark Millen

Julius

2022-08-30T12:47:06+11:00

Matthew Knight

Julius

2023-11-14T10:24:09+11:00

Melody Framp

Julius

2023-11-14T10:20:38+11:00

Melody Tuazon

Julius

2023-05-09T15:59:40+11:00

Michael Bryant

General

2023-11-13T17:56:32+11:00

Mohammad Ramezani

General

2022-07-13T16:18:36+11:00

Nadja Schulze

Julius

2023-07-13T13:05:06+11:00

Nevil Cope

General

2022-08-30T14:24:26+11:00

Niall Burke

Julius

2023-11-13T17:36:58+11:00

Nick Rodwell

Julius

2023-11-13T17:46:28+11:00

Nicole Hatten

Julius

2023-11-13T17:33:35+11:00

Ninia Ortile

Julius

2022-10-11T14:26:40+11:00

Pablo Andres Cordova Baya

Julius

2023-06-21T10:48:54+11:00

Parastoo Mousavi

Julius

2023-11-13T17:25:28+11:00

Paul Kirschner

General

2022-02-04T02:26:06+11:00

Peter Boylan

General

2023-03-14T16:22:42+11:00

Peter Philpott

General

2022-11-08T10:05:47+11:00

Rachel Low

Julius

2023-09-18T12:34:26+11:00

Rajiv Boddupalli

Julius

2023-11-13T16:14:32+11:00

Robert Crossman

General

2022-03-08T14:18:21+11:00

Rohini Verma

Julius

2023-11-30T02:00:48+11:00

Rohit Satija

Julius

2023-11-13T15:37:09+11:00

Roxane Montierro

Julius

2020-12-15T06:30:55+11:00

Sanjay Narayan

Julius

2023-02-14T11:09:04+11:00

Saurabh Kundi

Julius

2023-11-13T15:08:30+11:00

Shiraan Fernando

Julius

2023-03-14T15:07:49+11:00

Shruthi Srinivas

Julius

2023-08-25T12:02:31+11:00

Sreekanth Badam

Julius

2023-11-30T03:24:02+11:00

Stephen Curtis

Julius

2023-11-13T13:01:36+11:00

Simon Chrétien

Julius

2023-09-15T11:40:55+11:00

Tameka Yallop

General

2023-08-29T16:34:12+11:00

Tanvi Mahajan

Julius

2023-11-13T12:45:18+11:00

Thuc Linh Nguyen Phan

Julius

2023-11-13T12:39:10+11:00

Tony Calusic

Julius

2023-11-13T12:21:56+11:00

Vanessa Vella

General

2023-11-30T02:22:53+11:00

Vergil De Leon

Julius

2023-09-11T10:53:30+11:00

Winona Astian Thian

Julius

2023-02-23T08:34:19+11:00

Yanmin Chen

Julius

2023-10-03T19:22:20+11:00

Zach Barnetby

Julius

2023-11-13T10:30:25+11:00