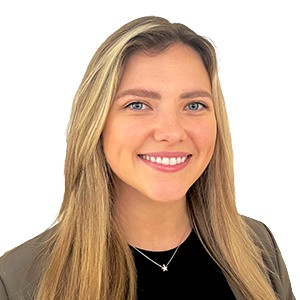 Lauren Grouse
Senior Change Associate
---
Areas Of Expertise:
Organisational Change Management
Stakeholder Management
SAFE & Scrum Master and Agile Methodologies
---
Education:
Bachelor of Arts Degree (Hons), Global Business, Dublin City University and Neoma Business School France
---
About Lauren Grouse
Lauren is a highly motivated individual with a strong grasp of organisational requirements. She excels in stakeholder management and has a talent for directing change initiatives that result in positive outcomes and demonstrates her ability to deliver results.
---
What Lauren brings
Proven ability to establish successful relationships with key stakeholders including senior management and lead teams including during times of uncertainty to deliver successful customer and business outcomes.
SAFE Scrum Master & Agile methodologies training.
Critical thinking, planning, time management, analytical and problem-solving skills.
Quantitative and qualitative data analysis to assess change impact and inform executive decisions making and buy-in for initiatives.
---
Key Clients:
Accenture
Buymie
Last1 Standing Game
---
Key Achievements:
As a Management Consultant at Accenture, Lauren worked for one of their key banking clients. The bank undertook a Skills Needs Analysis to identify critical capability gaps within their organisation. Following the analysis, the bank focused on 3 core streams – Build, Borrow and Buy. Working under the Build Stream, Lauren supported the rollout of specialised skills pathways across the organisation to support colleague development. The changes were companywide and affected 10,000 employees, with particular focus on those who had roles that were not deemed future fit, c.2000. The initiative was underpinned by a larger groupwide change initiative of shifting from a mandatory to self-directed learning culture. Lauren redesigned and executed an end-to-end communication and engagement strategy for the Learning team, spanning across 10 different workstreams, to drive the change. She increased colleague adoption by 36% by leveraging digital content such as videos, interactive documents, and design graphics, and analysed data and engagement metrics to assess change impact (open rates, drop off points, adoption.), enabling the team to meet their 2023 Sustainability KPI's.
---
As a Management Consultant at Accenture, Lauren supported on the groupwide rollout of a new data driven career experience platform for 10,000 colleagues. Lauren supported on the project delivery and created collateral (guides, demos & toolkits) to support capability uplift for both colleagues and leaders, measured impact and presented Realtime data to senior stakeholders to drive adoption.
---
As a Management Consultant at Accenture, Lauren supported the redesign and rollout of a new Performance Achievement framework. She conducted surveys, focus groups and stakeholder 1:1s to collect both qualitative and quantitative data which were then analysed, themed and used to identify drivers for change.
---
As a Management Consultant at Accenture, Lauren managed multiple project deliveries including early career pipelines, leadership development programs and female accelerator programs, and was responsible for ongoing RAID Logs, Status Reports and Kanban's.
---
As an Operations Associate at Buymie, Lauren analysed reports and data to forecast workforce requirements and developed the UK market growth strategy by analysing competitors and pitching to potential partners to advance expansion within Bristol and Leeds. By analysing employee cultural scores, Lauren designed an internal communications strategy that increased engagement and combated employee attrition.
---
As a Co-Founder, Marketing and Sales Lead at Last1 Standing Game, Lauren created and launched an e-commerce business game. She developed a comprehensive supply chain spanning 8 suppliers across 4 countries. Also, she designed a promotional social media advertising campaign that reached over 60,000 consumers, which increased sales by 11%. She further analysed data to empower decision-making and boost sales, leading to €50,000+ in sales within 12 months of launch. Lauren led international expansion through a strategy that targeted high customer demographics through micro-influencers and social media advertising campaigns (Google ads, Twitter, Facebook, Instagram and TikTok).
---
Other Team Members
Declan Boylan

General

2020-01-15T02:30:38+11:00

Gareth James

General

2021-01-19T11:29:58+11:00

Connie McKeage

Julius

2021-03-09T10:14:51+11:00

Michael Blomfield

Julius

2023-02-14T10:26:26+11:00

Temre Green

Julius

2022-11-23T10:52:41+11:00

Mike Stockley

Julius

2022-08-30T12:56:19+11:00

Julie Laoit

Julius

2022-07-19T09:10:59+11:00

Rob Thomsett

General

2023-01-31T17:26:36+11:00

Louise Ford

General

2020-01-15T03:08:18+11:00

Aaron Simonsen

Julius

2022-08-30T11:02:06+11:00

Alan Alehashemi

Julius

2022-07-19T09:07:40+11:00

Alex Jahan

Julius

2022-12-13T10:15:47+11:00

Alex Massie

General

2023-05-09T15:42:17+11:00

Alexander Rivkin

Julius

2023-03-28T15:40:59+11:00

Alexandra Marie Tan

Julius

2023-07-20T17:43:15+11:00

Ali Pahlavan

General

2023-08-03T11:39:33+11:00

Alisdair Brown

Julius

2022-08-30T09:51:38+11:00

Amanda Walker

Julius

2023-06-06T11:10:57+11:00

Anders Madsen

Julius

2022-08-02T17:55:11+11:00

Andrew Cheesman

Julius

2022-08-09T12:17:42+11:00

Andrew Coley

Julius

2021-12-21T12:36:47+11:00

Anish Joshi

Julius

2023-04-04T15:04:09+11:00

Ann Mica Mae Lim

Julius

2023-05-11T14:08:40+11:00

Anna Linfield-Kent

Julius

2023-03-14T16:25:51+11:00

Andrew Marshall

Julius

2023-08-29T14:02:36+11:00

Audrey Teh

Julius

2023-06-13T10:54:02+11:00

Barbara Read

General

2023-04-27T09:42:19+11:00

Bhavna Gupta

Julius

2023-08-25T16:07:45+11:00

Benn Salier

Julius

2021-07-06T13:45:00+11:00

Bita Bagheri

General

2023-08-02T22:15:49+11:00

Blake Dahlen

Julius

2023-07-20T13:58:11+11:00

Callum Dodd

Julius

2022-11-23T11:00:39+11:00

Caroline Lees

Julius

2023-01-17T10:29:22+11:00

Cathy Baldwin

General

2021-01-19T16:55:52+11:00

Chris Sykes

General

2022-05-26T12:50:02+11:00

Callum Barker

Julius

2023-09-15T10:54:00+11:00

Dave Rider

Julius

2022-02-04T01:57:49+11:00

David Johnson

General

2023-06-13T11:44:41+11:00

David Mansfield

Julius

2023-02-14T10:37:32+11:00

Deanna Edwards

Julius

2023-03-28T15:46:04+11:00

Derek Oldham

Julius

2023-05-09T15:38:58+11:00

Elise Kellond-Knight

Julius

2019-07-04T22:47:54+11:00

Eliza Johnson

Julius

2023-07-20T12:18:49+11:00

Ellen Misador

Julius

2023-07-20T15:42:42+11:00

Eugene O'Connell

Julius

2022-03-22T16:14:36+11:00

Fritzie Ligeralde

Julius

2021-08-17T15:41:14+11:00

Gilbert Wong

Julius

2023-09-28T10:05:22+11:00

Guru Swaminathan

General

2023-05-26T16:16:29+11:00

Hardik Lakhani

Julius

2022-03-08T16:33:18+11:00

Hayley Weir

Julius

2023-08-29T14:56:54+11:00

Helen Argitis

Julius

2022-05-26T12:13:35+11:00

Inggrid Yapari

Julius

2023-09-05T14:17:37+11:00

Ian Salvador

Julius

2022-06-14T17:51:51+11:00

Ian Thomson

Julius

2023-06-13T10:25:34+11:00

Jerry Cobb

General

2022-06-28T15:49:32+11:00

Joanna Carlos

Julius

2022-02-15T17:48:05+11:00

Jochebed Diaz

General

2023-07-27T15:46:01+11:00

Johaimah Garrido

Julius

2021-03-16T10:08:35+11:00

John Middlemist

Julius

2023-07-13T11:20:18+11:00

Jovilyn Magtoto

Julius

2022-08-02T13:27:08+11:00

Julia Nicole Justo

Julius

2023-02-23T08:34:34+11:00

Julius Labalan

Julius

2023-09-19T11:03:24+11:00

Katherine Whiteside

General

2022-11-30T17:42:36+11:00

Kunal Parikh

Julius

2022-01-25T11:49:10+11:00

Lauren Grouse

Julius

2023-06-15T15:40:06+11:00

Louigi Gardiola

Julius

2023-02-23T08:31:20+11:00

Louise White

General

2021-05-11T16:20:05+11:00

Maddison Schmid

Julius

2023-05-11T09:35:43+11:00

Mariam Kohani

Julius

2022-07-19T09:57:04+11:00

Marian Joyce Makalintal

Julius

2023-06-21T10:48:28+11:00

Marianne Dinsay

Julius

2023-02-23T08:32:42+11:00

Mark McAdam

General

2023-05-03T12:09:06+11:00

Mark Millen

Julius

2022-08-30T12:47:06+11:00

Matthew Knight

Julius

2023-02-23T08:32:48+11:00

Melanie Northrop

Julius

2023-01-31T17:06:41+11:00

Melody Framp

Julius

2023-06-13T11:17:39+11:00

Melody Tuazon

Julius

2023-05-09T15:59:40+11:00

Michael Bryant

General

2022-08-09T11:38:32+11:00

Mohammad Ramezani

General

2022-07-13T16:18:36+11:00

Nadja Schulze

Julius

2023-07-13T13:05:06+11:00

Nevil Cope

General

2022-08-30T14:24:26+11:00

Niall Burke

Julius

2022-10-11T13:16:07+11:00

Nick Rodwell

Julius

2023-06-13T10:21:33+11:00

Nicole Hatten

Julius

2023-07-04T16:34:47+11:00

Ninia Ortile

Julius

2022-10-11T14:26:40+11:00

Pablo Andres Cordova Baya

Julius

2023-06-21T10:48:54+11:00

Parastoo Mousavi

Julius

2022-12-13T10:24:00+11:00

Paul Kirschner

General

2022-02-04T02:26:06+11:00

Peter Boylan

General

2023-03-14T16:22:42+11:00

Peter Philpott

General

2022-11-08T10:05:47+11:00

Rachel Low

Julius

2023-09-18T12:34:26+11:00

Rahul Kaushal

Julius

2023-08-03T10:44:21+11:00

Rajiv Boddupalli

Julius

2022-12-13T09:44:21+11:00

Robert Caminiti

General

2020-10-07T04:02:43+11:00

Robert Crossman

General

2022-03-08T14:18:21+11:00

Rohini Verma

Julius

2021-04-13T12:23:02+11:00

Rohit Satija

Julius

2023-08-29T15:13:11+11:00

Roxane Montierro

Julius

2020-12-15T06:30:55+11:00

Sanjay Narayan

Julius

2023-02-14T11:09:04+11:00

Saurabh Kundi

Julius

2023-02-23T08:26:14+11:00

Shiraan Fernando

Julius

2023-03-14T15:07:49+11:00

Shruthi Srinivas

Julius

2023-08-25T12:02:31+11:00

Sreekanth Badam

Julius

2022-11-09T17:14:36+11:00

Stephen Curtis

Julius

2023-05-30T09:22:30+11:00

Simon Chrétien

Julius

2023-09-15T11:40:55+11:00

Tameka Yallop

General

2023-08-29T16:34:12+11:00

Tanvi Mahajan

Julius

2023-03-28T15:21:57+11:00

Thuc Linh Nguyen Phan

Julius

2023-05-30T09:39:47+11:00

Tony Calusic

Julius

2022-08-01T16:52:17+11:00

Vanessa Vella

General

2021-12-14T12:11:12+11:00

Vergil De Leon

Julius

2023-09-11T10:53:30+11:00

Winona Astian Thian

Julius

2023-02-23T08:34:19+11:00

Yanmin Chen

Julius

2023-09-28T10:13:11+11:00

Zach Barnetby

Julius

2023-06-16T17:32:20+11:00