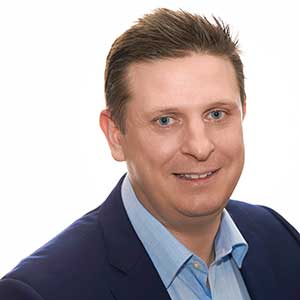 Robert Crossman
Program Manager
---
Areas Of Expertise
Transformation Programs
Microsoft Office365
Cloud Deployments and Migrations
Business Application Development projects
---
Education
Bachelor of Engineering (Hons) Aerospace Engineering – UWE, Bristol
Member of the British Computing Society (MBCS) – Chartered IT Professional (CITP) & Chartered Engineer (CEng)
---
About Robert Crossman
Robert is a skilled Program Manager, joining Seven Consulting's Sydney Practice in July 2014.
He has about 20 years' experience delivering IT application and infrastructure projects, most recently in retail, finance, telecommunications, transport, and property.
Robert has highly developed project and program planning, management, and delivery skills, resulting in award winning programs.
---
What Robert brings
Has managed relocation projects for over 1,000 staff, and transformation programs affecting over 25,000 end users.
Highly developed technical IT skills enabling drill down capability and problem identification, triage, and resolution.
Highly developed people management and communication skills resulting in effective reporting and succinct instructions.
Highly developed team management and motivational skills using empowerment and positive reinforcement.
---
Key Clients
Woolworths Group
Link Group
NSW Department of Finance, Services & Innovation
Stockland Corporation
Qantas Airways Australia
Vodafone Hutchison Australia
IBM Australia
Dell Australia
UK Ministry of Defence
IBM United Kingdom
---
Key Achievements
As Program Manager at Woolworths Group, Robert ran the Proactive Maintenance Program for Woolworths Facilities Management. This multi-year transformation re-engineered Woolworths Facilities Management's (WFM's) processes and migrated their repair and maintenance business to a new technology platform. The Program enabled the business unit to be restructured, releasing significant cost benefits, as well as allowing a move to a data driven business model. Prior to Robert's onboarding, the project team had been struggling for about 5 years to get the project up and running. Robert worked with Woolworths's stakeholders to put a business case in place that all parties could buy into, enabling the Woolworths business to support the Program. Whilst at WFM, Robert also ran several smaller projects including the deployment of an electronic visitor management solution across all Woolworths Group stores, and the setting up of WFM to support the divestment of the BWS and Dan Murphy's chain of stores into Endeavour Drinks Group.
---
As Program Manager at Link Group, Robert led teams that managed the transition of superannuation funds into and out of Link's administration systems. Coming in at short notice to take over a group of projects whose previous project manager was leaving, Robert quickly got to grips with the delivery model and the projects he was asked to lead. Whilst delivered the two projects to a successful conclusion he was also tasked with stabilising and delivering an additional project which had been under delivery pressures. Robert worked to put controls in place and sought customer approval to re-baseline the project, allowing him to handover the project to internal resources for ongoing delivery. Key challenges were found in driving the teams to challenging timescales, whilst managing multiple senior stakeholders, both internal and external to Link.
---
As the ICT Assurance Reporting & Metrics Project Manager at NSW Department of Finance, Services & Innovation, Robert led a team to implement an assurance reporting capability for all large and/or complex ICT Programs across the NSW Government. Robert worked with senior government stakeholders to develop a set of project assurance metrics that could be rolled up to produce an overall status of each project that could be reported up to Cabinet level. Robert led the development of the tools and processes as well as leading the significant stakeholder management effort required to convince the separate government departments of the merits of the approach. The main challenges lay in standardizing the data and metrics being reported across all NSW Government departments and developing methods of minimizing the monthly reporting burden on the project management cohort.
---
As Collaboration Project Manager at Stockland, Robert was originally requested to lead a team to develop a collaboration strategy and delivery roadmap for Stockland. Carrying on from this he developed a business case for the delivery of the first phase on the roadmap which he presented to Stockland's Executive Committee. Following business case approval, Robert was requested to deliver the project which uses Office365 to provide collaboration technologies to Stockland's 2,000 users. The project itself delivers new version of the Office Productivity suite, migrates the company's intranet site to Office365, creates and integrates a cloud-based identity management solution and implements a new document management system including the cleansing and migration of Stockland's documentation to the cloud-based solution. All of the technical effort is underpinned by a major management of change exercise to establish and embed collaboration best practice activities throughout the workforce.
---
As Website Re-hosting Project Manager at Stockland, Robert led a project to re-host Stockland's entire web presence from an incumbent hosting provider to Microsoft's Azure cloud platform. Taking the project from its feasibility phase through to the handover of the new service into production, Robert led the vendor selection process for the new platform and the new managed hosting service provider, before delivering the new platform and migrating the services across to it with minimal disruption to Stockland's customers.
---
As Transformation Program Manager at Qantas Domestic Network and Voice (DNV), Robert led the transformation and enhancement of existing, as well as the introduction of 24 new, ICT service solutions in support of an 8-year service delivery agreement between Telstra and Qantas. The program renewed and upgraded the Qantas domestic data and voice network across 149 sites and implemented new services across the enterprise. Responsible for the governance and delivery of 24 separate projects over an 18-month period with a services budget of over $11M. In the latter stages of the program took over in the Program Director role. The program won the NSW, National and Asia-Pacific Project of the Year 2013 ICT awards: as well as the overall NSW Project of the Year 2013 award at the Australian Institute of Project Management's Project Management Achievement Awards.
---
As Office365 Program Manager at Qantas, Robert recovered and then implemented an enterprise wide Office365 cloud solution, including implementation of the technical solution, transition of the solution into service, migration of over 25,000 users to the new service, and the management of change activities associated with the user engagement and business adoption of the new solution. Robert implemented stricter controls to ensure that costs were brought under control, and worked with project stakeholders to define an aggressive, but achievable, project schedule. The program met all critical milestones and delivered on time to the new financial plan agreed with the program steering committee.
---
As IT Relocation Program Manager at Qantas, Robert managed a major office relocation of over 1,000 staff, service partners and associated IT equipment and services from 7 separate existing locations to 3 new locations on the Qantas corporate campus. Worked with the refurbishment team to ensure that all Qantas IT requirements were being met and provided regular updates to the Qantas IT senior leadership team on progress of the refurbishment and the move.
---
As Application Upgrade Project Manager at VHA Billing & Revenue Management. A two-year project to design, develop, test and deploy an enterprise billing system upgrade, including application development, infrastructure upgrade and systems integration of the solution. Robert delivered the overall solution design and application upgrades whilst also supporting the client project manager with the system integration of the overall solution.
---
As Identity & Access Management Project Manager at Vodafone Australia. Robert managed a project to design, develop, test and deploy a replacement identity and access management solution based around the Sun Microsystems product set. The solution was to allow Vodafone mobile customers to securely access self-service functions associated with their phone and billing records over the web. The key complexities being around the migration of data off an existing unsupported solution, and the management of a geographically dispersed team, spread across three countries and time zones.
---
As the IBM project manager at the UK Ministry of Defence (MoD) Typhoon LITS Program. The initial project was to design, develop, test and deploy a solution to integrate all of the IT systems supporting the RAF's new Typhoon fleet of aircraft. Robert delivered the initial proposal and then led the project to develop the solution to the agreed budget. Managed according to IBM's Worldwide Project Management Method (WWPMM) and adapted to meet the requirements of the PRINCE 2 project management method required by the client, the program completed on time and to budget with high customer satisfaction.
---
As the MoD Delamination Implementation Project Manager, as part of an IBM Program delivering to the UK Ministry of Defence. Robert was responsible for the project to implement a solution which redesigned a suite of major business applications from a thick to thin client architecture. The major point of complexity was to ensure that the development projects delivered the high-quality products that the end users expected. This was achieved through the establishment of a rigorous quality assurance and testing process.
---
As IBM Secure Data Centre Business Case Project Manager, on behalf of the IBM Defence and Intelligence business, Robert project managed a team of consultants to deliver a business case for internal investment to set up a Secure Data Centre for both Confidential/Secret and Top-Secret systems for the UK Government and other clients. The business case was created and used to secure investment to deliver the capability, and to inform management of the sales targets that needed to be met to ensure the return on investment was achieved.
---
As Infrastructure Deployment Project Manager at Dell Australia's Enterprise Deployment Team, Robert was responsible for project managing the deployment and upgrade of server and network storage for multiple clients. Managing upwards of 30 separate engagements at any one time, the role required disciplined time management skills to ensure that the work was managed satisfactorily for all clients.
---
Other Team Members
Declan Boylan

General

2020-01-15T02:30:38+11:00

Gareth James

General

2021-01-19T11:29:58+11:00

Connie McKeage

Julius

2021-03-09T10:14:51+11:00

Michael Blomfield

Julius

2023-02-14T10:26:26+11:00

Temre Green

Julius

2022-11-23T10:52:41+11:00

Mike Stockley

Julius

2022-08-30T12:56:19+11:00

Julie Laoit

Julius

2022-07-19T09:10:59+11:00

Rob Thomsett

General

2023-01-31T17:26:36+11:00

Louise Ford

General

2020-01-15T03:08:18+11:00

Aaron Simonsen

Julius

2023-11-13T23:52:10+11:00

Alan Alehashemi

Julius

2022-07-19T09:07:40+11:00

Alex Jahan

Julius

2023-11-14T12:14:04+11:00

Alex Massie

General

2023-11-14T12:25:43+11:00

Alexander Rivkin

Julius

2023-11-14T00:06:50+11:00

Alexandra Marie Tan

Julius

2023-07-20T17:43:15+11:00

Ali Pahlavan

General

2023-11-14T00:19:34+11:00

Alisdair Brown

Julius

2022-08-30T09:51:38+11:00

Amanda Walker

Julius

2023-11-14T12:09:46+11:00

Andrew Cheesman

Julius

2022-08-09T12:17:42+11:00

Anna Linfield-Kent

Julius

2023-11-14T11:45:20+11:00

Andrew Marshall

Julius

2023-08-29T14:02:36+11:00

Audrey Teh

Julius

2023-11-14T01:03:53+11:00

Barbara Read

General

2023-11-13T23:44:22+11:00

Bhavna Gupta

Julius

2023-11-30T01:43:24+11:00

Benn Salier

Julius

2023-10-17T17:16:47+11:00

Bita Bagheri

General

2023-08-02T22:15:49+11:00

Blake Dahlen

Julius

2023-07-20T13:58:11+11:00

Caroline Lees

Julius

2023-11-14T01:15:13+11:00

Cathy Baldwin

General

2021-01-19T16:55:52+11:00

Chris Sykes

General

2022-05-26T12:50:02+11:00

Callum Barker

Julius

2023-09-15T10:54:00+11:00

Dave Rider

Julius

2023-11-14T11:28:26+11:00

David Johnson

General

2023-06-13T11:44:41+11:00

Deanna Edwards

Julius

2023-03-28T15:46:04+11:00

Derek Oldham

Julius

2023-11-14T01:43:07+11:00

Elise Kellond-Knight

Julius

2019-07-04T22:47:54+11:00

Eliza Johnson

Julius

2023-11-14T01:52:47+11:00

Ellen Misador

Julius

2023-11-14T11:16:10+11:00

Eugene O'Connell

Julius

2023-11-14T11:03:19+11:00

Fritzie Ligeralde

Julius

2023-10-27T12:23:57+11:00

Gilbert Wong

Julius

2023-09-28T10:05:22+11:00

Guru Swaminathan

General

2023-05-26T16:16:29+11:00

Hardik Lakhani

Julius

2023-11-14T10:59:45+11:00

Hayley Weir

Julius

2023-08-29T14:56:54+11:00

Helen Argitis

Julius

2023-11-14T10:56:19+11:00

Inggrid Yapari

Julius

2023-09-05T14:17:37+11:00

Ian Salvador

Julius

2023-11-14T02:22:20+11:00

Jerry Cobb

General

2022-06-28T15:49:32+11:00

Joanna Carlos

Julius

2022-02-15T17:48:05+11:00

Jochebed Diaz

General

2023-07-27T15:46:01+11:00

Johaimah Garrido

Julius

2021-03-16T10:08:35+11:00

John Middlemist

Julius

2023-11-14T02:36:08+11:00

Jovilyn Magtoto

Julius

2022-08-02T13:27:08+11:00

Julia Nicole Justo

Julius

2023-11-14T10:49:49+11:00

Julius Labalan

Julius

2023-10-05T10:04:21+11:00

Katherine Whiteside

General

2023-11-14T10:44:56+11:00

Kunal Parikh

Julius

2022-01-25T11:49:10+11:00

Lauren Grouse

Julius

2023-11-14T10:37:06+11:00

Louigi Gardiola

Julius

2023-02-23T08:31:20+11:00

Maddison Schmid

Julius

2023-11-14T10:31:00+11:00

Mariam Kohani

Julius

2022-07-19T09:57:04+11:00

Marian Joyce Makalintal

Julius

2023-06-21T10:48:28+11:00

Marianne Dinsay

Julius

2023-11-14T10:27:12+11:00

Mark McAdam

General

2023-05-03T12:09:06+11:00

Mark Millen

Julius

2022-08-30T12:47:06+11:00

Matthew Knight

Julius

2023-11-14T10:24:09+11:00

Melody Framp

Julius

2023-11-14T10:20:38+11:00

Melody Tuazon

Julius

2023-05-09T15:59:40+11:00

Michael Bryant

General

2023-11-13T17:56:32+11:00

Mohammad Ramezani

General

2022-07-13T16:18:36+11:00

Nadja Schulze

Julius

2023-07-13T13:05:06+11:00

Nevil Cope

General

2022-08-30T14:24:26+11:00

Niall Burke

Julius

2023-11-13T17:36:58+11:00

Nick Rodwell

Julius

2023-11-13T17:46:28+11:00

Nicole Hatten

Julius

2023-11-13T17:33:35+11:00

Ninia Ortile

Julius

2022-10-11T14:26:40+11:00

Pablo Andres Cordova Baya

Julius

2023-06-21T10:48:54+11:00

Parastoo Mousavi

Julius

2023-11-13T17:25:28+11:00

Paul Kirschner

General

2022-02-04T02:26:06+11:00

Peter Boylan

General

2023-03-14T16:22:42+11:00

Peter Philpott

General

2022-11-08T10:05:47+11:00

Rachel Low

Julius

2023-09-18T12:34:26+11:00

Rajiv Boddupalli

Julius

2023-11-13T16:14:32+11:00

Robert Crossman

General

2022-03-08T14:18:21+11:00

Rohini Verma

Julius

2023-11-30T02:00:48+11:00

Rohit Satija

Julius

2023-11-13T15:37:09+11:00

Roxane Montierro

Julius

2020-12-15T06:30:55+11:00

Sanjay Narayan

Julius

2023-02-14T11:09:04+11:00

Saurabh Kundi

Julius

2023-11-13T15:08:30+11:00

Shiraan Fernando

Julius

2023-03-14T15:07:49+11:00

Shruthi Srinivas

Julius

2023-08-25T12:02:31+11:00

Sreekanth Badam

Julius

2023-11-30T03:24:02+11:00

Stephen Curtis

Julius

2023-11-13T13:01:36+11:00

Simon Chrétien

Julius

2023-09-15T11:40:55+11:00

Tameka Yallop

General

2023-08-29T16:34:12+11:00

Tanvi Mahajan

Julius

2023-11-13T12:45:18+11:00

Thuc Linh Nguyen Phan

Julius

2023-11-13T12:39:10+11:00

Tony Calusic

Julius

2023-11-13T12:21:56+11:00

Vanessa Vella

General

2023-11-30T02:22:53+11:00

Vergil De Leon

Julius

2023-09-11T10:53:30+11:00

Winona Astian Thian

Julius

2023-02-23T08:34:19+11:00

Yanmin Chen

Julius

2023-10-03T19:22:20+11:00

Zach Barnetby

Julius

2023-11-13T10:30:25+11:00