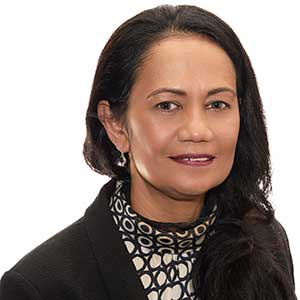 Katherine Whiteside
Program Manager
---
Areas Of Expertise
Banking & Finance Project Management
Systems Implementation
Cyber Security Systems Implementation
---
Education
Bachelor of Arts – Business studies, University of South Pacific
Project Management Institute (PMI) Certification
---
About Katherine Whiteside
Katherine is a skilled Program Manager, joining Seven Consulting's Sydney Practice in May 2016. She has over 17 years' experience in project management, with expertise in banking system project implementation including planning, executing, controlling and closing projects, delivering business value and managing expectations of stakeholders.
---
What Katherine brings
Strong leadership and stakeholder management skills, used to align stakeholders, team members, vendors and customers to the same objectives.
Comprehensive and clear communication ensuring common understanding of status and issues.
Ability to resolve concerns, conflict and deal with issues, by offering solutions that ensure competing priorities and objectives are effectively resolved.
Highly capable of creating and managing project budgets and expenditure and managing schedules.
Strong delivery focus and drive.
---
Key Clients
AMP
Woolworths
Commonwealth Bank of Australia (CBA)
B&N Bank, Russia
National Bank of Fiji
---
Key Achievements
As Program Manager at AMP, Katherine was responsible for the CloudX program where she managed the migration of applications off the AMPA group of applications on to AWS Public Cloud Platform. This included delivery of detailed analysis documentation, defining target state, establishing migration patterns to allow for successfully migration of applications and groups services. Katherine managed implementation activities including Infrastructure provisioning, application configuration, integration to internal and external system including Testing phases of SIT, Functional and Performance Testing, Coordination and Management of cutover activities and ensuring that Hypercare support is in place for each migration. Katherine ensured effective engagement with APRA and other key internal stakeholders leading to 'no objection' in moving Heightened and Extreme risk workloads. She successfully completed the Detailed Discovery of the AMP Legacy Platform to establish Scope, Cost and Implementation plans to Migrate and test all applications to AWS cloud platform and to effectively decommission the legacy platform. This included detailed analysis documentation, Migration approach, Implementation wave plans, Timelines and Cost estimations.
---
As Project Manager at Woolworths, Katherine managed the STEP Program – ITSM Project. She successfully delivered the implementation of the Service NOW – Change and Release Management modules. This included integration to CA Harvest used for Software Change Management, introduction of new policy, procedures as well as organisation change management including training. Katherine also managed the migration from the existing tool (SRS) to Service WOW for the Change and Release Modules. The project also decommissioned the SRS system.
---
As Project Manager at Woolworths, Katherine was responsible for the Cyber Security Program. She successfully implemented the Woolworths Enterprise Single Sign On (ESSO) Solution (Microsoft Azure AD). This included user data alignment across the Woolworths environments and applications to utilise the ESSO Solution. The project also established business and support framework to enable ESSO service to be consumed by the company. Katherine also successfully implemented the Privilege access Management Solution (CyberArk). She improved controls and assurance around privileged account management and access. The project also established Business and support Framework to enable the PAM Service to be consumed by the company.
---
As Project Manager at Woolworths, Katherine successfully completed the implementation of the Uplift of the Vulnerability Management solution (i.e., Security Centre product from the Tenable Network Security) expanding the monitoring capabilities across the Woolworths environment. This included Integration to Woolworths monitoring systems and the Woolworths Management and Compliance systems. The project also established monitoring and remediation process and procedures.
---
As Project Manager at CBA, Katherine successfully delivered the end-to-end financial solution of CBA projects. This included responsibility for scope, confirmation, development, testing, and deployment. She was responsible for management reporting, project financials including budget control and estimations, vendor management and change management. She delivered completed the project implementation review and lessons learnt with the team, and obtained complete project sign off from final stakeholders.
---
As Project Manager at CBA, Katherine focused on the payments domain, including processing of local and international payments, processing of card transactions, integration of payments systems with front end channels and downstream data warehouse and other reporting and monitoring systems. Also responsible for intersystem automated financial and technical reconciliations, managing general ledger mapping requirements and integration into the corporate general ledger systems. For CBA, Katherine successfully delivered several projects within the payments stream. These included deposits systems legacy to SAP transition, vostro account migration, legacy system shutdown and home Loans legacy to SAP transition.
---
As Project Manager at B&N Bank, Katherine advised on and successfully led a multi-million systems implementation for the bank which was successfully rolled out across 3 regional branches. The project was delivered within scope, quality, and budget within the constraints of a complex regulatory environment in Russia and required resolution of complex logistical issues. Katherine managed an offsite project team consisting of 30+ employees across 4 locations including liaising with offshore development centres. successfully delivered a critical system upgrade implementation using a phased rollout. She successfully managed several system study projects across a range of local and foreign banks and production of business proposal documents.
---
As Business Project Lead and Manager Operations at National Bank of Fiji, Katherine had deep involvement in the implementation of Core Banking System Replacement. She successfully led a team of business and technical staff through defining and developing requirements for banking applications including migration from legacy systems. Managed the IT Operations department being responsible for the daily batch operation, Bank reporting and Banking IT system maintenance and upkeep. Katherine led E2E testing and UAT testing for the Bank's Core Banking System Replacement, working with technical teams to facilitate performance testing. As part of her role, she successfully restructured Bank IT Operations department, automating several of the batch processing requirements. In addition, Katherine successfully set up and managed IT help desk of 6 staff, supporting 12 branches of 250 staff.
---
Other Team Members
Declan Boylan

General

2020-01-15T02:30:38+11:00

Gareth James

General

2021-01-19T11:29:58+11:00

Connie McKeage

Zeus Lara

2021-03-09T10:14:51+11:00

Hugh Harley

Zeus Lara

2020-04-01T04:18:49+11:00

Michael Blomfield

Zeus Lara

2023-02-14T10:26:26+11:00

Temre Green

Zeus Lara

2022-11-23T10:52:41+11:00

Mike Stockley

Zeus Lara

2022-08-30T12:56:19+11:00

Julie Laoit

Zeus Lara

2022-07-19T09:10:59+11:00

Rob Thomsett

General

2023-01-31T17:26:36+11:00

Louise Ford

General

2020-01-15T03:08:18+11:00

Aaron Simonsen

Zeus Lara

2022-08-30T11:02:06+11:00

Akhilesh Das

Zeus Lara

2022-11-08T10:09:51+11:00

Alan Alehashemi

Zeus Lara

2022-07-19T09:07:40+11:00

Alex Massie

General

2023-05-09T15:42:17+11:00

Alexander Rivkin

Zeus Lara

2023-03-28T15:40:59+11:00

Alexandra Marie Tan

Zeus Lara

2023-03-14T15:15:24+11:00

Ali Pahlavan

General

2023-05-17T01:57:15+11:00

Alisdair Brown

Zeus Lara

2022-08-30T09:51:38+11:00

Amanda Walker

Zeus Lara

2022-08-09T10:18:22+11:00

Anders Madsen

Zeus Lara

2022-08-02T17:55:11+11:00

Andrew Cheesman

Zeus Lara

2022-08-09T12:17:42+11:00

Andrew Coley

Zeus Lara

2021-12-21T12:36:47+11:00

Anish Joshi

Zeus Lara

2023-04-04T15:04:09+11:00

Ann Mica Mae Lim

Zeus Lara

2023-05-11T14:08:40+11:00

Anna Linfield-Kent

Zeus Lara

2023-03-14T16:25:51+11:00

Barbara Read

General

2023-04-27T09:42:19+11:00

Benn Salier

Zeus Lara

2021-07-06T13:45:00+11:00

Bita Bagheri

General

2021-03-02T14:12:11+11:00

Blake Dahlen

Zeus Lara

2023-02-23T09:47:16+11:00

Callum Dodd

Zeus Lara

2022-11-23T11:00:39+11:00

Caroline Lees

Zeus Lara

2023-01-17T10:29:22+11:00

Cathy Baldwin

General

2021-01-19T16:55:52+11:00

Chika Nnadiekwe

Zeus Lara

2023-03-28T15:27:26+11:00

Chris Sykes

General

2022-05-26T12:50:02+11:00

Cliff Blakley

Zeus Lara

2023-05-11T13:52:16+11:00

David Johnson

General

2022-06-01T10:43:16+11:00

David Mansfield

Zeus Lara

2023-02-14T10:37:32+11:00

Deanna Edwards

Zeus Lara

2023-03-28T15:46:04+11:00

Derek Oldham

Zeus Lara

2023-05-09T15:38:58+11:00

Elise Kellond-Knight

Zeus Lara

2019-07-04T22:47:54+11:00

Ellen Misador

Zeus Lara

2023-03-14T15:30:57+11:00

Eugene O'Connell

Zeus Lara

2022-03-22T16:14:36+11:00

Francis Aseron

Zeus Lara

2023-02-24T09:56:24+11:00

Fritzie Ligeralde

Zeus Lara

2021-08-17T15:41:14+11:00

Gilbert Wong

Zeus Lara

2022-05-25T12:27:00+11:00

Guru Swaminathan

General

2023-05-26T16:16:29+11:00

Hardik Lakhani

Zeus Lara

2022-03-08T16:33:18+11:00

Hayley Weir

Zeus Lara

2022-03-01T12:16:09+11:00

Helen Argitis

Zeus Lara

2022-05-26T12:13:35+11:00

Ian Salvador

Zeus Lara

2022-06-14T17:51:51+11:00

Ian Thomson

Zeus Lara

2023-04-27T09:46:51+11:00

Ibrahim Dani

Zeus Lara

2023-05-09T15:33:59+11:00

Igor Vieira

Zeus Lara

2022-06-28T16:45:19+11:00

Jerry Cobb

General

2022-06-28T15:49:32+11:00

Joanna Carlos

Zeus Lara

2022-02-15T17:48:05+11:00

Jochebed Diaz

General

2022-11-16T12:53:12+11:00

Johaimah Garrido

Zeus Lara

2021-03-16T10:08:35+11:00

John Middlemist

Zeus Lara

2021-07-21T12:11:54+11:00

Jovilyn Magtoto

Zeus Lara

2022-08-02T13:27:08+11:00

Julia Nicole Justo

Zeus Lara

2023-02-23T08:34:34+11:00

Katherine Whiteside

General

2022-11-30T17:42:36+11:00

Kunal Parikh

Zeus Lara

2022-01-25T11:49:10+11:00

Louigi Gardiola

Zeus Lara

2023-02-23T08:31:20+11:00

Louise White

General

2021-05-11T16:20:05+11:00

Lousiene Samonte

General

2022-08-30T14:27:05+11:00

Maddison Schmid

Zeus Lara

2023-05-11T09:35:43+11:00

Mariam Kohani

Zeus Lara

2022-07-19T09:57:04+11:00

Marian Joyce Makalintal

Zeus Lara

2023-03-14T15:51:17+11:00

Marianne Dinsay

Zeus Lara

2023-02-23T08:32:42+11:00

Mark McAdam

General

2023-05-03T12:09:06+11:00

Mark Millen

Zeus Lara

2022-08-30T12:47:06+11:00

Matthew Knight

Zeus Lara

2023-02-23T08:32:48+11:00

Melanie Northrop

Zeus Lara

2023-01-31T17:06:41+11:00

Melody Framp

Zeus Lara

2023-05-09T16:20:00+11:00

Melody Tuazon

Zeus Lara

2023-05-09T15:59:40+11:00

Michael Bryant

General

2022-08-09T11:38:32+11:00

Mohammad Ramezani

General

2022-07-13T16:18:36+11:00

Muhammad Sauood Ur Rauf

General

2022-08-30T14:20:48+11:00

Nevil Cope

General

2022-08-30T14:24:26+11:00

Niall Burke

Zeus Lara

2022-10-11T13:16:07+11:00

Nick Rodwell

Zeus Lara

2022-07-14T11:47:55+11:00

Nicole Hatten

Zeus Lara

2022-03-22T16:18:26+11:00

Ninia Ortile

Zeus Lara

2022-10-11T14:26:40+11:00

Pablo Andres Cordova Baya

Zeus Lara

2023-02-23T08:48:38+11:00

Parastoo Mousavi

Zeus Lara

2022-12-13T10:24:00+11:00

Paul Bernard

Zeus Lara

2022-02-04T02:19:40+11:00

Paul Kirschner

General

2022-02-04T02:26:06+11:00

Peter Boylan

General

2023-03-14T16:22:42+11:00

Peter Philpott

General

2022-11-08T10:05:47+11:00

Rahul Kaushal

Zeus Lara

2022-08-03T10:22:38+11:00

Rajiv Boddupalli

Zeus Lara

2022-12-13T09:44:21+11:00

Robert Caminiti

General

2020-10-07T04:02:43+11:00

Robert Crossman

General

2022-03-08T14:18:21+11:00

Rohini Verma

Zeus Lara

2021-04-13T12:23:02+11:00

Rohit Satija

Zeus Lara

2023-05-09T15:27:58+11:00

Roxane Montierro

Zeus Lara

2020-12-15T06:30:55+11:00

Sanjay Narayan

Zeus Lara

2023-02-14T11:09:04+11:00

Saurabh Kundi

Zeus Lara

2023-02-23T08:26:14+11:00

Shiraan Fernando

Zeus Lara

2023-03-14T15:07:49+11:00

Shruthi Srinivas

Zeus Lara

2023-02-07T09:53:04+11:00

Sreekanth Badam

Zeus Lara

2022-11-09T17:14:36+11:00

Stephen Curtis

Zeus Lara

2023-05-30T09:22:30+11:00

Tameka Yallop

General

2022-03-08T16:41:26+11:00

Tanvi Mahajan

Zeus Lara

2023-03-28T15:21:57+11:00

Through Zhu

Zeus Lara

2023-02-23T10:21:23+11:00

Thuc Linh Nguyen Phan

Zeus Lara

2023-05-30T09:39:47+11:00

Tony Calusic

Zeus Lara

2022-08-01T16:52:17+11:00

Vanessa Vella

General

2021-12-14T12:11:12+11:00

Winona Astian Thian

Zeus Lara

2023-02-23T08:34:19+11:00

Yanmin Chen

Zeus Lara

2022-03-08T16:40:11+11:00

Zach Barnetby

Zeus Lara

2022-06-24T11:08:22+11:00