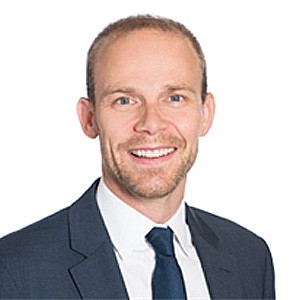 Andrew Marshall
GM Victoria / Senior Program Director
---
Areas Of Expertise:
Business development and operations
Relationship development and management
Analysis and communications associated with complex decision making
Shaping and delivering strategic change programs
M&A integration
Team building and support for sustained high performance
Negotiation for Win/Win outcomes
---
Education:
Bachelor of Business Management (Accounting and Marketing), Monash University
Business Analytics: Decision making with Data, Kellog School of Management
---
About Andrew Marshall
Andrew has worked as the Project Manager/Program Director on dozens of initiatives spanning numerous organisations locally and globally utilising varied delivery methods and resourcing models. He has also led local and global accounts overseeing a large scope of advisory and delivery work and Accenture's Capital Markets practice for 3 years. Andrew has a record of successfully defining strategies, shaping & delivering change such as core system development or replacement, M&A integration, and digital transformation. Andrew can engage and influence to Board level, has the ability to look forward in support of adjusting delivery levers proactively and has the courage to challenge assumptions, make tough decisions and call out risks/issues as required.
---
What brings
Stakeholder and Program management experience on a wide range of business and technology initiatives.
Experience in developing business strategy (i.e., making required decisions), and then developing and executing associated plans to realise targeted value.
Ability to build great teams (i.e., what is required for the job and business circumstances at hand), supporting individual accountability & development, along with effective communication at all levels.
---
Key Clients:
Macquarie
PEXA
ASX
BNP Paribas (specifically BNP Paribas Securities Services)
Old Mutual (a major UK Wealth business with global headquarters in South Africa)
Royal Bank of Canada (RBC)
National Mutual/AXA/AMP
National Australia Bank (NAB)
Others include Multiple Superannuation Funds and Administrators, Toyota, and Pioneer Electronics
---
Key Achievements:
As Global Client Account Lead for Macquarie, Andrew led a team which grew to 300+ delivery staff across Australia, India, the Philippines and in the US and UK. Andrew built extensive relationships across business, technology and procurement along with numerous vendors.  He oversaw advisory and delivery projects aligned with applicable business unit strategies spanning Risk & Compliance, Data, Security, Pre and Post Deal M&A e.g., a large-scale Asset Management M&A integration, and custom and package delivery e.g., a custom digital front-end development in retail banking and implementation of a package solution for business banking originations.  He also personally worked with the leadership teams at multiple of Macquarie's invested in companies in areas such as go to market planning.
---
As Program Director at PEXA, Andrew managed the early stages of their custom developed, first of its kind globally, platform. Andrew successfully led the program through the largest releases to enable the initial implementation of the platform. Andrew subsequently took on the account management role and oversaw 9 years ($100m+) of continued development of the core platform (including the evolution from waterfall to Agile delivery), along with numerous other initiatives e.g., the development of PEXA's first mobile application.
---
As Program Director at BNP Paribas, Andrew led a team of ~100, for over 3 years on a program to integrate a business acquired from AMP. Not only was the business being integrated (~500 funds representing ~$100b), BNP were also undertaking a complete transformation of their systems and operations capabilities to both meet the needs of AMP and to position for success with other clients. The program delivered a complete transformation of services, service delivery, pricing and underlying people, processes, and technology.
---
At Old mutual, a major system re-platforming and outsourcing program was in distress. Andrew was asked to undertake a review and report to the Board. Spanning strategy, planning, financials, resourcing, and execution internally and with the system vendor and outsource provider, the report concluded the program should be stopped despite the significant effort and sunk cost. Andrew worked with individual Board Members (both NEDS and executives), the Risk Committee and overall board to navigate the decision-making process and set a plan for next steps. At Macquarie, Andrew also supported a CIO in a similar review for a HR system replacement.
---
As Program Director at AXA, among multiple projects over ~ 6years, Andrew co-led a program to develop 14 new investment funds and the associated new Registry system implementation and investment management & business operations. He was responsible for the design of the product, selecting the system and developing the initial releases of that would become the investment and superannuation platform known today as AMP North.
---
As Program Director at National Mutual, Andrew successfully delivered multiple programs including defining a new operating model for the Customer Service division followed by several associated projects e.g., development of a comprehensive cost model, reengineering incoming and outgoing communications, consolidating two satellite service centres, and implementing new call centre technology.
---
During a year working in Chicago, Andrew led two internal Accenture projects. The first was the development of a comprehensive financial model for valuing e-commerce businesses. This was used with clients, supported the writing of a book, and evolved into a training program which Andrew led the delivery of to hundreds of people. Andrew also led the development of an asset, later used with companies such as Du Pont, for defining and establishing an e-commerce business incubator.
Other Team Members
Declan Boylan

General

2020-01-15T02:30:38+11:00

Gareth James

General

2021-01-19T11:29:58+11:00

Connie McKeage

Julius

2021-03-09T10:14:51+11:00

Michael Blomfield

Julius

2023-02-14T10:26:26+11:00

Temre Green

Julius

2022-11-23T10:52:41+11:00

Mike Stockley

Julius

2022-08-30T12:56:19+11:00

Julie Laoit

Julius

2022-07-19T09:10:59+11:00

Rob Thomsett

General

2023-01-31T17:26:36+11:00

Louise Ford

General

2020-01-15T03:08:18+11:00

Aaron Simonsen

Julius

2022-08-30T11:02:06+11:00

Alan Alehashemi

Julius

2022-07-19T09:07:40+11:00

Alex Jahan

Julius

2022-12-13T10:15:47+11:00

Alex Massie

General

2023-05-09T15:42:17+11:00

Alexander Rivkin

Julius

2023-03-28T15:40:59+11:00

Alexandra Marie Tan

Julius

2023-07-20T17:43:15+11:00

Ali Pahlavan

General

2023-08-03T11:39:33+11:00

Alisdair Brown

Julius

2022-08-30T09:51:38+11:00

Amanda Walker

Julius

2023-06-06T11:10:57+11:00

Anders Madsen

Julius

2022-08-02T17:55:11+11:00

Andrew Cheesman

Julius

2022-08-09T12:17:42+11:00

Andrew Coley

Julius

2021-12-21T12:36:47+11:00

Anish Joshi

Julius

2023-04-04T15:04:09+11:00

Ann Mica Mae Lim

Julius

2023-05-11T14:08:40+11:00

Anna Linfield-Kent

Julius

2023-03-14T16:25:51+11:00

Andrew Marshall

Julius

2023-08-29T14:02:36+11:00

Audrey Teh

Julius

2023-06-13T10:54:02+11:00

Barbara Read

General

2023-04-27T09:42:19+11:00

Bhavna Gupta

Julius

2023-08-25T16:07:45+11:00

Benn Salier

Julius

2021-07-06T13:45:00+11:00

Bita Bagheri

General

2023-08-02T22:15:49+11:00

Blake Dahlen

Julius

2023-07-20T13:58:11+11:00

Callum Dodd

Julius

2022-11-23T11:00:39+11:00

Caroline Lees

Julius

2023-01-17T10:29:22+11:00

Cathy Baldwin

General

2021-01-19T16:55:52+11:00

Chris Sykes

General

2022-05-26T12:50:02+11:00

Callum Barker

Julius

2023-09-15T10:54:00+11:00

Dave Rider

Julius

2022-02-04T01:57:49+11:00

David Johnson

General

2023-06-13T11:44:41+11:00

David Mansfield

Julius

2023-02-14T10:37:32+11:00

Deanna Edwards

Julius

2023-03-28T15:46:04+11:00

Derek Oldham

Julius

2023-05-09T15:38:58+11:00

Elise Kellond-Knight

Julius

2019-07-04T22:47:54+11:00

Eliza Johnson

Julius

2023-07-20T12:18:49+11:00

Ellen Misador

Julius

2023-07-20T15:42:42+11:00

Eugene O'Connell

Julius

2022-03-22T16:14:36+11:00

Fritzie Ligeralde

Julius

2021-08-17T15:41:14+11:00

Gilbert Wong

Julius

2023-09-28T10:05:22+11:00

Guru Swaminathan

General

2023-05-26T16:16:29+11:00

Hardik Lakhani

Julius

2022-03-08T16:33:18+11:00

Hayley Weir

Julius

2023-08-29T14:56:54+11:00

Helen Argitis

Julius

2022-05-26T12:13:35+11:00

Inggrid Yapari

Julius

2023-09-05T14:17:37+11:00

Ian Salvador

Julius

2022-06-14T17:51:51+11:00

Ian Thomson

Julius

2023-06-13T10:25:34+11:00

Jerry Cobb

General

2022-06-28T15:49:32+11:00

Joanna Carlos

Julius

2022-02-15T17:48:05+11:00

Jochebed Diaz

General

2023-07-27T15:46:01+11:00

Johaimah Garrido

Julius

2021-03-16T10:08:35+11:00

John Middlemist

Julius

2023-07-13T11:20:18+11:00

Jovilyn Magtoto

Julius

2022-08-02T13:27:08+11:00

Julia Nicole Justo

Julius

2023-02-23T08:34:34+11:00

Julius Labalan

Julius

2023-09-19T11:03:24+11:00

Katherine Whiteside

General

2022-11-30T17:42:36+11:00

Kunal Parikh

Julius

2022-01-25T11:49:10+11:00

Lauren Grouse

Julius

2023-06-15T15:40:06+11:00

Louigi Gardiola

Julius

2023-02-23T08:31:20+11:00

Louise White

General

2021-05-11T16:20:05+11:00

Maddison Schmid

Julius

2023-05-11T09:35:43+11:00

Mariam Kohani

Julius

2022-07-19T09:57:04+11:00

Marian Joyce Makalintal

Julius

2023-06-21T10:48:28+11:00

Marianne Dinsay

Julius

2023-02-23T08:32:42+11:00

Mark McAdam

General

2023-05-03T12:09:06+11:00

Mark Millen

Julius

2022-08-30T12:47:06+11:00

Matthew Knight

Julius

2023-02-23T08:32:48+11:00

Melanie Northrop

Julius

2023-01-31T17:06:41+11:00

Melody Framp

Julius

2023-06-13T11:17:39+11:00

Melody Tuazon

Julius

2023-05-09T15:59:40+11:00

Michael Bryant

General

2022-08-09T11:38:32+11:00

Mohammad Ramezani

General

2022-07-13T16:18:36+11:00

Nadja Schulze

Julius

2023-07-13T13:05:06+11:00

Nevil Cope

General

2022-08-30T14:24:26+11:00

Niall Burke

Julius

2022-10-11T13:16:07+11:00

Nick Rodwell

Julius

2023-06-13T10:21:33+11:00

Nicole Hatten

Julius

2023-07-04T16:34:47+11:00

Ninia Ortile

Julius

2022-10-11T14:26:40+11:00

Pablo Andres Cordova Baya

Julius

2023-06-21T10:48:54+11:00

Parastoo Mousavi

Julius

2022-12-13T10:24:00+11:00

Paul Kirschner

General

2022-02-04T02:26:06+11:00

Peter Boylan

General

2023-03-14T16:22:42+11:00

Peter Philpott

General

2022-11-08T10:05:47+11:00

Rachel Low

Julius

2023-09-18T12:34:26+11:00

Rahul Kaushal

Julius

2023-08-03T10:44:21+11:00

Rajiv Boddupalli

Julius

2022-12-13T09:44:21+11:00

Robert Caminiti

General

2020-10-07T04:02:43+11:00

Robert Crossman

General

2022-03-08T14:18:21+11:00

Rohini Verma

Julius

2021-04-13T12:23:02+11:00

Rohit Satija

Julius

2023-08-29T15:13:11+11:00

Roxane Montierro

Julius

2020-12-15T06:30:55+11:00

Sanjay Narayan

Julius

2023-02-14T11:09:04+11:00

Saurabh Kundi

Julius

2023-02-23T08:26:14+11:00

Shiraan Fernando

Julius

2023-03-14T15:07:49+11:00

Shruthi Srinivas

Julius

2023-08-25T12:02:31+11:00

Sreekanth Badam

Julius

2022-11-09T17:14:36+11:00

Stephen Curtis

Julius

2023-05-30T09:22:30+11:00

Simon Chrétien

Julius

2023-09-15T11:40:55+11:00

Tameka Yallop

General

2023-08-29T16:34:12+11:00

Tanvi Mahajan

Julius

2023-03-28T15:21:57+11:00

Thuc Linh Nguyen Phan

Julius

2023-05-30T09:39:47+11:00

Tony Calusic

Julius

2022-08-01T16:52:17+11:00

Vanessa Vella

General

2021-12-14T12:11:12+11:00

Vergil De Leon

Julius

2023-09-11T10:53:30+11:00

Winona Astian Thian

Julius

2023-02-23T08:34:19+11:00

Yanmin Chen

Julius

2023-09-28T10:13:11+11:00

Zach Barnetby

Julius

2023-06-16T17:32:20+11:00