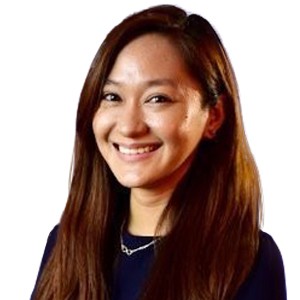 Joanna Carlos
PMO Consultant
---
Areas Of Expertise:
PMO setup
Analysis & Reporting
Scheduling
Resource Planning
Governance Framework
PMO processes & templates
Data Analysis
---
Education:
B.S. in Commerce, Major in Business Management Entrepreneurship
---
About Joanna
Joanna has over 13 years' experience within PMO, delivery and business analysis within the project management office and through her delivery experience. Joanna has successfully provided governance and controls to support project delivery.
---
What Joanna brings
Excellent communication skills and an ability to build relationships with people at all levels of the organisation.
Demonstrable leadership capability including training, mentoring and maintaining a high-quality team.
Highly skilled in Project and PMO Governance Reporting.
Solid financial tracking & analysis skills.
Schedule management & variance reporting
---
Key Clients:
Australia and New Zealand Bank (ANZ)
Smart Communications Inc
Meralco
---
Key Achievements:
As PMO Analyst at ANZ, Joanna provided governance and operations support across the ANZ Technology portfolios. She worked closely with the Directors, Project Managers and project teams based in Australia and Bangalore. Joanna developed and implemented weekly visual dashboards capturing program status, performance metrics and developed a consolidated exceptions report identifying weaknesses in scheduling, risks & issues, change requests and status reports, enabling program leads to improve project health in a timely manner and to facilitate informed decision making among stakeholders. Joanna established governance reporting rhythm, ensuring accuracy and transparency was achieved for effective decision making.
---
As Portfolio Analyst at ANZ Joanna provided support to effectively manage the Global Enablement and Central Functions portfolio, comprising of 30 projects across ANZ's Digital Innovation, Risk, Finance, HR, and Data Business Units. Joanna ensured projects were consistently delivered with a high level of quality, within time and budget, and that ANZ methodology and processes were followed. She coordinated and facilitated monthly project status reporting and continuous monitoring of business project health. Joanna prepared portfolio status reports to track and report on portfolio health, open risks and issues, project status and progression.
---
As Business Analyst at ANZ, Joanna produced business mapping documents by conducting SME interviews and data analysis. Joanna conducted PAIRS analysis (IBM data matching) and pairs load investigations to support the production team with the issues encountered.
---
As Senior Business Systems Analyst at Smart Communications, Joanna spearheaded the overall business analysis and design conceptualisation of the reports and dashboards in OBIEE as requested by different users, which were primarily used to present insights on Network Performance, Service Performance and Platforms Performance. Joanna managed, performed and coordinated all the phases of the Software Development Lifecycle, performed requirements elicitation and analysis as well as requirements documentation. She led the end-to-end project implementation; from pre-work, issue resolution through to deployment.
---
As PMO Consultant at Meralco, Joanna monitored and communicated project plans, scope, timelines and milestones to relevant stakeholders. She ensured the continuous improvement of project metrics and business processes by performing annual SLA meeting and internal audits, provided post project trainings and seminars to refresh the process knowledge of stakeholders. Joanna also performed the risk assessment and risk control on the company's identified assets
---
Other Team Members
Declan Boylan

General

2020-01-15T02:30:38+11:00

Gareth James

General

2021-01-19T11:29:58+11:00

Connie McKeage

Zeus Lara

2021-03-09T10:14:51+11:00

Annette Mackay

Zeus Lara

2021-09-28T10:09:13+11:00

Rob Thomsett

General

2021-04-06T12:29:29+11:00

Aaron Simonsen

Zeus Lara

2021-10-19T10:15:23+11:00

Louise Ford

General

2020-01-15T03:08:18+11:00

Alan Madani

General

2020-07-24T03:51:19+11:00

Alex Massie

General

2020-06-19T01:51:58+11:00

Ali Pahlavan

General

2021-09-21T15:39:39+11:00

Amanda Walker

Zeus Lara

2021-09-21T15:43:38+11:00

Anders Madsen

Zeus Lara

2021-08-31T17:57:29+11:00

Andrew Cheesman

Zeus Lara

2021-03-23T12:46:37+11:00

Barbara Read

General

2021-10-12T09:11:19+11:00

Benn Salier

Zeus Lara

2021-07-06T13:45:00+11:00

Berna Akdeniz

Zeus Lara

2020-12-15T10:21:24+11:00

Bita Bagheri

General

2021-03-02T14:12:11+11:00

Cathy Baldwin

General

2021-01-19T16:55:52+11:00

Chika Nnadiekwe

Zeus Lara

2021-05-11T13:05:32+11:00

Chris Sykes

General

2020-03-05T00:14:43+11:00

David Johnson

General

2020-01-15T02:05:16+11:00

David Mansfield

Zeus Lara

2021-08-12T17:45:38+11:00

Deepak Chaturvedi

Zeus Lara

2021-08-09T12:19:33+11:00

Donalito Jr. Bales

Zeus Lara

2021-01-12T10:10:18+11:00

Edward Rudnicki

Zeus Lara

2021-09-28T10:10:11+11:00

Ericson Bagunas

General

2020-10-01T05:06:36+11:00

Fritzie Ligeralde

Zeus Lara

2021-08-17T15:41:14+11:00

Gilbert Wong

Zeus Lara

2020-12-15T04:26:15+11:00

Grace Tran

General

2021-07-06T13:11:24+11:00

Guru Swaminathan

General

2020-10-13T05:04:12+11:00

Helen Argitis

Zeus Lara

2021-10-20T11:36:27+11:00

Ian Salvador

Zeus Lara

2021-06-01T12:54:33+11:00

Jason Kwong

Zeus Lara

2021-07-13T12:23:00+11:00

Jeroen Lubbers

Zeus Lara

2021-07-21T11:23:06+11:00

Jerry Cobb

General

2020-11-06T00:49:28+11:00

Joanna Carlos

Zeus Lara

2020-09-14T00:37:15+11:00

Jochebed Diaz

General

2020-12-15T05:31:11+11:00

John Middlemist

Zeus Lara

2021-07-21T12:11:54+11:00

Jon Kralevski

Zeus Lara

2021-08-31T18:00:32+11:00

Josh Pricken

Zeus Lara

2021-02-16T14:32:44+11:00

Julia Nicole Justo

Zeus Lara

2021-09-21T15:46:54+11:00

Julie Laoit

Zeus Lara

2021-02-16T14:33:40+11:00

Katherine Whiteside

General

2020-07-02T06:55:12+11:00

Krishnaraj Arumugam

Zeus Lara

2020-06-30T04:59:15+11:00

Louie Huang

Zeus Lara

2021-07-06T13:19:27+11:00

Louigi Gardiola

Zeus Lara

2021-02-16T14:34:48+11:00

Louise White

General

2021-05-11T16:20:05+11:00

Lousiene Samonte

General

2020-04-01T03:22:19+11:00

Mark McAdam

General

2021-05-11T12:52:35+11:00

Mariam Kohani

Zeus Lara

2021-07-13T12:09:45+11:00

Michael Baylon

Zeus Lara

2021-08-25T16:48:12+11:00

Michael Bryant

General

2021-03-09T11:37:38+11:00

Mohammad Ramezani

General

2021-08-24T10:42:52+11:00

Muhammad Sauood Ur Rauf

General

2021-05-10T12:45:04+11:00

Nadja Schulze

General

2020-05-29T06:16:06+11:00

Nevil Cope

General

2020-01-14T04:11:02+11:00

Niloofar Fardanesh

General

2020-09-29T01:07:43+11:00

Parastoo Mousavi

Zeus Lara

2021-05-18T15:46:14+11:00

Paul Bernard

Zeus Lara

2021-07-05T10:56:35+11:00

Paul Kirschner

General

2021-03-09T12:49:12+11:00

Peter Boylan

General

2021-07-06T12:52:31+11:00

Peter Patrick Boylan

Zeus Lara

2021-02-16T14:22:06+11:00

Peter Philpott

General

2020-10-30T03:09:29+11:00

Puneet Nagpal

Zeus Lara

2021-10-05T12:29:57+11:00

Rahul Kaushal

Zeus Lara

2021-10-19T10:44:02+11:00

Rick Myburgh

Zeus Lara

2021-07-21T11:12:13+11:00

Rinku Razdan

General

2021-06-15T09:38:48+11:00

Robert Caminiti

General

2020-10-07T04:02:43+11:00

Robert Crossman

General

2020-01-15T04:30:20+11:00

Rohini Verma

Zeus Lara

2021-04-13T12:23:02+11:00

Roxane Montierro

Zeus Lara

2020-12-15T06:30:55+11:00

Saurabh Kundi

Zeus Lara

2021-05-11T11:54:30+11:00

Sharon Tannenbaum

Zeus Lara

2021-06-01T12:48:32+11:00

Shiraan Fernando

Zeus Lara

2021-03-09T17:04:13+11:00

Sosha Jabbary

General

2021-01-27T09:52:48+11:00

Stephen Curtis

Zeus Lara

2021-05-11T12:16:32+11:00

Steve Baxter

Zeus Lara

2021-09-28T17:12:56+11:00

Syed Hussain

Zeus Lara

2021-09-14T16:44:40+11:00

Tameka Yallop

General

2019-04-29T04:29:36+11:00

Vanessa Vella

General

2020-04-15T01:08:38+11:00

Yanmin Chen

Zeus Lara

2021-03-23T15:31:10+11:00