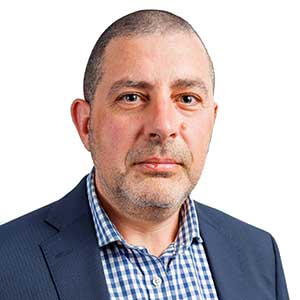 Robert Caminiti
PMO Director
---
Areas Of Expertise
PMO Set-Up
Development & Implementation of Portfolio & Project Management Methodologies/Frameworks
Portfolio, Program & Project Governance & Reporting
Portfolio Management tools
---
Education
Bachelor of Mechanical Engineering, South Australia Institute of Technology
Certified PRINCE2 & Earned Value Management Professional
Project Management Institute PMI Member
---
Key Clients
Future Fund
NAB
Telstra
ANZ
Medibank
QBE Insurance
Bendigo & Adelaide Bank
Latitude Financial Services
Goldman Sachs JBWere
Healthscope
---
About Robert Caminiti
Robert is a skilled PMO Director, joining Seven Consulting's Melbourne Practice in March 2013. He has over 20 years' experience with extensive Transformation and Business Change, Portfolio/Program and Project Management experience.
Robert provides Transformation, Business and Program Management, Governance, leading Program Managers, Project Managers and Change professionals in ensuring transparent delivery of the right things at the right time with the right quality.
He has demonstrated through the successful implementation of several Portfolio/Program Management Offices for major programs and organisations across both Agile & Traditional delivery environments.
---
What Robert brings
Develops and deploys Portfolio, Program & Project Management Frameworks across a broad range of delivery methodologies (e.g. Waterfall, Hybrid and/or Agile)
Manages Strategic Project Portfolios, in Portfolio Management Committee meetings, with emphasis on the provision of advice on performance and potential implications resulting from any project variances and/or changes to the Business Case.
Coaching and mentoring of direct reports and key team members to develop their capabilities to the benefit of the program and organization.
Experience in managing a variety of high-level stakeholders from Heads of Office and/or Departmental Managers.
---
Key Achievements
As PMO Manager at Future Fund, Robert was responsible in facilitating the FY21 Business Planning cycle and overseeing the Strategic Projects Portfolio (budget ~$40m); which involved providing more focused governance and greater insight & analysis into the current status of the portfolio, and its projects. Robert was also involved in uplifting the PMO's service offerings, Project Management & Governance Frameworks, and the project delivery capability, through increased levels of support and training.
---
As PMO Manager at Healthscope, Robert was responsible in developing and defining the Transformation Portfolio Roadmap and Dashboard Tracker for the 20 Organisational Priorities (Scope, Cost & Benefits, Deliverables, Resources and Dependencies). Developed Transformation Management Office (TMO) Capability / Maturity Roadmap for TMO over the next 12 months for Board understanding and implementation.
---
As Tribe Central (Services) Director for NAB HLEX Portfolio Target Scaled Agile Delivery Mode. The key objective of the engagement was to define the roadmap and help NAB scale up the home lending portfolio from the current pilot state to the future state. Robert was responsible for developing and implementing the Quarterly Planning approach and facilitating the first Quarterly Planning Program Increment for the TRIBE Portfolio, consisting of approximately 50 attendees.
---
As Business Operations Principal – Business Ops, Finance & Reporting at Telstra, Robert was responsible for leadership and oversight of the Business Operations, Finance, Reporting & Governance team of the B2B Digitisation program (circa $800M over 4 years) working in scaled Agile to deliver on Telstra's T22 strategic targets. He conducted an independent, program wide review considering all potential factors that would place the delivery of the program at risk. By developing & driving the approval of the B2B Business case and Financial Year Funding Requests, as well as providing central support to enable effective decision making, Robert played a key role in the Program exceeding its strategic, financial, and delivery objectives for the year.
---
Additionally, he provided project coordination and support to project teams; ensuring key cross-functional partners were engaged (offering visibility into the portfolio/program decision-making process); as well as communicating key Program-related information across the Enterprise, delivering a program-wide view of progress, issues, and interdependencies.
---
As PMO Director for Latitude Financial Services, Robert was directly responsible for the establishment and approval of the Business Case (circa $100m) for the Transformation Program. Responsible for setting up and managing the PMO, which provided the Leadership Team, Steering Committee and Board visibility of program progress, financials and key risks.
---
As PMO Director for QBE, Robert established a more effective governance for the QBE Global HR Group. This focussed on HR service delivery and how HR services are experienced by QBE employees. Worked with the HR key deliverable teams, setting up formal governance before it became manageable via BAU, which involved implementing the key strategic governance points. These included monthly service performance governance and associated reporting, Quarterly performance management forums and reporting, and Demand and Supply-side governance activities that enable strategic, operational and financial planning. He also led the Prioritisation approach for initiatives across the global HR function.
---
As PMO Director at Telstra, Robert refined and led the PMO for Telstra Structural Separation Undertaking (SSU). This was Telstra's commitment to structurally separate by 1 July 2018 (wholesale business units & networks service business units must separate from staff in retail business units). Responsible for managing the PMO for the Program duration across the whole of the Information System Remediation (ISR) Program, which provided the Leadership Team & Steering Committee visibility of program progress across the 3 program pillars: Completion Strategy (ACCC); ISR Program; and BAU Transition.
---
As PMO Director at CGU, Robert implemented and led the Transformation & Portfolio Office for CGU's Transformation Program valued at approx. $200M+. Responsible for leadership and oversight of the Program Management, Integration Management, Finance/Benefits, Change Management, Human Resource & Resource Management, Quality Management, Communication and Testing Governance. This ensured Transformation Program & Portfolio of work was delivered to the required time, within scope, function and to budget to achieve the Business objectives.
---
As PMO Director for NAB, Robert undertook an independent external review for Bank's New Payment Platform (NPP) Program. Robert had key accountability for reviewing the plans/schedules to ensure they are set up for successful integrated (schedule management) planning, including review of the individual work-stream plans available during the engagement, to establish if they were structured to an appropriate level of detail to allow integration of the plans. In addition, Robert provided ongoing governance, management and reporting ensuring that processes and controls from top to bottom were defined in detail and agreed with all key delivery parties/stakeholders.
---
As PMO Director for NAB's NPP Program, Robert led the consolidation of the individual Project and Program schedules into the Integrated Master Schedule (IMS). This enabled the Bank to ensure it aligned with the Industry High Level Project timelines (including performing traceability reviews for each of the Project and Program Streams) and positioned the NPP Program for successful Integrated Delivery Management.
---
As PMO Director at ANZ Bank, Robert established & managed the PMO to support the Head of Technology Governance, Portfolio & Performance for Bank. He successfully established Reporting & Governance to effectively track control and monitor the Transformation and portfolio capability uplift of the team, providing Program Delivery Governance across the ANZ Technology Portfolio.
---
As PMO Manager for Medibank, Robert led the development, support and implementation of the IT roadmap on behalf of the Medibank Business. This included the establishment of a Reporting and Governance structure to effectively track, control and manage the Business Projects and IT Portfolio and Program of Work.
---
As Manager, Business Projects Program Office at Medibank, Robert had key responsibility for the development, management and mentoring of the organisational Project Co-ordinator Competency Framework to support the Medibank project management community. The framework helped to drive business decisions regarding the health of the IT Roadmap, investment prioritisation and resourcing plans by transparently and consistently providing data, reports and analysis.
---
Other Team Members
Declan Boylan

General

2020-01-15T02:30:38+11:00

Gareth James

General

2021-01-19T11:29:58+11:00

Connie McKeage

Julius

2021-03-09T10:14:51+11:00

Michael Blomfield

Julius

2023-02-14T10:26:26+11:00

Temre Green

Julius

2022-11-23T10:52:41+11:00

Mike Stockley

Julius

2022-08-30T12:56:19+11:00

Julie Laoit

Julius

2022-07-19T09:10:59+11:00

Rob Thomsett

General

2023-01-31T17:26:36+11:00

Louise Ford

General

2020-01-15T03:08:18+11:00

Aaron Simonsen

Julius

2022-08-30T11:02:06+11:00

Alan Alehashemi

Julius

2022-07-19T09:07:40+11:00

Alex Jahan

Julius

2022-12-13T10:15:47+11:00

Alex Massie

General

2023-05-09T15:42:17+11:00

Alexander Rivkin

Julius

2023-03-28T15:40:59+11:00

Alexandra Marie Tan

Julius

2023-07-20T17:43:15+11:00

Ali Pahlavan

General

2023-08-03T11:39:33+11:00

Alisdair Brown

Julius

2022-08-30T09:51:38+11:00

Amanda Walker

Julius

2023-06-06T11:10:57+11:00

Anders Madsen

Julius

2022-08-02T17:55:11+11:00

Andrew Cheesman

Julius

2022-08-09T12:17:42+11:00

Andrew Coley

Julius

2021-12-21T12:36:47+11:00

Anish Joshi

Julius

2023-04-04T15:04:09+11:00

Ann Mica Mae Lim

Julius

2023-05-11T14:08:40+11:00

Anna Linfield-Kent

Julius

2023-03-14T16:25:51+11:00

Andrew Marshall

Julius

2023-08-29T14:02:36+11:00

Audrey Teh

Julius

2023-06-13T10:54:02+11:00

Barbara Read

General

2023-04-27T09:42:19+11:00

Bhavna Gupta

Julius

2023-08-25T16:07:45+11:00

Benn Salier

Julius

2021-07-06T13:45:00+11:00

Bita Bagheri

General

2023-08-02T22:15:49+11:00

Blake Dahlen

Julius

2023-07-20T13:58:11+11:00

Callum Dodd

Julius

2022-11-23T11:00:39+11:00

Caroline Lees

Julius

2023-01-17T10:29:22+11:00

Cathy Baldwin

General

2021-01-19T16:55:52+11:00

Chris Sykes

General

2022-05-26T12:50:02+11:00

Callum Barker

Julius

2023-09-15T10:54:00+11:00

Dave Rider

Julius

2022-02-04T01:57:49+11:00

David Johnson

General

2023-06-13T11:44:41+11:00

David Mansfield

Julius

2023-02-14T10:37:32+11:00

Deanna Edwards

Julius

2023-03-28T15:46:04+11:00

Derek Oldham

Julius

2023-05-09T15:38:58+11:00

Elise Kellond-Knight

Julius

2019-07-04T22:47:54+11:00

Eliza Johnson

Julius

2023-07-20T12:18:49+11:00

Ellen Misador

Julius

2023-07-20T15:42:42+11:00

Eugene O'Connell

Julius

2022-03-22T16:14:36+11:00

Fritzie Ligeralde

Julius

2021-08-17T15:41:14+11:00

Gilbert Wong

Julius

2023-09-28T10:05:22+11:00

Guru Swaminathan

General

2023-05-26T16:16:29+11:00

Hardik Lakhani

Julius

2022-03-08T16:33:18+11:00

Hayley Weir

Julius

2023-08-29T14:56:54+11:00

Helen Argitis

Julius

2022-05-26T12:13:35+11:00

Inggrid Yapari

Julius

2023-09-05T14:17:37+11:00

Ian Salvador

Julius

2022-06-14T17:51:51+11:00

Ian Thomson

Julius

2023-06-13T10:25:34+11:00

Jerry Cobb

General

2022-06-28T15:49:32+11:00

Joanna Carlos

Julius

2022-02-15T17:48:05+11:00

Jochebed Diaz

General

2023-07-27T15:46:01+11:00

Johaimah Garrido

Julius

2021-03-16T10:08:35+11:00

John Middlemist

Julius

2023-07-13T11:20:18+11:00

Jovilyn Magtoto

Julius

2022-08-02T13:27:08+11:00

Julia Nicole Justo

Julius

2023-02-23T08:34:34+11:00

Julius Labalan

Julius

2023-09-19T11:03:24+11:00

Katherine Whiteside

General

2022-11-30T17:42:36+11:00

Kunal Parikh

Julius

2022-01-25T11:49:10+11:00

Lauren Grouse

Julius

2023-06-15T15:40:06+11:00

Louigi Gardiola

Julius

2023-02-23T08:31:20+11:00

Louise White

General

2021-05-11T16:20:05+11:00

Maddison Schmid

Julius

2023-05-11T09:35:43+11:00

Mariam Kohani

Julius

2022-07-19T09:57:04+11:00

Marian Joyce Makalintal

Julius

2023-06-21T10:48:28+11:00

Marianne Dinsay

Julius

2023-02-23T08:32:42+11:00

Mark McAdam

General

2023-05-03T12:09:06+11:00

Mark Millen

Julius

2022-08-30T12:47:06+11:00

Matthew Knight

Julius

2023-02-23T08:32:48+11:00

Melanie Northrop

Julius

2023-01-31T17:06:41+11:00

Melody Framp

Julius

2023-06-13T11:17:39+11:00

Melody Tuazon

Julius

2023-05-09T15:59:40+11:00

Michael Bryant

General

2022-08-09T11:38:32+11:00

Mohammad Ramezani

General

2022-07-13T16:18:36+11:00

Nadja Schulze

Julius

2023-07-13T13:05:06+11:00

Nevil Cope

General

2022-08-30T14:24:26+11:00

Niall Burke

Julius

2022-10-11T13:16:07+11:00

Nick Rodwell

Julius

2023-06-13T10:21:33+11:00

Nicole Hatten

Julius

2023-07-04T16:34:47+11:00

Ninia Ortile

Julius

2022-10-11T14:26:40+11:00

Pablo Andres Cordova Baya

Julius

2023-06-21T10:48:54+11:00

Parastoo Mousavi

Julius

2022-12-13T10:24:00+11:00

Paul Kirschner

General

2022-02-04T02:26:06+11:00

Peter Boylan

General

2023-03-14T16:22:42+11:00

Peter Philpott

General

2022-11-08T10:05:47+11:00

Rachel Low

Julius

2023-09-18T12:34:26+11:00

Rahul Kaushal

Julius

2023-08-03T10:44:21+11:00

Rajiv Boddupalli

Julius

2022-12-13T09:44:21+11:00

Robert Caminiti

General

2020-10-07T04:02:43+11:00

Robert Crossman

General

2022-03-08T14:18:21+11:00

Rohini Verma

Julius

2021-04-13T12:23:02+11:00

Rohit Satija

Julius

2023-08-29T15:13:11+11:00

Roxane Montierro

Julius

2020-12-15T06:30:55+11:00

Sanjay Narayan

Julius

2023-02-14T11:09:04+11:00

Saurabh Kundi

Julius

2023-02-23T08:26:14+11:00

Shiraan Fernando

Julius

2023-03-14T15:07:49+11:00

Shruthi Srinivas

Julius

2023-08-25T12:02:31+11:00

Sreekanth Badam

Julius

2022-11-09T17:14:36+11:00

Stephen Curtis

Julius

2023-05-30T09:22:30+11:00

Simon Chrétien

Julius

2023-09-15T11:40:55+11:00

Tameka Yallop

General

2023-08-29T16:34:12+11:00

Tanvi Mahajan

Julius

2023-03-28T15:21:57+11:00

Thuc Linh Nguyen Phan

Julius

2023-05-30T09:39:47+11:00

Tony Calusic

Julius

2022-08-01T16:52:17+11:00

Vanessa Vella

General

2021-12-14T12:11:12+11:00

Vergil De Leon

Julius

2023-09-11T10:53:30+11:00

Winona Astian Thian

Julius

2023-02-23T08:34:19+11:00

Yanmin Chen

Julius

2023-09-28T10:13:11+11:00

Zach Barnetby

Julius

2023-06-16T17:32:20+11:00