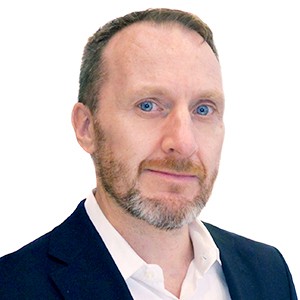 Rob Creek
Program Director
---
Areas Of Expertise
Program Management
Business Transformation
Banking, Retail
Technology
---
Education
Bachelor of Mechanical Engineering (Hons), Monash University
PMP Certified
Member PMI
SAFe 4 Certified Agilist
---
About Rob Creek
Rob Creek is a PMI PMP & SAFe Agile Certified Program Director with 25+ years' experience of implementing successful business, and IT change across multiple industries. Rob's expertise is in managing teams to successfully deliver transformational change. He has a proven track record of successful delivery of large complex programs across a variety of environments while managing widely disparate groups of stakeholders.
---
What Rob brings
A track record of successfully delivering transformational change across both Business and IT.
Strong management skills supported by many years in highly technical roles.
Proven experience in leading large teams across diverse geographical regions.
Exceptional change management skills with excellent stakeholder management skills to deliver tangible bottom-line results.
---
Key Clients
NSW Government – Stronger Communities
Suncorp
Woolies X
ASX
Woolworths
Telstra
Graincorp
Westpac
AMP
Macquarie Bank
Mobil Oil
TNT Australia
---
Key Achievements
As Program Director for Wave 2 of the NSW Government, Process and Harmonisation (PaTH) program, Rob worked with stakeholders across the Stronger Communities (SC), the Dept of Planning & Environment (DPE), Dept of Enterprise, Innovation & Technology (DEIT), Regional NSW (DRNSW); as well as Accenture and the PaTH Program Team to plan for the Wave 2 deployment of the consolidated NSW Government, SAP platform.
---
As Program Director at Suncorp, Rob oversaw the establishment of a new plan and budget that encompassed the entire enterprise and the first launch of the ForgeRock platform. Suncorp were looking to replace their unsupported Oracle identity platform with a new ForgeRock identity platform.
---
As Program Director at Woolies X, Rob worked to manage the initial planning and priorities of the program to re-platform the Woolworths Rewards and Loyalty systems with a SAAS solution.
---
As Program Director at ASX, Rob managed the restructure of the CHESS Replacement Program to replace the legacy CHESS Clearing and Settlement system with a world-first technology solution using Distributed Ledger Technology (Blockchain). The highly complex project utilised both agile and waterfall methodologies and required the coordination of 3 major vendors alongside multiple internal ASX project and business teams to provide a new system that once complete, will be deployed to / integrated with 100+ ASX customers.
---
As Program Director at Woolworths Petrol, Rob worked to confirm that the Fuel Business was ready and able to legally separate from Woolworths (during the sale to the EG Group) within a very tight sale deadline. The deal saw the fuel business having to establish a stand-alone IT capability in a short timeframe and utilise a Technical Services Agreement with Woolworths to permit continued access to key systems.
---
As Program Director at Woolworths, Rob oversaw the deployment of the new 1Store systems (managing all POS, Ticketing and Inventory functions) to all 3,475 Woolworths Group stores across 7 banners (Woolworths, Countdown, BWS, Dan Murphy's, Metro, Big W and Petrol) across both Australia and NZ. This challenging project used both agile and waterfall methodologies to optimise the project risk profile. This project was recognised as being highly successful, finishing on-time and on-budget and winning multiple internal awards.
---
As Program Manager for Telstra International's Project Fun, Rob successfully managed and implemented the commercial launch of an $8B new telecommunication start-up / joint venture in the Asian market. The program team won the FY16 Telstra CEO Award. To ensure issue-free launch, Rob worked closely with the business units to deliver scope and implemented a large-scale business simulation of the launch itself to identify and rectify any defects, scope gaps, training and process gaps before finalisation. The project launch was then cancelled within 4 weeks of initial go-live due to commercial risk reasons.
---
As Program Director for Telstra GES, Rob designed and ran two key programs – Program Teal and ServicePLUS. These were important strategic initiatives with budgets in excess of $50M to improve efficiencies for the business. As part of his role, Rob was successfully able to deploy SAP ERP functionality to capture sales, delivery, and billing information. He also successfully realised significant reduction of Quote Turnaround Times and Quote Conversion Rate. The program was delivered ahead of budget and schedule.
---
As Program Director for Grain Corp's Program Connect, Rob drove the highly strategic program consisting of 36 separate key initiatives and a cost of $55M over three years to realise enterprise-wide benefits including reduction of supply chains costs through improving efficiencies across rail, IT systems, and program planning. He also enabled better engagement with growers and buyers via mobile applications and new products. The program was able to fundamentally reduce the costs of the GrainCorp supply chain and increase the overall revenue by $40M EBITDA.
---
As Program Director at Westpac, Rob managed the Scope, Commercials, R&I, Quality, and Procedures for the $280M Online Transformation Program. This was the largest IT program within Westpac and the biggest Online Banking Program in the world at the time. Rob defined program scope and documented the business case for submission to the board. He then managed and resolved all key issues, managed the contract between the Bank and the primary vendor, and all changes to the program scope including change requests and their associated cost impact.
---
As Project Director for Westpac – IT Infrastructure for the St George Merger. Rob successfully defined the strategy to align the IT infrastructure of the two Banks and optimise into one Enterprise. He was able to navigate key challenges for the merger including IP Network Address Resolution, Virtual Desktop solution rollout for 600 staff to work across the two organisations and introduced a Common Desktop / Email strategic solution. The role included oversight of project teams, funding, and compliance.
---
As Program Director at Westpac, Rob managed the 2010 Program / IT Infrastructure Contract. This program was responsible for developing and implementing the strategic structure of Westpac IT and its major outsource contracts. Rob managed all aspects involving IT infrastructure (i.e., mainframe & midrange processing, storage, data centers, and security). Rob was successfully able to design & develop a future operating model for Westpac IT including team structures, technology strategy, and shadow organisation identification. For the Program, Rob also developed a new IT outsource contractual model – this included documenting Westpac and St George's current state and future state.
---
As a Program Director for Westpac, Rob led Program Unity as a Program Director. The program involved relocation to Auckland and creation of a new Auckland-based Head Office for the Westpac New Zealand. Rob managed the full building design & handover to the construction partner. He also managed the development of plans to rationalise nine existing CBD locations into a single new location including Data Center relocations, application relocations, HR, Change Management, Risk & BCP, IT Infrastructure, Building Operations, and Finance.
---
Rob served as the final Westpac Program Director for the Our Great Place (OGP) project, managing the final stages of the staff migration into the new Westpac building at 420 Kent St and managing the decommissioning and migration of the data centers and technology from the multiple redundant sites across the Sydney CBD.
---
As Program Manager at Westpac, Rob successfully delivered the Enterprise Business Recover / Disaster Recovery program. The was a $24M, 2-year program to provide better Disaster Recovery and Enterprise Business Recovery by re-engineering approximately 30 applications and replicating a copy of the data across the secondary data centre. Rob was able to increase the ratio of protected critical applications within Westpac from 79% to 99%.
---
As Program Manager at Westpac for the Datacenter Refurbishments for the Enterprise Business Recovery / Disaster Recovery Group, Rob managed an $8M program to install critical IT capability into the chosen BCM sites. He also successfully delivered a $12.5M project to refurbish critical Electrical, IT, and Engineering infrastructure to lower the risk of a Datacenter failure in the North Ryde and East Chatswood DCs.
---
As Program Director for Westpac, Rob led the One Bank Platform (1BP) for the ambitious $100M initiative. He was able to successfully deliver the leading edge standardised, stateless, managed, desktop platform across the Bank. As a Program Director, he had full responsibility for delivery including implementing Enterprise IT Infrastructure across Australia and New Zealand. This involved multiple project streams on time and within budget. Rob under his management, rolled out approximately 15,000 workstations (out of a final program total of 26,000) across the Business Banking, FP&A, International Operations, and Corporate Business Units.
---
Other Team Members
Declan Boylan

General

2020-01-15T02:30:38+11:00

Gareth James

General

2021-01-19T11:29:58+11:00

Connie McKeage

Julius

2021-03-09T10:14:51+11:00

Michael Blomfield

Julius

2023-02-14T10:26:26+11:00

Temre Green

Julius

2022-11-23T10:52:41+11:00

Mike Stockley

Julius

2022-08-30T12:56:19+11:00

Julie Laoit

Julius

2022-07-19T09:10:59+11:00

Rob Thomsett

General

2023-01-31T17:26:36+11:00

Louise Ford

General

2020-01-15T03:08:18+11:00

Aaron Simonsen

Julius

2023-11-13T23:52:10+11:00

Alan Alehashemi

Julius

2022-07-19T09:07:40+11:00

Alex Jahan

Julius

2023-11-14T12:14:04+11:00

Alex Massie

General

2023-11-14T12:25:43+11:00

Alexander Rivkin

Julius

2023-11-14T00:06:50+11:00

Alexandra Marie Tan

Julius

2023-07-20T17:43:15+11:00

Ali Pahlavan

General

2023-11-14T00:19:34+11:00

Alisdair Brown

Julius

2022-08-30T09:51:38+11:00

Amanda Walker

Julius

2023-11-14T12:09:46+11:00

Andrew Cheesman

Julius

2022-08-09T12:17:42+11:00

Anna Linfield-Kent

Julius

2023-11-14T11:45:20+11:00

Andrew Marshall

Julius

2023-08-29T14:02:36+11:00

Audrey Teh

Julius

2023-11-14T01:03:53+11:00

Barbara Read

General

2023-11-13T23:44:22+11:00

Bhavna Gupta

Julius

2023-11-30T01:43:24+11:00

Benn Salier

Julius

2023-10-17T17:16:47+11:00

Bita Bagheri

General

2023-08-02T22:15:49+11:00

Blake Dahlen

Julius

2023-07-20T13:58:11+11:00

Caroline Lees

Julius

2023-11-14T01:15:13+11:00

Cathy Baldwin

General

2021-01-19T16:55:52+11:00

Chris Sykes

General

2022-05-26T12:50:02+11:00

Callum Barker

Julius

2023-09-15T10:54:00+11:00

Dave Rider

Julius

2023-11-14T11:28:26+11:00

David Johnson

General

2023-06-13T11:44:41+11:00

Deanna Edwards

Julius

2023-03-28T15:46:04+11:00

Derek Oldham

Julius

2023-11-14T01:43:07+11:00

Elise Kellond-Knight

Julius

2019-07-04T22:47:54+11:00

Eliza Johnson

Julius

2023-11-14T01:52:47+11:00

Ellen Misador

Julius

2023-11-14T11:16:10+11:00

Eugene O'Connell

Julius

2023-11-14T11:03:19+11:00

Fritzie Ligeralde

Julius

2023-10-27T12:23:57+11:00

Gilbert Wong

Julius

2023-09-28T10:05:22+11:00

Guru Swaminathan

General

2023-05-26T16:16:29+11:00

Hardik Lakhani

Julius

2023-11-14T10:59:45+11:00

Hayley Weir

Julius

2023-08-29T14:56:54+11:00

Helen Argitis

Julius

2023-11-14T10:56:19+11:00

Inggrid Yapari

Julius

2023-09-05T14:17:37+11:00

Ian Salvador

Julius

2023-11-14T02:22:20+11:00

Jerry Cobb

General

2022-06-28T15:49:32+11:00

Joanna Carlos

Julius

2022-02-15T17:48:05+11:00

Jochebed Diaz

General

2023-07-27T15:46:01+11:00

Johaimah Garrido

Julius

2021-03-16T10:08:35+11:00

John Middlemist

Julius

2023-11-14T02:36:08+11:00

Jovilyn Magtoto

Julius

2022-08-02T13:27:08+11:00

Julia Nicole Justo

Julius

2023-11-14T10:49:49+11:00

Julius Labalan

Julius

2023-10-05T10:04:21+11:00

Katherine Whiteside

General

2023-11-14T10:44:56+11:00

Kunal Parikh

Julius

2022-01-25T11:49:10+11:00

Lauren Grouse

Julius

2023-11-14T10:37:06+11:00

Louigi Gardiola

Julius

2023-02-23T08:31:20+11:00

Maddison Schmid

Julius

2023-11-14T10:31:00+11:00

Mariam Kohani

Julius

2022-07-19T09:57:04+11:00

Marian Joyce Makalintal

Julius

2023-06-21T10:48:28+11:00

Marianne Dinsay

Julius

2023-11-14T10:27:12+11:00

Mark McAdam

General

2023-05-03T12:09:06+11:00

Mark Millen

Julius

2022-08-30T12:47:06+11:00

Matthew Knight

Julius

2023-11-14T10:24:09+11:00

Melody Framp

Julius

2023-11-14T10:20:38+11:00

Melody Tuazon

Julius

2023-05-09T15:59:40+11:00

Michael Bryant

General

2023-11-13T17:56:32+11:00

Mohammad Ramezani

General

2022-07-13T16:18:36+11:00

Nadja Schulze

Julius

2023-07-13T13:05:06+11:00

Nevil Cope

General

2022-08-30T14:24:26+11:00

Niall Burke

Julius

2023-11-13T17:36:58+11:00

Nick Rodwell

Julius

2023-11-13T17:46:28+11:00

Nicole Hatten

Julius

2023-11-13T17:33:35+11:00

Ninia Ortile

Julius

2022-10-11T14:26:40+11:00

Pablo Andres Cordova Baya

Julius

2023-06-21T10:48:54+11:00

Parastoo Mousavi

Julius

2023-11-13T17:25:28+11:00

Paul Kirschner

General

2022-02-04T02:26:06+11:00

Peter Boylan

General

2023-03-14T16:22:42+11:00

Peter Philpott

General

2022-11-08T10:05:47+11:00

Rachel Low

Julius

2023-09-18T12:34:26+11:00

Rajiv Boddupalli

Julius

2023-11-13T16:14:32+11:00

Robert Crossman

General

2022-03-08T14:18:21+11:00

Rohini Verma

Julius

2023-11-30T02:00:48+11:00

Rohit Satija

Julius

2023-11-13T15:37:09+11:00

Roxane Montierro

Julius

2020-12-15T06:30:55+11:00

Sanjay Narayan

Julius

2023-02-14T11:09:04+11:00

Saurabh Kundi

Julius

2023-11-13T15:08:30+11:00

Shiraan Fernando

Julius

2023-03-14T15:07:49+11:00

Shruthi Srinivas

Julius

2023-08-25T12:02:31+11:00

Sreekanth Badam

Julius

2023-11-30T03:24:02+11:00

Stephen Curtis

Julius

2023-11-13T13:01:36+11:00

Simon Chrétien

Julius

2023-09-15T11:40:55+11:00

Tameka Yallop

General

2023-08-29T16:34:12+11:00

Tanvi Mahajan

Julius

2023-11-13T12:45:18+11:00

Thuc Linh Nguyen Phan

Julius

2023-11-13T12:39:10+11:00

Tony Calusic

Julius

2023-11-13T12:21:56+11:00

Vanessa Vella

General

2023-11-30T02:22:53+11:00

Vergil De Leon

Julius

2023-09-11T10:53:30+11:00

Winona Astian Thian

Julius

2023-02-23T08:34:19+11:00

Yanmin Chen

Julius

2023-10-03T19:22:20+11:00

Zach Barnetby

Julius

2023-11-13T10:30:25+11:00