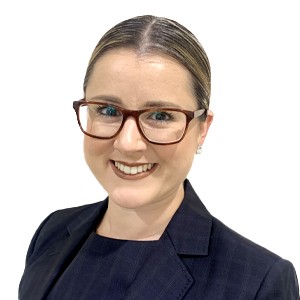 Nicole Hatten
PMO Lead/Project Manager
---
Areas Of Expertise:
Project Management
Stakeholder Management
---
Education:
Bachelor of Business (Accounting and Finance), University of Technology, Sydney
Certified Practicing Accountant, Australia
---
About Nicole Hatten
Nicole Hatten is a skilled operations and finance professional with a keen interest in project and program delivery.
She is recognised for her ability to quickly develop relationships with stakeholders, peers, and teams to enhance impact, possessing a solid work ethic, maintaining strong attention to detail and for being a positive team player.
---
What Nicole brings
Ability to lead and manage staff to ensure delivery of varying programs of work across the organisation.
Skilled in building and managing relationships with key stakeholders.
Sound knowledge of business financials.
Works well under pressure and to deadlines.
---
Key Clients:
The Thoracic Society of Australia and New Zealand (TSANZ)
---
Key Achievements:
As Finance and Business Development Manager at TSANZ, Nicole was responsible for leading and managing staff to ensure delivery of varying programs of work across the organisation including financials, membership, educational activities, events, social media communications and office management. She led the internal project team to develop and implement new Association Management System (AMS) and linked website and delivered regular, clear and comprehensive communications to the Board and employees throughout the AMS project. Nicole was part of the key personnel involved in program management of the Sydney Metro West acquisition of TSANZ CBD Office, managing internal and external stakeholders to ensure common understanding of status and issues. She assisted in the development of 2021-2026 Strategic Plan and the translation into operational areas aligning strategic priorities and KPIS; including the review of operational structure, working alongside HR Consultants to re-design Position Descriptions and contracts whilst managing change; and the re-design of TSANZ Diversity and Inclusion Policies and procedures.
---
As Acting Chief Executive Officer at TSANZ, Nicole was responsible for the management of budgets, financial processes and schedules to ensure strategic objectives were met and organisational viability sustained. She managed all aspects of human resources to ensure organisational stability during a period of change and high performance of staff and was accountable for good governance and compliance with the TSANZ Constitution. She provided strong internal leadership and direction across varying teams, projects and programs of work whilst fostering a positive culture. Nicole implemented strategies to increase and maintain membership including planning for programs of work, as approved by the Board. During her time, she successfully navigated people and finances through a period of instability due to departure of CEO, COVID-19 and differing working arrangements.
---
Other Team Members
Declan Boylan

General

2020-01-15T02:30:38+11:00

Gareth James

General

2021-01-19T11:29:58+11:00

Connie McKeage

Zeus Lara

2021-03-09T10:14:51+11:00

Hugh Harley

Zeus Lara

2020-04-01T04:18:49+11:00

Michael Blomfield

Zeus Lara

2023-02-14T10:26:26+11:00

Temre Green

Zeus Lara

2022-11-23T10:52:41+11:00

Mike Stockley

Zeus Lara

2022-08-30T12:56:19+11:00

Julie Laoit

Zeus Lara

2022-07-19T09:10:59+11:00

Rob Thomsett

General

2023-01-31T17:26:36+11:00

Louise Ford

General

2020-01-15T03:08:18+11:00

Aaron Simonsen

Zeus Lara

2022-08-30T11:02:06+11:00

Akhilesh Das

Zeus Lara

2022-11-08T10:09:51+11:00

Alan Alehashemi

Zeus Lara

2022-07-19T09:07:40+11:00

Alex Massie

General

2023-05-09T15:42:17+11:00

Alexander Rivkin

Zeus Lara

2023-03-28T15:40:59+11:00

Alexandra Marie Tan

Zeus Lara

2023-03-14T15:15:24+11:00

Ali Pahlavan

General

2023-05-17T01:57:15+11:00

Alisdair Brown

Zeus Lara

2022-08-30T09:51:38+11:00

Amanda Walker

Zeus Lara

2022-08-09T10:18:22+11:00

Anders Madsen

Zeus Lara

2022-08-02T17:55:11+11:00

Andrew Cheesman

Zeus Lara

2022-08-09T12:17:42+11:00

Andrew Coley

Zeus Lara

2021-12-21T12:36:47+11:00

Anish Joshi

Zeus Lara

2023-04-04T15:04:09+11:00

Ann Mica Mae Lim

Zeus Lara

2023-05-11T14:08:40+11:00

Anna Linfield-Kent

Zeus Lara

2023-03-14T16:25:51+11:00

Barbara Read

General

2023-04-27T09:42:19+11:00

Benn Salier

Zeus Lara

2021-07-06T13:45:00+11:00

Bita Bagheri

General

2021-03-02T14:12:11+11:00

Blake Dahlen

Zeus Lara

2023-02-23T09:47:16+11:00

Callum Dodd

Zeus Lara

2022-11-23T11:00:39+11:00

Caroline Lees

Zeus Lara

2023-01-17T10:29:22+11:00

Cathy Baldwin

General

2021-01-19T16:55:52+11:00

Chika Nnadiekwe

Zeus Lara

2023-03-28T15:27:26+11:00

Chris Sykes

General

2022-05-26T12:50:02+11:00

Cliff Blakley

Zeus Lara

2023-05-11T13:52:16+11:00

David Johnson

General

2022-06-01T10:43:16+11:00

David Mansfield

Zeus Lara

2023-02-14T10:37:32+11:00

Deanna Edwards

Zeus Lara

2023-03-28T15:46:04+11:00

Derek Oldham

Zeus Lara

2023-05-09T15:38:58+11:00

Elise Kellond-Knight

Zeus Lara

2019-07-04T22:47:54+11:00

Ellen Misador

Zeus Lara

2023-03-14T15:30:57+11:00

Eugene O'Connell

Zeus Lara

2022-03-22T16:14:36+11:00

Francis Aseron

Zeus Lara

2023-02-24T09:56:24+11:00

Fritzie Ligeralde

Zeus Lara

2021-08-17T15:41:14+11:00

Gilbert Wong

Zeus Lara

2022-05-25T12:27:00+11:00

Guru Swaminathan

General

2023-05-26T16:16:29+11:00

Hardik Lakhani

Zeus Lara

2022-03-08T16:33:18+11:00

Hayley Weir

Zeus Lara

2022-03-01T12:16:09+11:00

Helen Argitis

Zeus Lara

2022-05-26T12:13:35+11:00

Ian Salvador

Zeus Lara

2022-06-14T17:51:51+11:00

Ian Thomson

Zeus Lara

2023-04-27T09:46:51+11:00

Ibrahim Dani

Zeus Lara

2023-05-09T15:33:59+11:00

Igor Vieira

Zeus Lara

2022-06-28T16:45:19+11:00

Jerry Cobb

General

2022-06-28T15:49:32+11:00

Joanna Carlos

Zeus Lara

2022-02-15T17:48:05+11:00

Jochebed Diaz

General

2022-11-16T12:53:12+11:00

Johaimah Garrido

Zeus Lara

2021-03-16T10:08:35+11:00

John Middlemist

Zeus Lara

2021-07-21T12:11:54+11:00

Jovilyn Magtoto

Zeus Lara

2022-08-02T13:27:08+11:00

Julia Nicole Justo

Zeus Lara

2023-02-23T08:34:34+11:00

Katherine Whiteside

General

2022-11-30T17:42:36+11:00

Kunal Parikh

Zeus Lara

2022-01-25T11:49:10+11:00

Louigi Gardiola

Zeus Lara

2023-02-23T08:31:20+11:00

Louise White

General

2021-05-11T16:20:05+11:00

Lousiene Samonte

General

2022-08-30T14:27:05+11:00

Maddison Schmid

Zeus Lara

2023-05-11T09:35:43+11:00

Mariam Kohani

Zeus Lara

2022-07-19T09:57:04+11:00

Marian Joyce Makalintal

Zeus Lara

2023-03-14T15:51:17+11:00

Marianne Dinsay

Zeus Lara

2023-02-23T08:32:42+11:00

Mark McAdam

General

2023-05-03T12:09:06+11:00

Mark Millen

Zeus Lara

2022-08-30T12:47:06+11:00

Matthew Knight

Zeus Lara

2023-02-23T08:32:48+11:00

Melanie Northrop

Zeus Lara

2023-01-31T17:06:41+11:00

Melody Framp

Zeus Lara

2023-05-09T16:20:00+11:00

Melody Tuazon

Zeus Lara

2023-05-09T15:59:40+11:00

Michael Bryant

General

2022-08-09T11:38:32+11:00

Mohammad Ramezani

General

2022-07-13T16:18:36+11:00

Muhammad Sauood Ur Rauf

General

2022-08-30T14:20:48+11:00

Nevil Cope

General

2022-08-30T14:24:26+11:00

Niall Burke

Zeus Lara

2022-10-11T13:16:07+11:00

Nick Rodwell

Zeus Lara

2022-07-14T11:47:55+11:00

Nicole Hatten

Zeus Lara

2022-03-22T16:18:26+11:00

Ninia Ortile

Zeus Lara

2022-10-11T14:26:40+11:00

Pablo Andres Cordova Baya

Zeus Lara

2023-02-23T08:48:38+11:00

Parastoo Mousavi

Zeus Lara

2022-12-13T10:24:00+11:00

Paul Bernard

Zeus Lara

2022-02-04T02:19:40+11:00

Paul Kirschner

General

2022-02-04T02:26:06+11:00

Peter Boylan

General

2023-03-14T16:22:42+11:00

Peter Philpott

General

2022-11-08T10:05:47+11:00

Rahul Kaushal

Zeus Lara

2022-08-03T10:22:38+11:00

Rajiv Boddupalli

Zeus Lara

2022-12-13T09:44:21+11:00

Robert Caminiti

General

2020-10-07T04:02:43+11:00

Robert Crossman

General

2022-03-08T14:18:21+11:00

Rohini Verma

Zeus Lara

2021-04-13T12:23:02+11:00

Rohit Satija

Zeus Lara

2023-05-09T15:27:58+11:00

Roxane Montierro

Zeus Lara

2020-12-15T06:30:55+11:00

Sanjay Narayan

Zeus Lara

2023-02-14T11:09:04+11:00

Saurabh Kundi

Zeus Lara

2023-02-23T08:26:14+11:00

Shiraan Fernando

Zeus Lara

2023-03-14T15:07:49+11:00

Shruthi Srinivas

Zeus Lara

2023-02-07T09:53:04+11:00

Sreekanth Badam

Zeus Lara

2022-11-09T17:14:36+11:00

Stephen Curtis

Zeus Lara

2023-05-30T09:22:30+11:00

Tameka Yallop

General

2022-03-08T16:41:26+11:00

Tanvi Mahajan

Zeus Lara

2023-03-28T15:21:57+11:00

Through Zhu

Zeus Lara

2023-02-23T10:21:23+11:00

Thuc Linh Nguyen Phan

Zeus Lara

2023-05-30T09:39:47+11:00

Tony Calusic

Zeus Lara

2022-08-01T16:52:17+11:00

Vanessa Vella

General

2021-12-14T12:11:12+11:00

Winona Astian Thian

Zeus Lara

2023-02-23T08:34:19+11:00

Yanmin Chen

Zeus Lara

2022-03-08T16:40:11+11:00

Zach Barnetby

Zeus Lara

2022-06-24T11:08:22+11:00