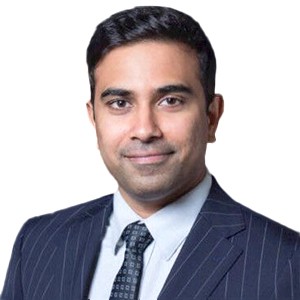 Som Singh
Senior Change Manager
---
Areas Of Expertise:
Organisational Change Management
Digital Transformation
Target Operating Model
Project and Program Management
Agile Coaching
Change Agent Coaching
Benefit Realisation
---
Education:
Bachelor of Engineering, (Electrical and Electronics), Manipal Institute of Technology, India
MBA (Investment Banking and Wealth Management), Australian Academy of Higher Education /SP JAIN School of Global Management
PROSCI Certified Change Management Professional
SAFE Certified Agilist
---
About Som Singh
Som has over 13 years of experience in Financial Services in Hong Kong and other regions. He brings expertise on Change Management strategy for large-scale transformation projects and has worked in retail and commercial banking, insurance (life and general), procurement transformation, regulatory compliance. Som excels in end-to-end organizational change management planning, thought leadership, stakeholder management, and demonstrates strong commitment to delivery.
---
What Som brings
Extensive experience in industries such as Insurance (Life and GI), Retail Banking, and Commercial Banking.
Comprehensive understanding of methodologies related to Project and Change Management and crafting practical and pragmatic change management runways that deliver successful and desired change outcomes.
Proven ability to establish successful relationships with key stakeholders including senior management and leading teams during times of uncertainty to deliver successful customer and business outcomes.
Advanced technical, commercial, communication and change management skills.
---
Key Clients:
HSBC Group and HSBC Hong Kong
AXA Hong Kong
AXA Asia Regional
---
Key Achievements:
As a Senior Manager (Strategy and Planning Lead) at HSBC Group Customer Channels, Som owned annual target setting for Digital KPIs and market growth strategy exercise for 14 markets for 2023 alongside responsibilities for landing the implementation of a new Digital TOM (Target Operating Model) across 14 markets, with success measures focused on embedding change related to new digital KPIs, target organisation structure, ways of working, governance and reporting. In addition, Som was also responsible for defining the 2026 vision, goals, and ambition for Digital Channels, as well as owning executive communication around change delivery and change communication with 14 markets.
---
As a Senior Manager/Senior Change Implementation Lead at HSBC Group Transformation, Som contributed to the establishment of the Change Management Practice for Group Consulting Services and delivered Change Management Playbooks, Change Management Coaching clinics, templates, and guidance material for HSBC transformation initiatives. He successfully managed end-to-end change management for two large-scale organization-wide projects. The first project was related to a new Third Party Process Management system impacting over 5000 employees, and the second project involved launching a new Target Operating Model project with new SOPs and technology for Trade and Receivables Finance business, impacting 2000 employees and over 200 commercial banking clients. Som designed and delivered repeatable modules for both projects that were rolled out to multiple markets, incubated change agent structures and delivered direct coaching to over 50 agents, and provided change sponsorship coaching to executives. He consistently received top-performing ratings and was recognised for successful delivery.
---
As a Change and Implementation Lead at HSBC Retail Banking and Wealth Management Transformation, Som was responsible for making sure that changes in the Retail Banking Digital Order book, portfolio of projects with combined budgets over 5m USD, which included more than 20 initiatives related to Cards and Loans Originations, Cards acquisition, Banking proposition, Accounts and Cards servicing, FPS were delivered successfully. He designed key change management artefacts, and project managed the key change interventions. Som managed a team of three other change managers. The accomplishments and successful track record led to an offer by HSBC to join the Change Management Practice permanently under HSBC Group Consulting Services.
---
As a Regional Change Management Lead for AXA Region, Som successfully owned and delivered change management plans for GI Claims transformation programme (programme size > 50m USD). Som crafted bespoke change management approaches per release with detailed pre and post implementation runways including usage alignment and benefits realization across 2 major releases for 7 entities with over 1000 change impacted colleagues and over 2000 external impacted parties. Som was recognized by the CEO's award for his contributions to the programme.
---
As a Digital Release and Change Management at HSBC Digital Services Insurance Delivery, Som was responsible for ensuring that the launch of Digital distributed GI products (Health and Travel) was a success. He engaged with business and frontline to develop a sound approach and implementation plan. He was accountable for both traditional and digital channel business readiness. Som was responsible for change readiness for operational and support staff (> 200 colleagues across multiple teams). One of Som's notable achievements was creating a customer journey walkthrough, training contact center and branch colleagues, advising the business on launch strategies, and playing an instrumental role in the Commercialisation of the products.
---
As an Assistant Project Manager at AXA China Region Insurance Company, Som has experience in Project and Change Management in the Insurance Linked Product space. He led complex projects such as new product launches, regulatory and compliance-driven projects, and various BAU projects. He has experience in RFIs and RFPs to vendor selection and implementation of setting up a product through a digital solution. Som was assigned as a Project Manager for a Marquee Project to headline the launch of a new business initiative and managed a project budget of more than HKD 20 million Q1 of 2016. He successfully steered the project from the pre-concept phase to implementation.
---
Other Team Members
Declan Boylan

General

2020-01-15T02:30:38+11:00

Gareth James

General

2021-01-19T11:29:58+11:00

Connie McKeage

Julius

2021-03-09T10:14:51+11:00

Michael Blomfield

Julius

2023-02-14T10:26:26+11:00

Temre Green

Julius

2022-11-23T10:52:41+11:00

Mike Stockley

Julius

2022-08-30T12:56:19+11:00

Julie Laoit

Julius

2022-07-19T09:10:59+11:00

Rob Thomsett

General

2023-01-31T17:26:36+11:00

Louise Ford

General

2020-01-15T03:08:18+11:00

Aaron Simonsen

Julius

2022-08-30T11:02:06+11:00

Alan Alehashemi

Julius

2022-07-19T09:07:40+11:00

Alex Jahan

Julius

2022-12-13T10:15:47+11:00

Alex Massie

General

2023-05-09T15:42:17+11:00

Alexander Rivkin

Julius

2023-03-28T15:40:59+11:00

Alexandra Marie Tan

Julius

2023-07-20T17:43:15+11:00

Ali Pahlavan

General

2023-08-03T11:39:33+11:00

Alisdair Brown

Julius

2022-08-30T09:51:38+11:00

Amanda Walker

Julius

2023-06-06T11:10:57+11:00

Anders Madsen

Julius

2022-08-02T17:55:11+11:00

Andrew Cheesman

Julius

2022-08-09T12:17:42+11:00

Andrew Coley

Julius

2021-12-21T12:36:47+11:00

Anish Joshi

Julius

2023-04-04T15:04:09+11:00

Ann Mica Mae Lim

Julius

2023-05-11T14:08:40+11:00

Anna Linfield-Kent

Julius

2023-03-14T16:25:51+11:00

Andrew Marshall

Julius

2023-08-29T14:02:36+11:00

Audrey Teh

Julius

2023-06-13T10:54:02+11:00

Barbara Read

General

2023-04-27T09:42:19+11:00

Bhavna Gupta

Julius

2023-08-25T16:07:45+11:00

Benn Salier

Julius

2021-07-06T13:45:00+11:00

Bita Bagheri

General

2023-08-02T22:15:49+11:00

Blake Dahlen

Julius

2023-07-20T13:58:11+11:00

Callum Dodd

Julius

2022-11-23T11:00:39+11:00

Caroline Lees

Julius

2023-01-17T10:29:22+11:00

Cathy Baldwin

General

2021-01-19T16:55:52+11:00

Chris Sykes

General

2022-05-26T12:50:02+11:00

Callum Barker

Julius

2023-09-15T10:54:00+11:00

Dave Rider

Julius

2022-02-04T01:57:49+11:00

David Johnson

General

2023-06-13T11:44:41+11:00

David Mansfield

Julius

2023-02-14T10:37:32+11:00

Deanna Edwards

Julius

2023-03-28T15:46:04+11:00

Derek Oldham

Julius

2023-05-09T15:38:58+11:00

Elise Kellond-Knight

Julius

2019-07-04T22:47:54+11:00

Eliza Johnson

Julius

2023-07-20T12:18:49+11:00

Ellen Misador

Julius

2023-07-20T15:42:42+11:00

Eugene O'Connell

Julius

2022-03-22T16:14:36+11:00

Fritzie Ligeralde

Julius

2021-08-17T15:41:14+11:00

Gilbert Wong

Julius

2023-09-28T10:05:22+11:00

Guru Swaminathan

General

2023-05-26T16:16:29+11:00

Hardik Lakhani

Julius

2022-03-08T16:33:18+11:00

Hayley Weir

Julius

2023-08-29T14:56:54+11:00

Helen Argitis

Julius

2022-05-26T12:13:35+11:00

Inggrid Yapari

Julius

2023-09-05T14:17:37+11:00

Ian Salvador

Julius

2022-06-14T17:51:51+11:00

Ian Thomson

Julius

2023-06-13T10:25:34+11:00

Jerry Cobb

General

2022-06-28T15:49:32+11:00

Joanna Carlos

Julius

2022-02-15T17:48:05+11:00

Jochebed Diaz

General

2023-07-27T15:46:01+11:00

Johaimah Garrido

Julius

2021-03-16T10:08:35+11:00

John Middlemist

Julius

2023-07-13T11:20:18+11:00

Jovilyn Magtoto

Julius

2022-08-02T13:27:08+11:00

Julia Nicole Justo

Julius

2023-02-23T08:34:34+11:00

Julius Labalan

Julius

2023-09-19T11:03:24+11:00

Katherine Whiteside

General

2022-11-30T17:42:36+11:00

Kunal Parikh

Julius

2022-01-25T11:49:10+11:00

Lauren Grouse

Julius

2023-06-15T15:40:06+11:00

Louigi Gardiola

Julius

2023-02-23T08:31:20+11:00

Louise White

General

2021-05-11T16:20:05+11:00

Maddison Schmid

Julius

2023-05-11T09:35:43+11:00

Mariam Kohani

Julius

2022-07-19T09:57:04+11:00

Marian Joyce Makalintal

Julius

2023-06-21T10:48:28+11:00

Marianne Dinsay

Julius

2023-02-23T08:32:42+11:00

Mark McAdam

General

2023-05-03T12:09:06+11:00

Mark Millen

Julius

2022-08-30T12:47:06+11:00

Matthew Knight

Julius

2023-02-23T08:32:48+11:00

Melanie Northrop

Julius

2023-01-31T17:06:41+11:00

Melody Framp

Julius

2023-06-13T11:17:39+11:00

Melody Tuazon

Julius

2023-05-09T15:59:40+11:00

Michael Bryant

General

2022-08-09T11:38:32+11:00

Mohammad Ramezani

General

2022-07-13T16:18:36+11:00

Nadja Schulze

Julius

2023-07-13T13:05:06+11:00

Nevil Cope

General

2022-08-30T14:24:26+11:00

Niall Burke

Julius

2022-10-11T13:16:07+11:00

Nick Rodwell

Julius

2023-06-13T10:21:33+11:00

Nicole Hatten

Julius

2023-07-04T16:34:47+11:00

Ninia Ortile

Julius

2022-10-11T14:26:40+11:00

Pablo Andres Cordova Baya

Julius

2023-06-21T10:48:54+11:00

Parastoo Mousavi

Julius

2022-12-13T10:24:00+11:00

Paul Kirschner

General

2022-02-04T02:26:06+11:00

Peter Boylan

General

2023-03-14T16:22:42+11:00

Peter Philpott

General

2022-11-08T10:05:47+11:00

Rachel Low

Julius

2023-09-18T12:34:26+11:00

Rahul Kaushal

Julius

2023-08-03T10:44:21+11:00

Rajiv Boddupalli

Julius

2022-12-13T09:44:21+11:00

Robert Caminiti

General

2020-10-07T04:02:43+11:00

Robert Crossman

General

2022-03-08T14:18:21+11:00

Rohini Verma

Julius

2021-04-13T12:23:02+11:00

Rohit Satija

Julius

2023-08-29T15:13:11+11:00

Roxane Montierro

Julius

2020-12-15T06:30:55+11:00

Sanjay Narayan

Julius

2023-02-14T11:09:04+11:00

Saurabh Kundi

Julius

2023-02-23T08:26:14+11:00

Shiraan Fernando

Julius

2023-03-14T15:07:49+11:00

Shruthi Srinivas

Julius

2023-08-25T12:02:31+11:00

Sreekanth Badam

Julius

2022-11-09T17:14:36+11:00

Stephen Curtis

Julius

2023-05-30T09:22:30+11:00

Simon Chrétien

Julius

2023-09-15T11:40:55+11:00

Tameka Yallop

General

2023-08-29T16:34:12+11:00

Tanvi Mahajan

Julius

2023-03-28T15:21:57+11:00

Thuc Linh Nguyen Phan

Julius

2023-05-30T09:39:47+11:00

Tony Calusic

Julius

2022-08-01T16:52:17+11:00

Vanessa Vella

General

2021-12-14T12:11:12+11:00

Vergil De Leon

Julius

2023-09-11T10:53:30+11:00

Winona Astian Thian

Julius

2023-02-23T08:34:19+11:00

Yanmin Chen

Julius

2023-09-28T10:13:11+11:00

Zach Barnetby

Julius

2023-06-16T17:32:20+11:00